One of my favorite cookbooks in recent years is Cooking Light: Way to Cook. It's a fabulous collection of some of their greatest recipes- and the best part about it is that they show you a visual step-by-step how to make things and different techniques, etc.  They have a new cookbook out now called Cooking Light: Way to Bake- with the same concept! Lots of step-by-step photos and instructions for different methods of baking. I tested out Apple Fritter Muffins from Way to Bake.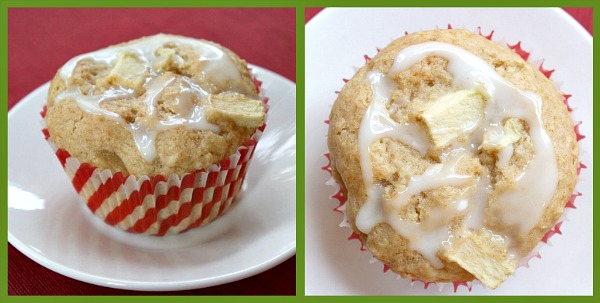 I know they sound evil with the whole "Apple Fritter" title and all. Apple fritters are among my most favorite evil breakfast donuts on the planet. Well, the title is a little deceiving because these aren't like *those* apple fritters.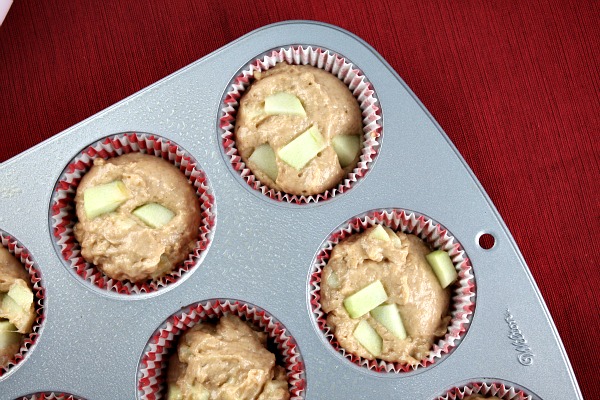 They're a muffin… full of chunks of fresh apples… not deep fried or evil in any way.
And they're topped with a sweet and simple glaze.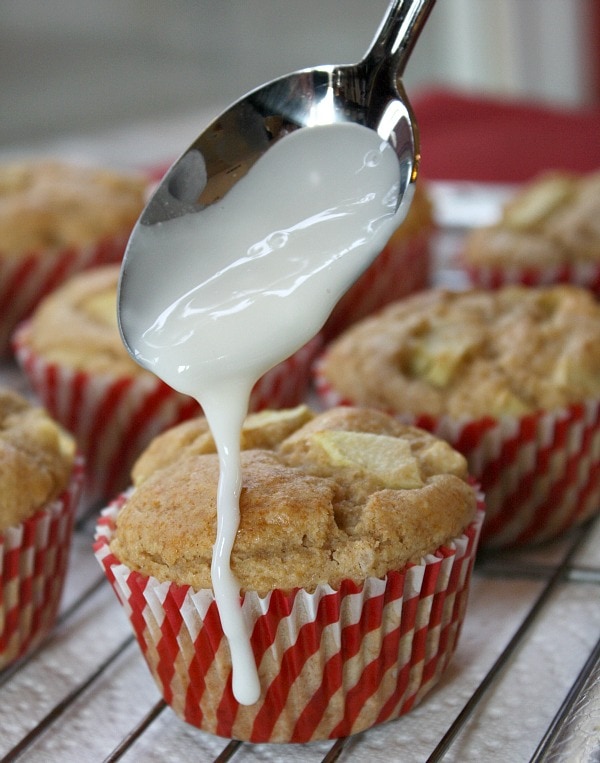 You can pretend like you're eating an apple fritter (without all of those deep-fried, apple fritter calories).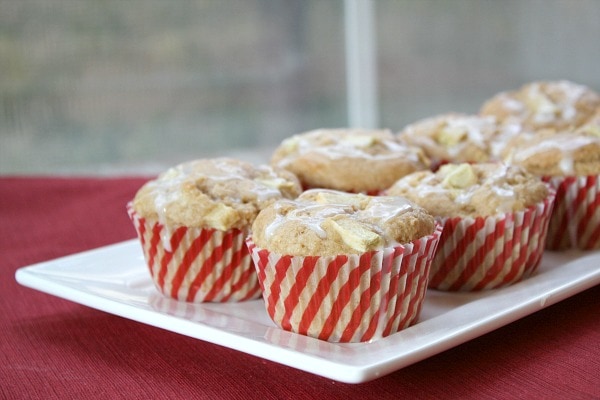 I've included calorie and weight watcher's point information… in case you might be headed in the direction of caring about that kind of stuff come January 1st.  Don't expect them to taste like Apple Fritters, but they are very good, healthy apple muffins with a sweet glaze.  We didn't have any problem gobbling them up within a couple of days.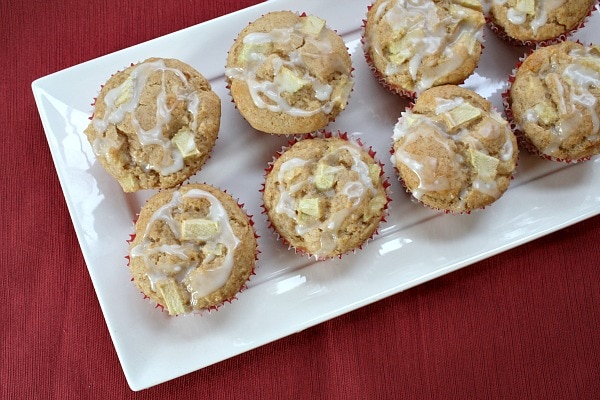 This recipe comes from this wonderful new cookbook: Cooking Light Way to Bake.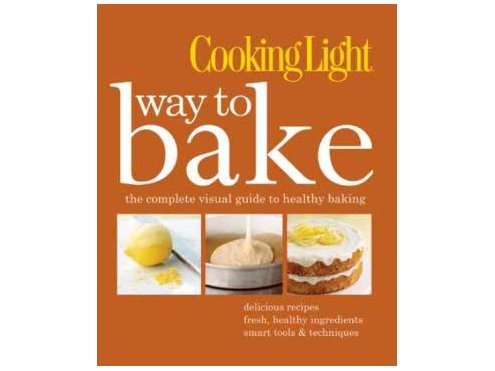 Here's a peek at the inside.  I don't know about you, but I need this kind of stuff when I cook.  That's why I love step-by-step recipe bloggers!!


The book focuses on showing you how to bake in a healthier way w/ step-by-step instructions and 150+ recipes.  There are more than 600 photos- great for us visual learners, right?
For a chance to win one of three copies of Way to Bake, leave one comment below telling me something that you'd really like to learn how to bake. Three winners will be chosen randomly via random.org on the evening of Wednesday, Dec. 28th and will be contacted via email (please be sure to provide a valid email address). This giveaway is open to anyone with a USA mailing address. Each winner will receive one copy of the Way to Bake cookbook. This giveaway is now closed.  Randomly selected winners are commenters #5 (Beverly), #193 (Amanda) and #227 (Dee).  Congrats & thanks to all for entering!
Apple Fritter Muffins

Yield: 12 muffins

Prep Time: 15 min

Cook Time: 18 min

Ingredients:

Muffins:
1 1/2 cups cake flour (6 ounces)
1/2 cup whole-wheat flour (2.38 ounces)
1/2 cup packed light brown sugar
1 tablespoon baking powder
1/2 teaspoon ground cinnamon
1/4 teaspoon salt
1/4 cup vanilla almond milk or soy milk
3 tablespoons vegetable or canola oil
6 ounce carton of plain, fat- free yogurt
1 large egg
1 cup finely diced, peeled Granny Smith apple

Glaze:
1/4 cup powdered sugar
1 1/2 teaspoons vanilla almond milk or soy milk

Directions:

1. Preheat oven to 350 degrees F.

2. Fill a 12-cup muffin pan with paper liners. Spray them lightly with cooking spray.

3. In a medium bowl, whisk together flours, brown sugar, baking powder, cinnamon and salt. Make a well in the center of the dry ingredients.

4. Stir together vanilla milk, oil, yogurt and egg in a small bowl. Add it to the dry ingredients and stir just until moist. Gently fold in the apple chunks. Spoon about 2 tablespoons batter into each muffin cup.

5. Bake for 18 minutes, or until the muffins spring back when touched lightly in the center. Remove muffins from pans immediately and place them on a wire rack.

6. Combine glaze ingredients, stirring with a whisk until smooth. Drizzle 1/2 teaspoon glaze over each muffin. Serve warm.

Tips:

*Why use cake flour? It produces a lighter, fluffier muffin with a tender crumb. All-purpose flour won't produce the same results.
*If you have access to Saigon cinnamon, use that. It's a variety of cinnamon that has a sweet flavor and a more intense aroma.
*It's okay to substitute regular milk for the almond milk.

Nutritional Information per serving:

Serving size:

1 muffin

Calories per serving:

178

Fat per serving:

4.3g

Saturated Fat per serving:

.4g

Fiber per serving:

1.2g

Protein per serving:

3.7g

Cholesterol per serving:

18mg

Carbohydrates per serving:

31.7g

WW POINTS per serving:
Points Plus Program: 5 Old Points Program: 4