Chocolate Cheesecake Cake
You know how some people really don't get along well with their In-Laws?  How visits with them are stressful and awkward and generally awful for many people?  Yeah, not me.  I got kinda lucky on that whole "in-law" thing.  And I'm not just writing this to kiss-up to my in-laws because I know there's a good chance they're reading this.  I actually truly enjoy being around my in-laws. And I'm pretty sure they like me too.  No weird, stressful stuff when we're all together (and they live in the same town even!)  They're just good people.  And for that reason, I bring them cakes like this one:  Chocolate Cheesecake Cake.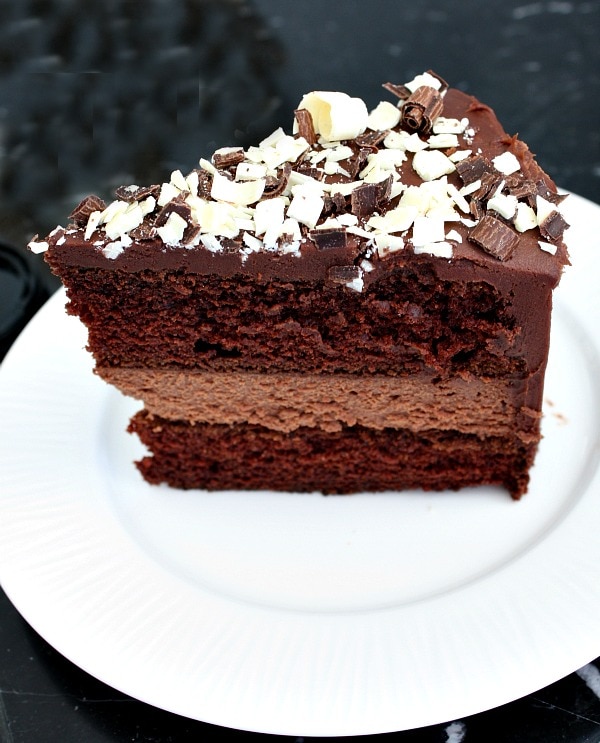 It happened to be my dear Father-in-Law's birthday last weekend.  He loves chocolate.  A LOT… which is a very good thing since this cake has a lot of chocolate inside and out.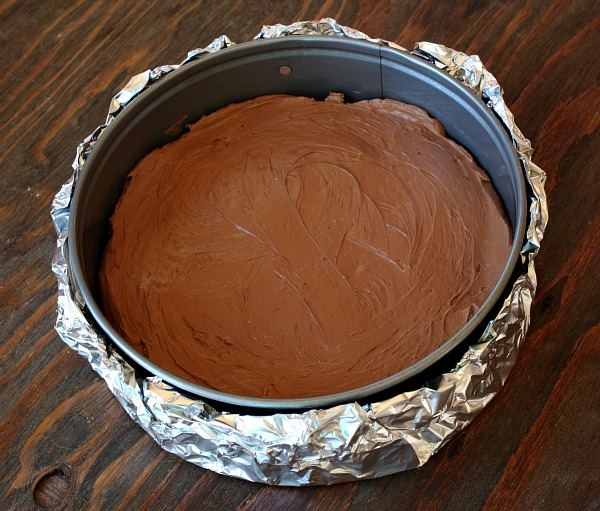 If you followed my blog over the holidays, you may have seen me make that oh-so-yummy Red Velvet Cheesecake Cake.  This cake is made using the same concept.  A cheesecake layer is baked up first.  This one is a chocolate cheesecake (of course).  The batter is very thick (and I do mean very), but you just spread it into a cheesecake pan- the kind with removable sides- and then wrap the bottom and sides with heavy duty foil.
I always, always bake my cheesecakes in a "water bath." If you've ever wondered what that means, here you go. Set the foil-wrapped cheesecake pan into a larger (roasting) pan- or anything that your cheesecake pan can fit inside of- and then pour boiling hot water into the pan so that surrounds the cheesecake pan and comes up the side of the pan about 1-inch. Then bake it in its water bath. See, not as complicated as you thought, right? The reason behind it is that you will most always get a cheesecake that doesn't crack on the top. Bake it without a bath, and you risk cracking.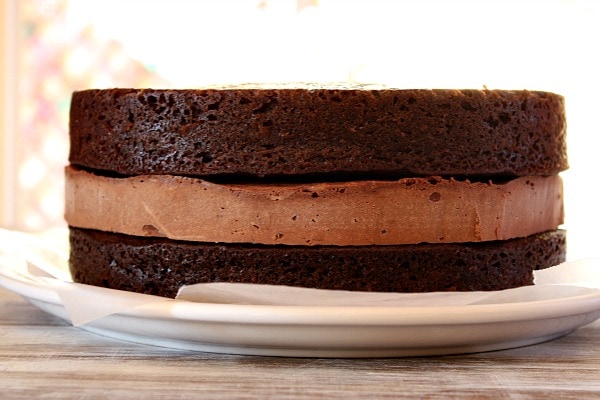 That baked cheesecake is popped into the freezer and allowed to freeze up nice and firm. Then it will pop out of the pan easily and you can trim the edges with a sharp knife as needed to make sure that they are the same size as your cake rounds. This chocolate cake recipe comes from Camilla Saulsbury's Piece of Cake cookbook. It works perfectly for building the cheesecake cake. One layer of chocolate cake on the bottom, then your cheesecake layer, then the 2nd chocolate cake layer.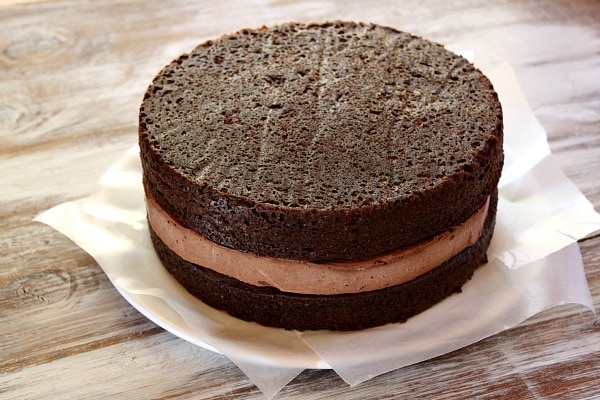 In case you're wondering how I got my cake layers to bake up so even and flat… nope, I did not trim them.  I used Cake Strips.  You just soak them in water, and then velcro them around each cake pan.  Your cake layers will magically turn out nice and even and flat!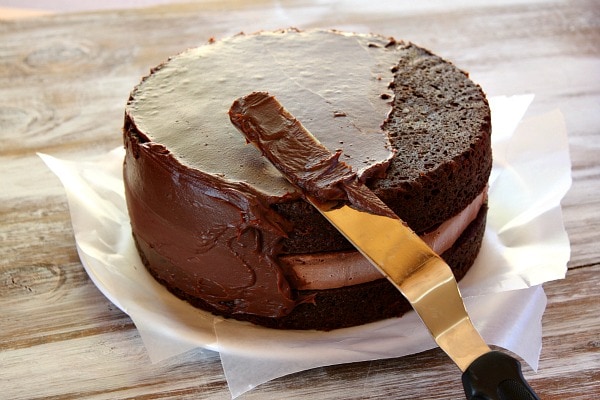 The frosting recipe I used is also from the Piece of Cake cookbook- Sour Cream Chocolate Frosting.  This is a super easy frosting recipe to make, and it spreads on so nice and smooth and thick.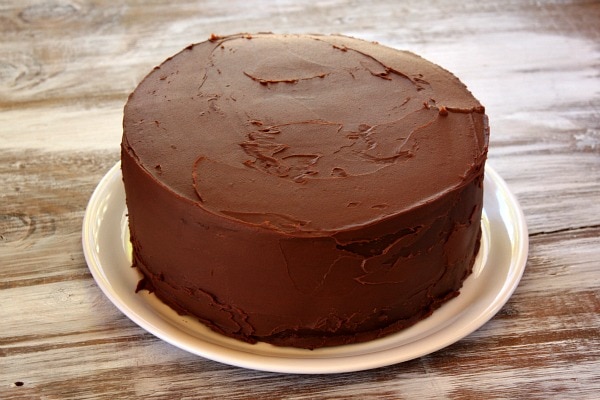 It's a pretty fudgy frosting, so I'd say it's not great for trying to pipe decorations.  I chose to go simple.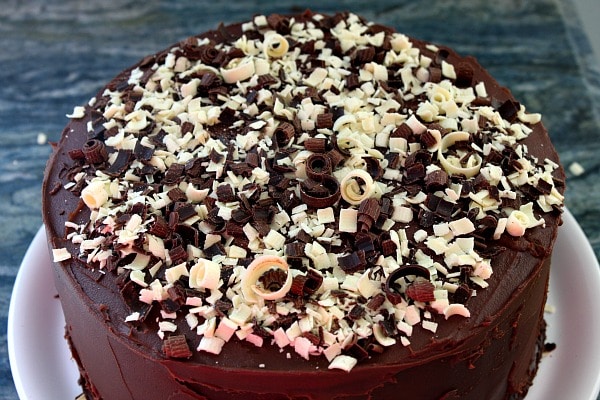 And I shaved some chocolate on top.  Just pop your chocolate bar into the microwave for about 15 seconds to soften it up slightly, then potato-peel it down the side of the bar to make some shavings.  Nothing fancy, but it pretties it up a little.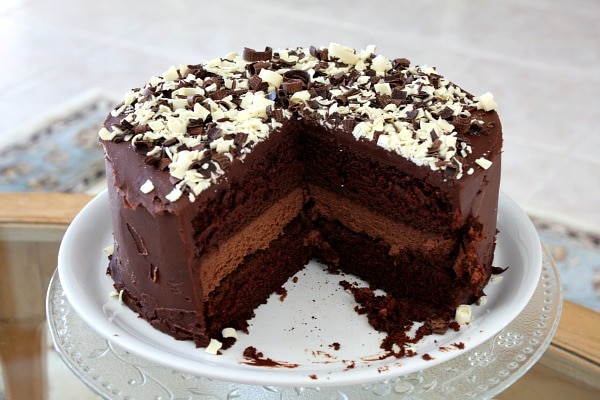 I guess I have to say it.  This cake is for major chocolate lovers and for good reason.  Those chocolate cake layers PLUS the chocolate cheesecake layer PLUS the chocolate frosting PLUS the shavings on top.  Dig out the vanilla ice cream to accompany slices of this!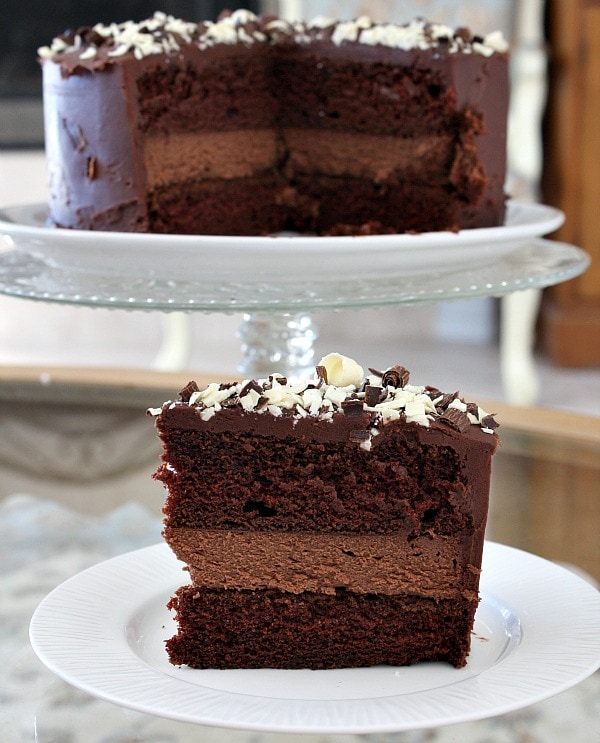 I'm pretty sure my in-laws love me even more for bringing this to their house last weekend, especially since I let them keep the leftovers.
So… I'm curious…do you get along with your in-laws?  Do tell.
And unless your in-laws are reading my blog, you can be totally honest and no family weirdness will be caused

Chocolate Cheesecake Cake

Yield: 12 to 14 servings

Prep Time: 1 hr + cooling and chill times

Cook Time: 1 hour 15 min

This cake is for big time chocolate- lovers...

Ingredients:

CHOCOLATE CHEESECAKE:
5 ounces bittersweet chocolate (70% cocoa), chopped
Two 8-ounce packages cream cheese, at room temperature
1/2 cup + 3 tablespoons granulated white sugar
2 tablespoons unsweetened cocoa powder
2 large eggs

CHOCOLATE CAKE:
1 3/4 cups all-purpose flour
1 1/2 cups granulated white sugar
2/3 cup unsweetened cocoa powder (not Dutch process)
1 1/2 teaspoons baking soda
1/2 teaspoon baking powder
1/2 teaspoon salt
1 teaspoon instant espresso powder
3 large eggs, at room temperature
1 1/4 cups buttermilk, divided
3/4 cup unsalted butter, at room temperature
1 teaspoon vanilla extract

CHOCOLATE SOUR CREAM FROSTING:
2 cups semisweet chocolate chips
1/2 cup (1 stick) unsalted butter, at room temperature
1 cup sour cream
2 tablespoons light (white or golden) corn syrup

Directions:

1. Prepare the cheesecake layer: Preheat oven to 325 degrees F. Place a large roasting pan on the lower third rack of the oven. Place a kettle of water on the stove to boil. Spray a 9-inch springform pan with nonstick spray and line the bottom with a round of parchment paper. Wrap a double layer of foil around the bottom and up the sides of the pan (you want to seal it so the water from the water bath doesn't seep into the pan). Place chocolate in a medium glass bowl. Melt in the microwave in 30 second bursts until the chocolate is melted and smooth, stirring after each burst. Set the chocolate aside and let it cool off until it is lukewarm but still pourable. In a large bowl, use an electric mixer to mix the cream cheese- blend until it is nice and smooth and creamy. Mix in sugar and cocoa powder and blend until incorporated, scraping down sides of the bowl as needed. Add eggs, one at a time, blending after each addition. Mix in the lukewarm chocolate. Mix until smooth. The batter will be very thick- scrape it into the prepared pan and smooth the top. Set the pan into the roasting pan in the pre-heated oven. Carefully pour the hot water from your kettle into the roasting pan (it will fill the pan surrounding the cheesecake). Pour enough water so that there is about an inch of water coming up the foil along the sides of the cheesecake pan. Bake the cheesecake for 45 minutes. It should be set to the touch and not jiggly. Remove the cheesecake from the roasting pan and let it cool on a wire rack for at least an hour. When it has cooled, place the pan into the freezer and let the cheesecake freeze completely. This can be done in several hours- or overnight.

2. Prepare the cake layers: Preheat oven to 350 degrees F. Grease and flour two 9-inch round metal baking pans (or spray with nonstick baking spray with flour). In a large bowl, whisk together flour, sugar, cocoa powder, baking soda, baking powder and salt. Add espresso powder, eggs, 1/4 cup of the buttermilk, butter and vanilla to the flour mixture. Using an electric mixer on medium-low speed, beat for 1 minute, until blended. Scrape sides and bottom of bowl with a rubber spatula. Beat on high speed for 2 minutes. Add the remaining buttermilk and beat on low speed for 15 to 30 seconds, until just blended. Spread the batter evenly into the prepared pans, dividing equally. Bake 30 to 35 minutes or until a toothpick inserted in the center comes out with a few moist crumbs attached. Let cool in pans on a wire rack for 10 minutes. Run a knife around the edge of the pans, then invert cakes onto a rack to cool completely.

3. Prepare the frosting: In a large microwave-safe bowl, combine the chocolate chips and butter. Microwave 1 to 2 minutes, stopping every 30 seconds to stir, until melted and smooth. Whisk the sour cream and corn syrup into the chocolate mixture until smooth. Cover and refrigerate for at least 30 minutes or until firm enough to spread.

4. Assemble the cake: Place one cake layer into the center of a cake plate or platter. Remove the cheesecake from the freezer, take off the sides of the pan, and slide a knife under the parchment to remove the cheesecake from the pan. Peel off the parchment. Measure your cheesecake layer against the cake layers. If the cheesecake layer turns out to be a slightly larger round than your cake, move it to a cutting board and gently shave off some of the exterior of the cheesecake (with a sharp knife) to get it to the same size as your cake layers. Place the cheesecake layer on top of the first cake layer. Place the 2nd cake layer on top of the cheesecake.

5. Frost the cake: Apply a crumb coat layer to the cake- use a long, thin spatula to cover the cake completely with a thin and even layer of frosting. Be sure to wipe off your spatula each time you are about to dip it back into the bowl to get more frosting (this way you won't be transferring any crumbs into the bowl of frosting). Don't worry at this point about the crumbs being visible in the frosting on the cake. When your cake has a thin layer of frosting all over it, place it into the refrigerator for 30 minutes to "set" the frosting. Once the first layer of frosting is set, apply the 2nd layer. Start by adding a large scoop of frosting onto the top of the cake. Use a long, thin spatula to spread the frosting evenly across the top and then spread it down the sides of the cake too. Because you applied a crumb-coat layer, you shouldn't have any crumbs floating around in the final frosting layer. Decorate, as desired. I recommend white chocolate shavings (see *Tips below). Keep this cake refrigerated.

Tips: