Caramel Brownies
There are times when you need a dessert, you need it now, you need it QUICK and you don't want to fuss with a bunch of ingredients. Those are the times when I pull out a good boxed mix and mess with it a little. I grabbed a box of Ghirardelli brownie mix and some chocolate covered Dove candies recently, and combined them to make super simple, no-brainer, almost-embarrassed-to-call-this-a-recipe: Caramel Brownies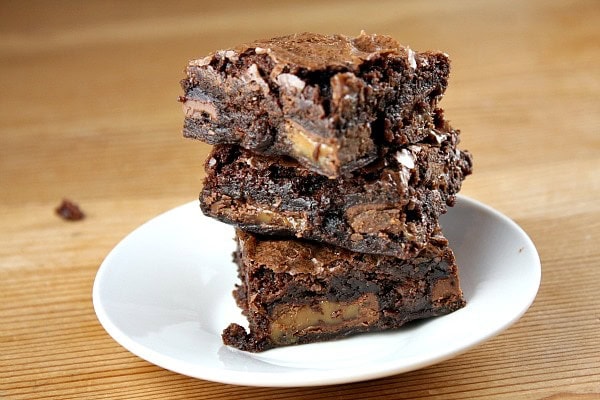 I know that there are folks out there who don't like to bake and who are intimidated by baking and all of the ingredients and terms involved. I love to show people that baking can be fun and that you can be successful no matter what level of kitchen knowledge you possess. But THIS little brownie project– no one can mess this one up. I promise.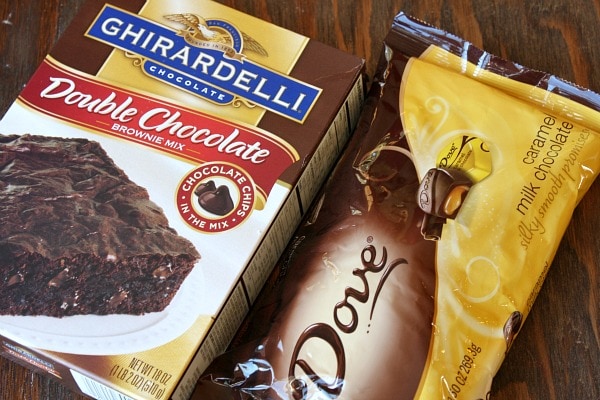 You just need two things. You don't necessarily have to have these brands- just a brownie boxed mix (a good one) and some chocolate-covered caramels.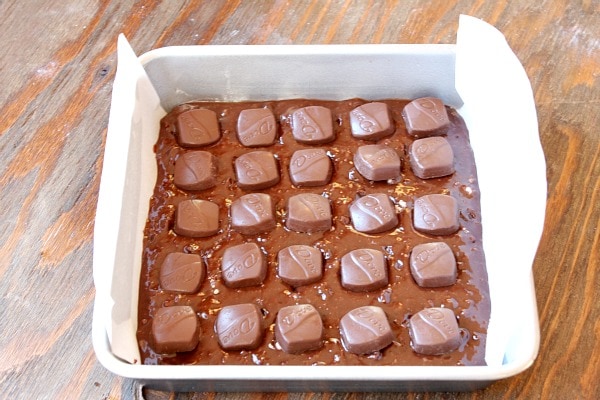 A
Follow directions on the box for the brownies- add half of the mix to the pan and then top it with the chocolate-covered caramels.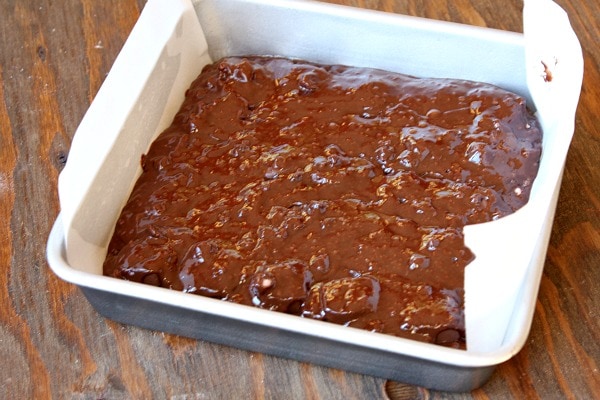 Then spread the rest of the brownie mix on top of the candy. Bake according to your box instructions (probably about 40 minutes.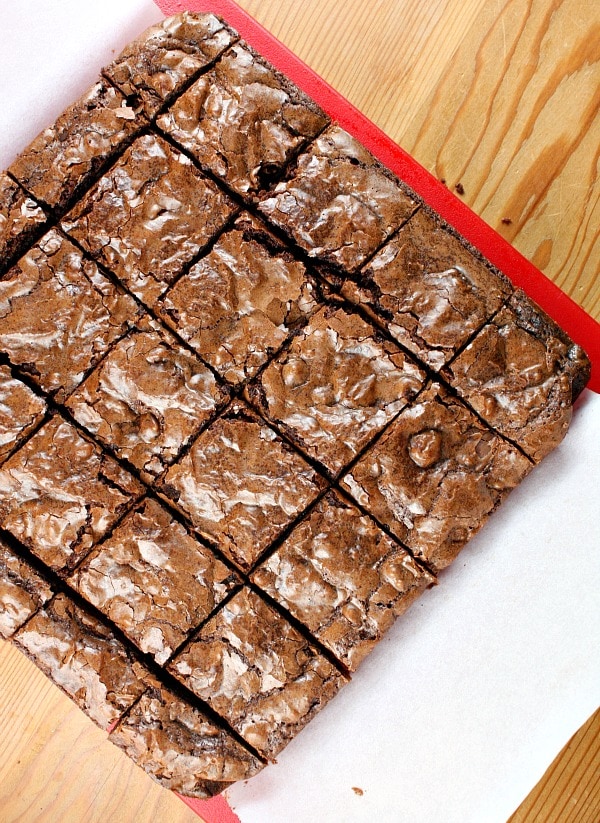 Let the brownies cool and then cut.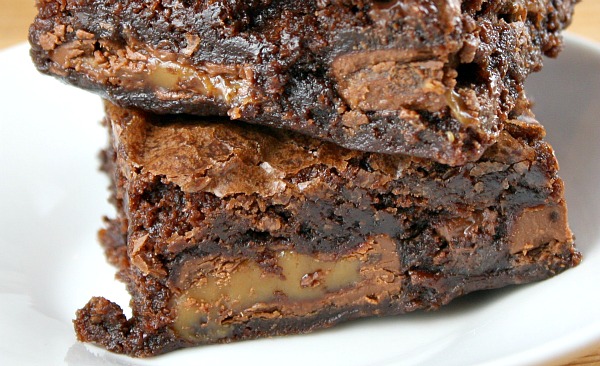 The great thing is, people will not likely think these are boxed brownies. The chocolate melts into the brownie, making it extra- chocolatey, and the caramel dotted throughout adds the extra special, ooey-goeey, omg component.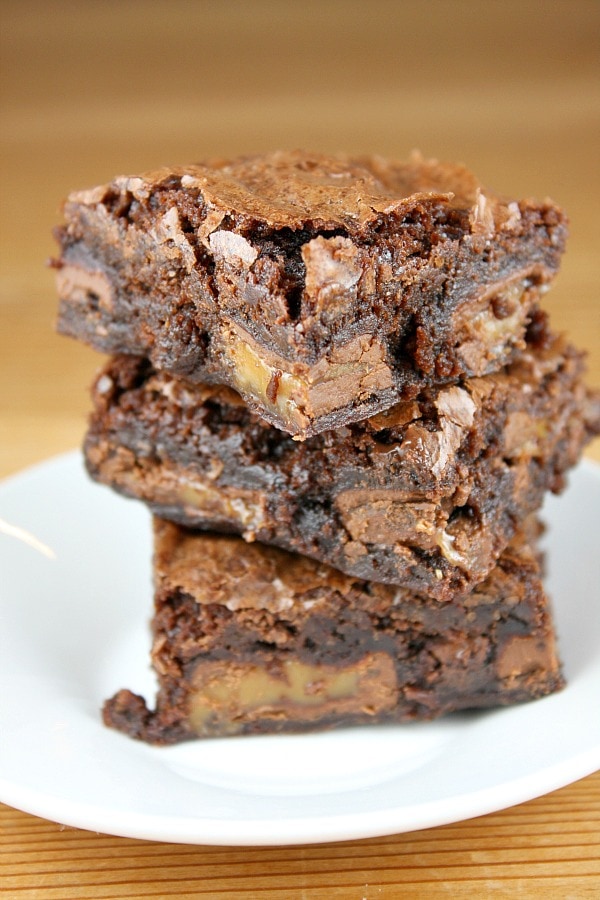 I had a lot folks asking me for the recipe when I brought these to a recent event. I was almost embarrassed to tell them how I made them (since I rarely do a boxed mix), but I find that there are a lot of people out there who covet boxed brownie mixes.  Why Not?  Some of them are pretty darn good.  Jazz them up a little and they are that much better too

Do you grab a mix when you need a quick dessert once in a while?
Caramel Brownies

Yield: 16 to 20 brownies

Prep Time: 15 min

Cook Time: 40 min

Super, super easy jazzed up brownie mix to make a delicious caramel brownie. Nothing fancy here!

Ingredients:

1 box of your favorite brownie mix (I like the Ghirardelli Double Chocolate Brownie)
25 Dove Caramel- Milk Chocolate candies (unwrapped)- or use another chocolate covered caramel candy

Directions:

1. Preheat the oven to whatever it says on your brownie mix box (325 degrees F for Ghirardelli). Spray a 9x9-inch metal pan with nonstick spray and then line with a 9x15-inch strip of parchment paper, letting it come up and over two sides. Spray the parchment with nonstick spray too.

2. In a large bowl, prepare your brownie batter as directed on the box. Spread 1/2 of the brownie batter into your prepared pan. Place the chocolate-covered caramels on top in 5 rows of 5. Spoon the remaining brownie batter on top and spread to cover.

3. Bake the brownies as directed on your brownie mix box for a 9x9-inch pan.

4. Let the brownies cool completely and then gently lift the parchment paper and brownies out of the pan and onto a cutting board. Cut into squares and serve!

Tips: