Baked Jalapeño Poppers
One of the most calorie-consuming days of the year for football lovers and party-goers is approaching, and you have to decide how you're going to handle that "day of food." You could just write it off and tell yourself that it's going to be a day of enjoying deep fried fabulousness, endless bowls of chips and sugary desserts. Or you may be one of those people who possess extreme will power to have just a little of this and a little of that, without overdoing it. Or you might try to avoid the parties entirely, fearful that you'll blow the New Year's Resolution that you've been so great at adhering to. Or you might choose to include a few (guilt-free) foods that will help you stay on track for a healthy Super Bowl Sunday. This recipe is an excellent one for anyone, but especially those watching their calorie intake on Game Day: Baked Jalapeño Poppers.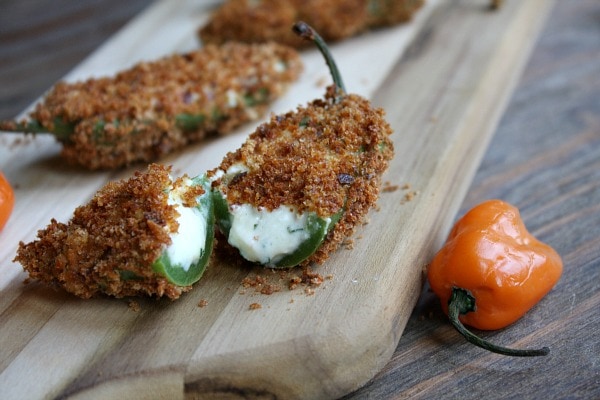 The recipe comes from Ellie Krieger's new book: "Comfort Food Fix." I'm giving away 3 copies of this fabulous book! See the end of this post for details.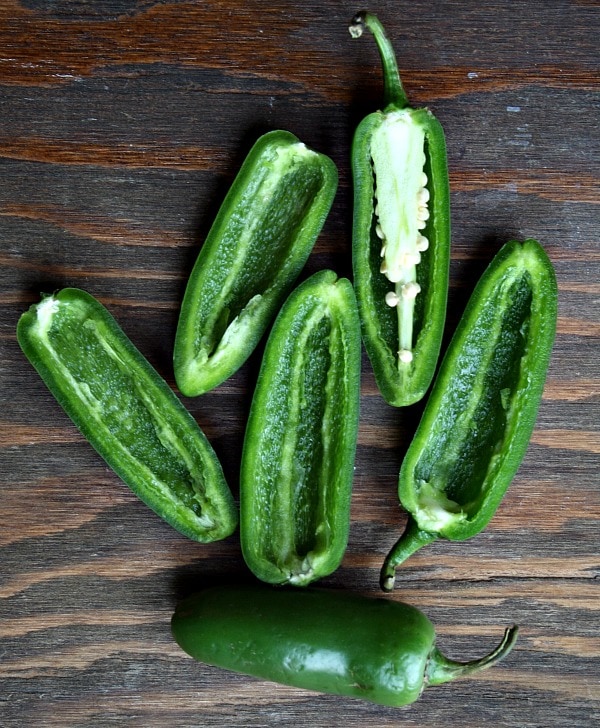 Here's the low-down on how to make these:  You'll need fresh jalapeños.  Cut them in half and scrape out the seeds and ribs.  Your hands are going to get spicy… and what I mean by spicy is that if you touch your eyes with your fingers after performing this task, you're not going to be very happy.  A tip from one of my Twitter friends: once you've handled the peppers, place hands in bowl of milk or cream to neutralize the capsaicin. Then wash with soap/water.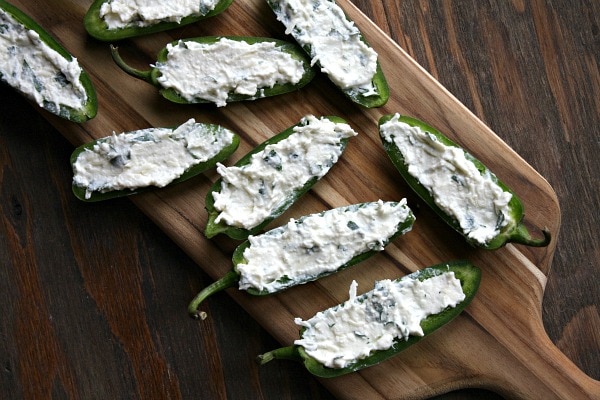 Fill the hollowed-out jalapeño halves with a lightened up cheese mixture.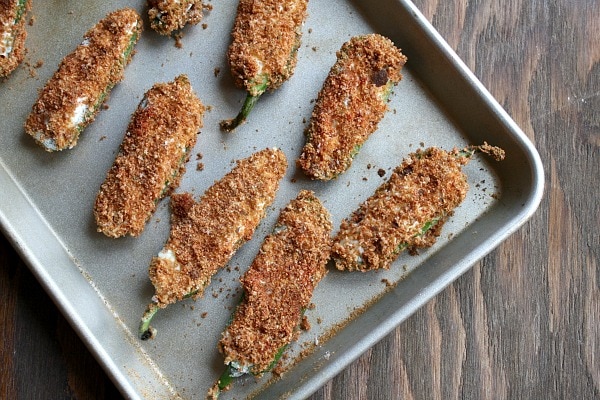 Dip them in egg wash and toasted bread crumbs, and spray them lightly with cooking spray.  Bake until crispy!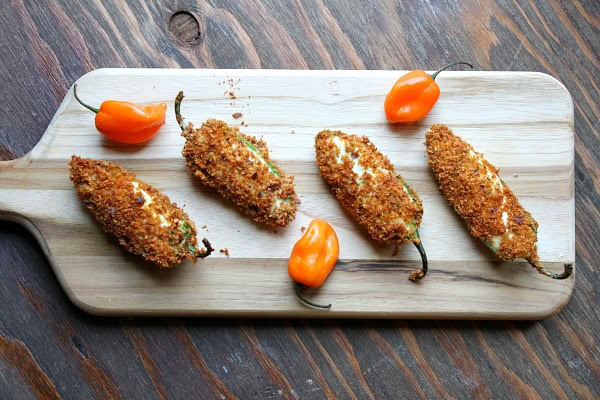 These "baked" and lightened-up jalapeño poppers are indeed a pretty nice substitute for the deep-fried, evil, ooey gooey version.  They're definitely not the same as those, but they're a decent alternative for those who are watching their calorie intake.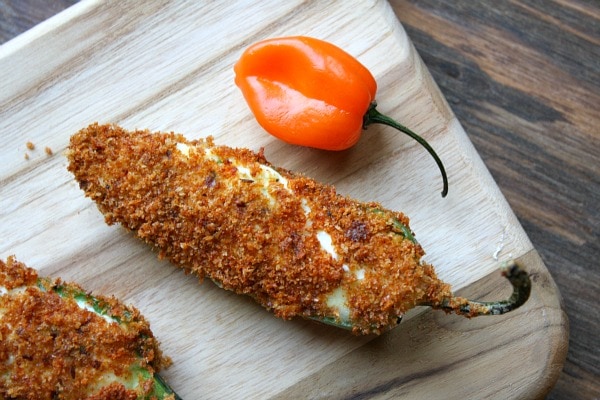 You'll be able to eat four of these for 110 calories and 4 Weight Watchers Plus points.  And they happen to be gluten-free adaptable too.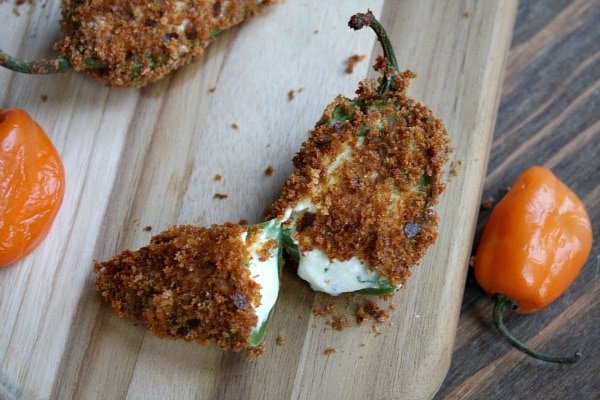 I was pretty happy with how they turned out.  The jalapeños lose a little bit of their spice during the baking process (which is good for me since I'm not super big on spicy food), the cheese mixture becomes properly melty, and the exterior develops some crispness to it.  We shared these with our neighbor and he and my husband chowed down on pretty much all of them while watching football.  They're definitely good football-watching fare.  And guess what?  They had no clue that this was a lightened-up recipe.  I'd call that a win-win.
So will you be serving up some healthy options on Super Bowl Sunday or is it a day of "free eating?"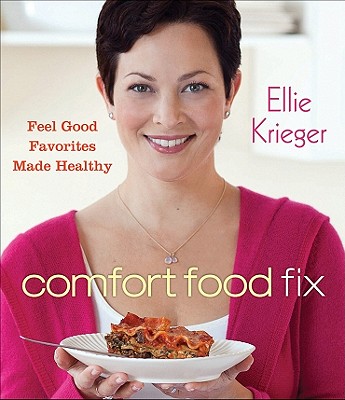 I'm giving away three copies of Ellie Krieger's Comfort Food Fix cookbook, courtesy of Wiley Publishing.  I have and USE Ellie Krieger's other cookbooks: The Food You Crave and So Easy- she is a fabulously talented recipe developer and she focuses on recipes that are a little bit healthier.  In this cookbook, Krieger puts a healthy twist on your favorite comfort food dishes.  All nutritional information is included.  Must-tries for me are her Crispy French Toast Fingers with Blueberry- Maple Sauce, Broiled Buffalo Wings, Chicken and Biscuit Pot Pie, Creamy Shrimp and Grits, Skillet Mac and Cheese, Green Bean Casserole with Crispy Shallots, Corn and Cheddar Spoon Bread, Chocolate Chunk Cookies and Double Chocolate Bread Pudding.  Everything looks so good!
This giveaway is open to anyone who has a mailing address in either the USA or CANADA. Three winners will be chosen via random.org on Wednesday, February 1st and will be contacted via email. Each winner will receive a Comfort Food Fix Cookbook to be mailed from Wiley Publishing.
To enter: Leave one comment below sharing your favorite "comfort food." Good luck!  This giveaway is now closed.  Thanks to all for entering.
Baked Jalapeño Poppers

Yield: 6 servings (4 poppers per serving)

Prep Time: 40 min

Cook Time: 40 min

A healthy alternative to the comfort food, happy-hour favorite...

Ingredients:

BREADCRUMBS:
4 slices whole-wheat sandwich bread

POPPERS:
1/3 cup whipped cream cheese
1/3 cup part-skim ricotta cheese
1/2 cup (packed) grated Monterey Jack Cheese (2 ounces)
2 tablespoons minced fresh parsley
12 medium fresh jalapeño peppers, halved lengthwise, seeded and deveined
1/4 cup all-purpose flour
1/2 teaspoon salt, divided
1/4 teaspoon freshly ground black pepper, divided
1 large egg
2 tablespoons water
2 teaspoons smoked paprika
1 teaspoon garlic powder
pinch cayenne pepper

Directions:

1. Prepare the breadcrumbs: Preheat the oven to 350 degrees F. Place the bread in a food processor and process until fine crumbs form, 25 to 30 seconds. Place the crumbs on a baking sheet, spreading them evenly. Bake until golden brown, about 8 to 10 minutes.

2. Prepare the poppers: Spray a baking sheet with nonstick spray. In a small bowl, stir together the cheeses and parsley. Fill each jalapeño half with 2 teaspoons of the cheese mixture.

3. On a plate, combine the flour, 1/4 teaspoon of the salt, and 1/8 teaspoon of the black pepper. In a small bowl, beat together the egg and the water to combine. On another plate, combine 1 cup of the bread crumbs, the remaining 1/4 teaspoon salt, the remaining 1/8 teaspoon black pepper, the paprika, garlic powder and cayenne pepper.

4. Dip each jalapeño half in the flour, shaking off the excess, then in the egg wash, and finally in the bread crumb mixture, shaking off the excess.

5. Place the coated jalapeños, cut-side-up, onto the prepared baking sheet and spray lightly to coat with cooking spray. Bake until golden brown and crisp and the cheese has melted, about 30 minutes.

Tips:

Nutritional Information per serving:

Serving size:

4 poppers

Calories per serving:

110

Fat per serving:

9g

Saturated Fat per serving:

3.5g

Fiber per serving:

2g

Protein per serving:

6g

Cholesterol per serving:

45mg

Carbohydrates per serving:

8g

WW POINTS per serving:
Points Plus Program: 4 Old Points Program: 3