Halftime Chili
When we first moved into our house many years ago, the community was new and we had a brand new fire station. Since we had a 2 year old who was completely obsessed with fire trucks, we quickly made friends with our local firefighters. We visited the station often to deliver treats, and they let our son investigate the fire trucks. They brought their rig to our culdesac and popped in for a bowl of chili on Super Bowl Sunday. So I can state with great confidence that this is officially a "Firefighter Approved" chili recipe: Halftime Chili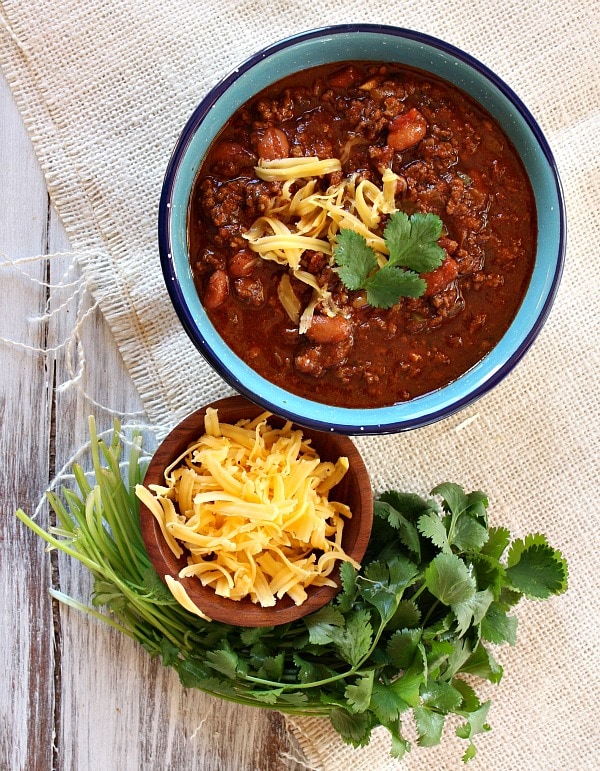 The recipe is adapted barely from Bon Appetit. And if I had been food blogging back then, I would have taken photos of those cute firefighters eating my chili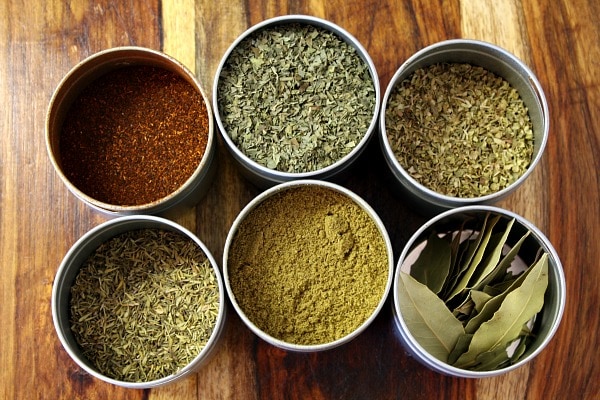 Really good chili has spices- lots of them (not a chili packet).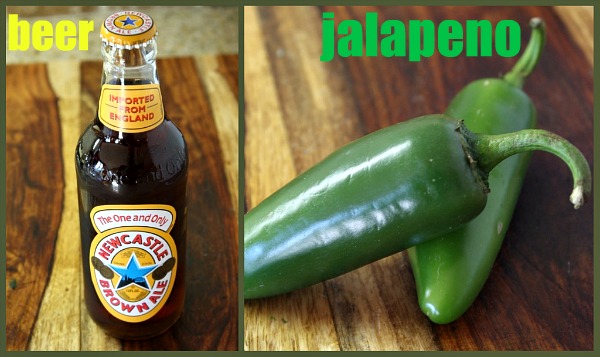 I love to add beer to my chili- it adds a great malty flavor into the sauce. Jalapeños are a must-add ingredient too.  They mellow out after cooking, so they don't add as much heat as you think.  I also really love to add a good scoop of barbecue sauce to my chili.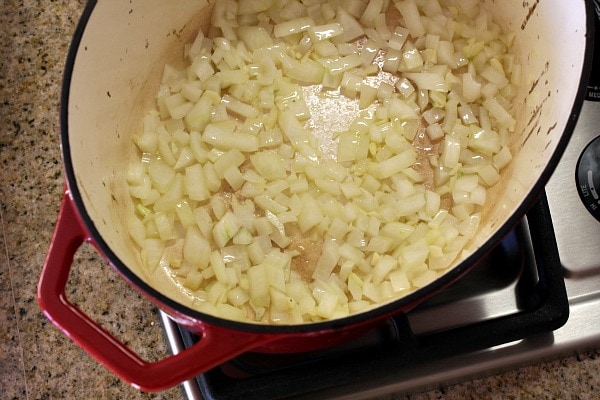 Here's how you make it: sauté onions and garlic.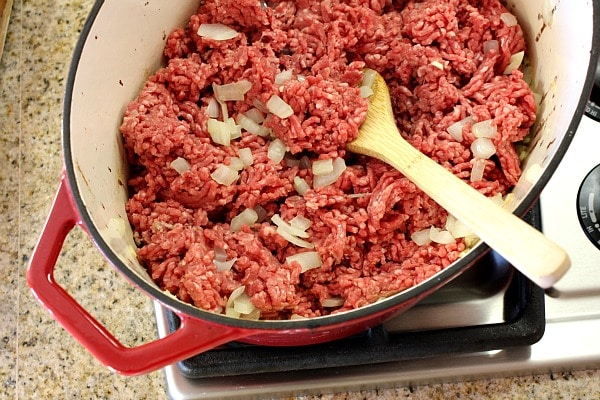 Add the ground beef and get it all nice and browned.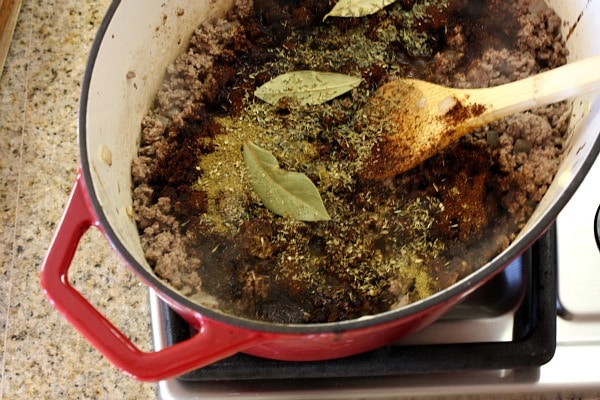 Dump in the spices.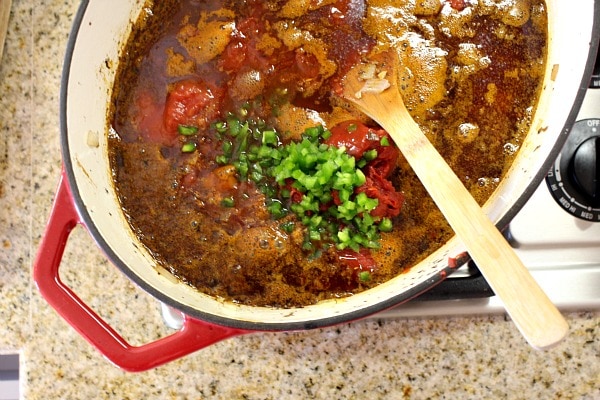 Then you'll add in a bunch of the really good stuff: beer, jalapeños, tomatoes, tomato paste, chicken broth, and barbecue sauce.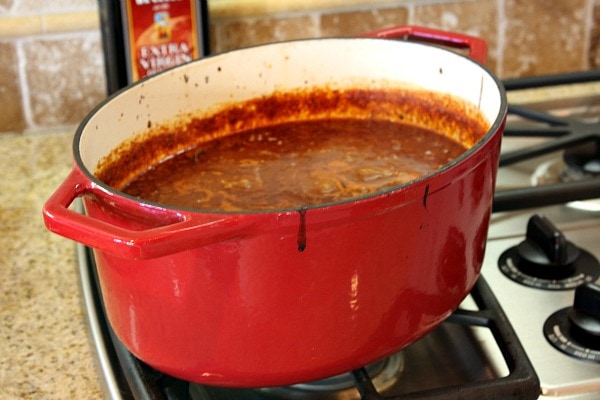 Then just let it simmer away on your stove for an hour or so.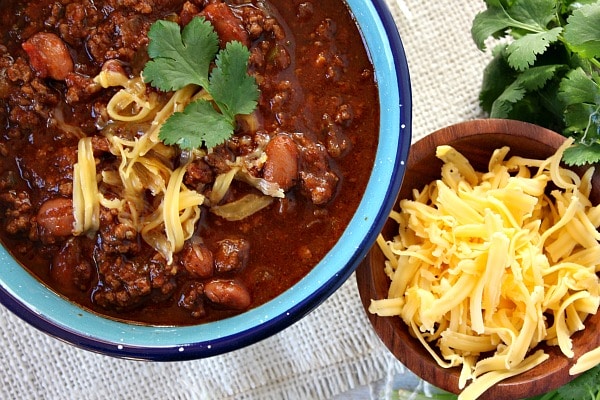 And it will be ready for Super Bowl Sunday!  We like to keep things pretty simple with a sprinkle of cilantro and cheese and sour cream (maybe even some Fritos!).  But you can display whatever fixings you'd like.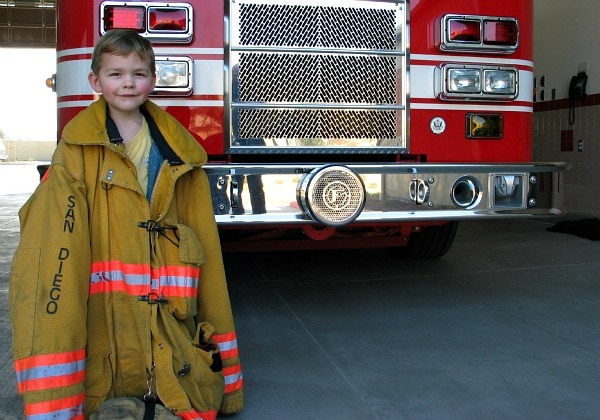 Of course I had to share a photo of my little boy (now much older!) at the fire station in all of his gear. He sure loved that place! My little guy is sharing a fun Super Bowl recipe on his RecipeBoy blog today too: How to Make Walking Tacos.
Halftime Chili

Yield: 10 to 12 servings

Prep Time: 25 min

Cook Time: 1 hr, 30 min

Lots of flavor in this one with both the beer and the barbecue sauce! Our local firefighters stopped by and had a bowl of this chili on Superbowl Sunday. They gave it the big thumbs up!

Ingredients:

2 tablespoons olive oil
1 1/2 cups chopped sweet onion
6 large garlic cloves, minced
3 pounds ground beef
5 tablespoons chili powder
1 tablespoon ground cumin
1 teaspoon dried basil
3 bay leaves
1/2 teaspoon dried oregano
1/2 teapsoon dried thyme
2 mild jalapeños, seeds & ribs removed and chopped finely
One 28-ounce can crushed tomatoes with puree
One 14.5-ounce can low-sodium chicken broth
One 12-ounce bottle of beer
One 6-ounce can tomato paste
1/2 cup bottled barbecue sauce
One 15-ounce can chili beans in sauce

Directions:

Heat oil in large Dutch oven over medium-high heat. Add onions and garlic. Sauté until onions are soft and lightly browned, about 8 minutes. Add beef and sauté until browned, about 5 min. Add chili powder, cumin, basil, bay leaves, oregano and thyme. Stir 2 minutes. Mix in jalapeños, tomatoes, broth, beer, tomato paste, and barbecue sauce. Bring to a boil and then reduce heat to a simmer. Let simmer until thickened to desired consistency, stirring occasionally to reincorporate the ingredients, about 1 hour and 15 min. Mix in the beans and heat an additional 5 minutes.

Tips: