Stuffed Zucchini Boats
My son Brooks acquired a new hobby last summer while we were on vacation: fishing. He hooked up with his East Coast cousins and their fishing neighbor named Eric. Eric had all kinds of gear that he let the kids use, and he taught them how to catch fish off the docks and the jetty of Boston's South Shore. Brooks spent a lot of time with Eric and those fishing poles that summer. He was on a mission to catch the biggest fish around, and I think he'd have fished all day every day if we'd let him. Brooks came home from fishing one day and told us he'd already eaten dinner- Stuffed Zucchini Boats- at Eric's house. "Did you say, Zucchini Boats??" I asked him. "Yep," he said.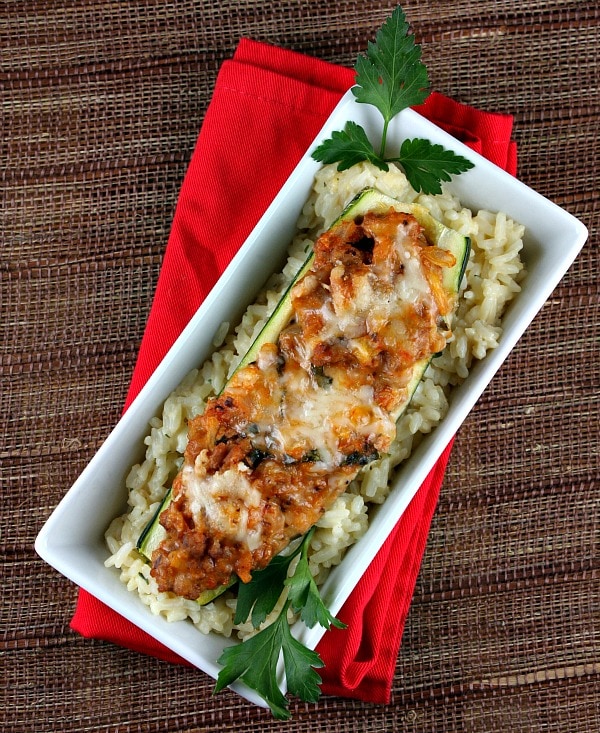 Now, you have to understand that my boy would no sooner eat small piece of zucchini floating in a bowl of soup… let alone an ENTIRE ZUCCHINI stuffed with stuff. Yet, he came home from fishing and happily told me how much he looooooved Eric's Stuffed Zucchini Boats.   Surely he was just being polite, right??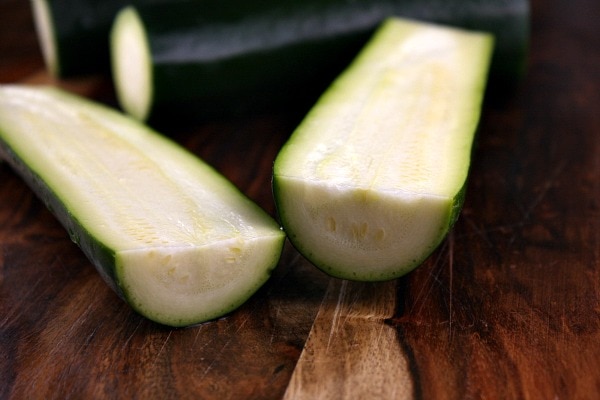 So at this point I decided that obviously Eric had obviously been catapulted into "God" category because he was so generous with his time and fishing equipment. Brooks lived for fishing that summer, and Eric was his ticket to have fun fishing with his cousins.  I decided that I simply must re-create this God-like zucchini dish that Brooks loved so much.  I asked him a bunch of questions about what could have been in that magical zucchini boat he ate, and he gave me some tips.  Here's what I came up with…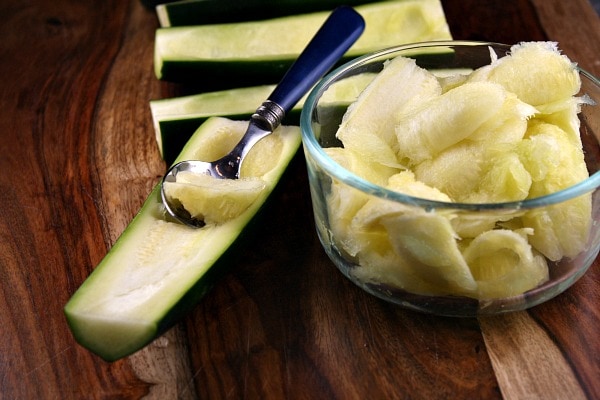 I scraped out the insides of the zucchini and saved them to sauté with a little bit of onion and garlic and sweet Italian sausage.  I drained the mixture after that since the zucchini brings a lot of moisture into the mix. Then I mixed it all with fresh basil, marinara sauce and cheese.  That's it.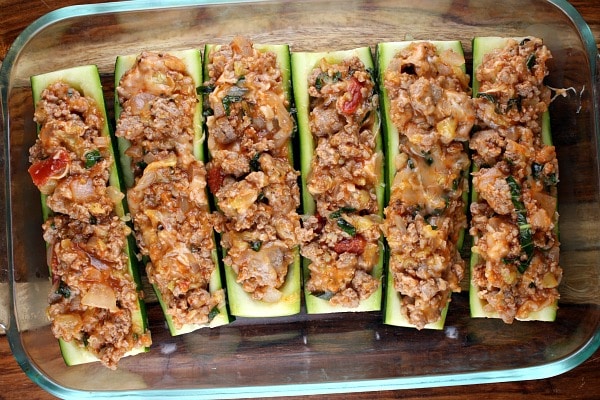 The zucchini boats were stuffed.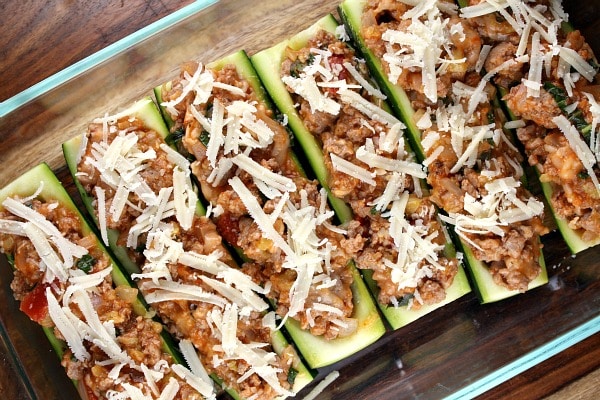 A little bit of cheese sprinkled on top too.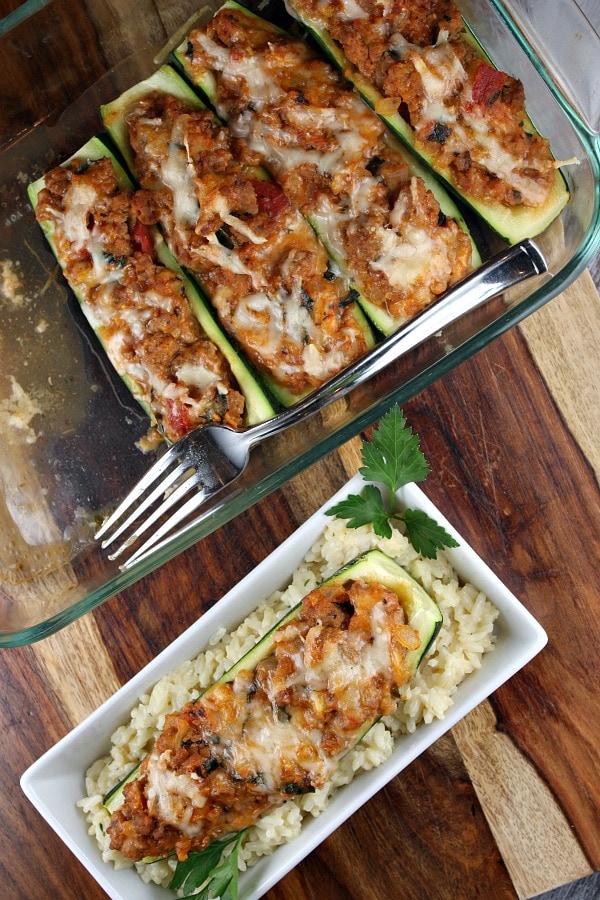 And then baked for 30 minutes.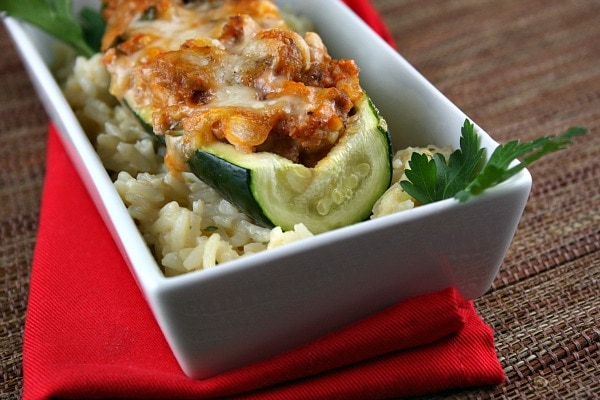 I served these Stuffed Zucchini Boats over a some Parmesan Rice (just the stuff you buy in the box- a quickie).  I could hardly believe my eyes when I observed Brooks eating bite after bite of my zucchini boats.  The kiddo said he loved them and gobbled up more than one.  I'm thinking I might need to bake Eric some cookies next summer to thank him for all of that fishing, but most importantly- to thank him for finding a delicious way to get my son to eat and enjoy zucchini.  Yay for Eric!
Stuffed Zucchini Boats

Yield: 6 zucchini boats

Prep Time: 30 min

Cook Time: 30 min

Ingredients:

Three medium (8-inch) zucchini, ends trimmed, then cut in half lengthwise
1 tablespoon olive oil
1/2 cup finely chopped onion
3 medium garlic cloves, minced
3/4-pound lean turkey sweet Italian sausage
1/2 cup Parmesan cheese
1/2 cup mozzarella cheese
1/2 cup tomato-basil marinara sauce
3 tablespoons chopped fresh basil
salt and pepper

Directions:

1. Preheat the oven to 350 degrees F. Spray a 13x9-inch baking pan with nonstick spray.

2. Use a small spoon to scrape out the insides of each zucchini half - the pulp. Don't scrape the zucchini all the way to the skin- just make a deep pocket where you'll be able to put the stuffing. Save the pulp and chop it.

3. Heat the olive oil in a large skillet over medium heat. Add the zucchini pulp, onion, garlic and sausage. Cook together 4 to 6 minutes, stirring often, until the onions are softened and the sausage is cooked through. Pour the mixture through a fine sieve to drain the excess moisture. Transfer the meat mixture to a medium bowl.

4. In a small bowl, mix the cheeses together. Remove two tablespoons of the cheese and set aside. Add the rest of the cheese to the meat mixture, along with the marinara sauce and basil. Add salt and pepper, as desired.

5. Divide the meat mixture between the hollowed out zucchini, filling and mounding into each one. Set the stuffed zucchini into the prepared pan and sprinkle the reserved cheese on top.

6. Bake 30 minutes, or until baked through and tender.

Tips:

Nutritional Information per serving:

Serving size:

1 zucchini boat

Calories per serving:

241

Fat per serving:

13.5g

Saturated Fat per serving:

4.8g

Sugar per serving:

3.9g

Fiber per serving:

3.9g

Protein per serving:

19.2g

Cholesterol per serving:

51.6mg

Carbohydrates per serving:

12.2g

WW POINTS per serving:
Points Plus Program: 6 Old Points Program: 5