Chocolate Muffins
I have some good news. Relieving news. "I'm Exhausted, but in a Happy Way" kind of news: I finished writing my cookbook yesterday! Yahoo! It's off to the publisher for edits and photography, and it will be available for purchase a year from now. I can't wait to share it with you. PHEW. So you see, I've been a little busy

Please welcome my last guest poster- another good friend and fabulous food blogger: Catherine McCord from the  very popular website  Weelicious.com. Weelicious focuses on educating kids and involving them in the cooking process. Catherine has loads of kid-friendly, healthy recipes on her site, and she includes how-to videos too! Today, Catherine is sharing a recipe for Chocolate Lovers: Chocolate Muffins. Take it away Catherine!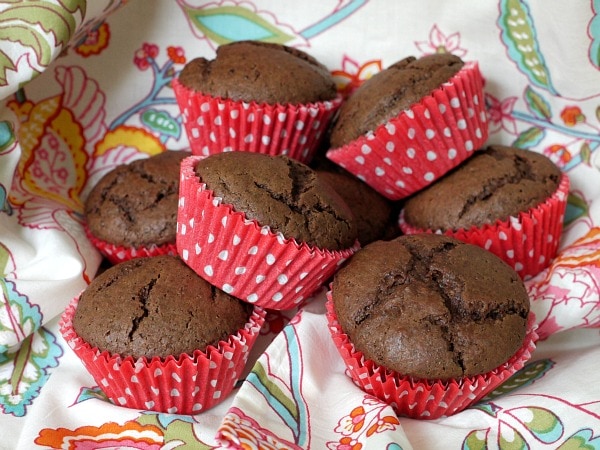 Chocolate.
If there's such thing as an "easy sell" in our house, nothing pleases everyone more than absolutely anything I make whose name starts with chocolate. In fact, my kids' cheers of joy usually drown me out before I can even get the whole word out of my mouth.
Take these Chocolate Muffins for instance. Recently, my two little angels were in the midst of a quarrel at the kitchen table and I was starting to lose my patience from all the bickering. Using my best diversionary skills I announced to them, "I made chocol…". They were sold before they even knew what it was that I made — amazing, the power chocolate in any form has over my kids. After each of their first bites, there was peace in the world (at least momentarily)….and something delicious in their tummies.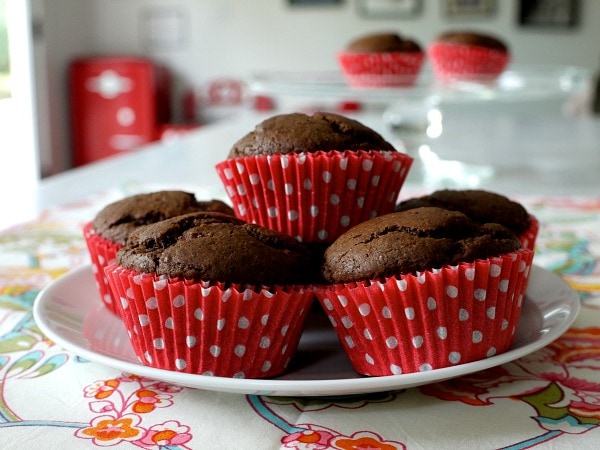 These chocolate muffins are light as a feather, but also pack a rich punch of chocolate. The next time you're trying to grab everyone's attention, just whip up a batch of these and watch what happens!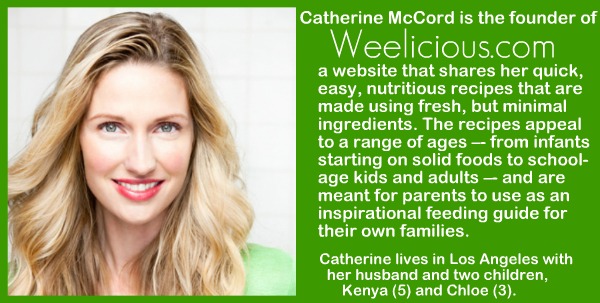 Catherine encourages parents to be honest -– no sneaking veggies! –- and to include kids in the cooking process by exposing them to food from the moment it comes out of the ground to giving them age-appropriate tasks in the kitchen. This hands-on experience inspires them to ask questions and gets them excited about what they're going to eat. You'll notice a change in kids' eating habits and as they grow, they'll instinctively make healthier food choices.
Thanks so much, Catherine for sharing your delicious recipe for chocolate muffins with us!  You can visit Catherine on her website: Weelicious.com, Facebook, Twitter and Pinterest.  And you can look forward to Catherine's first cookbook: Weelicious, which will be published by Willam Morrow in Sept. 2012.  Her book will include over 150 fast, easy and fresh recipes for the entire family. One family, one meal. It will offer tips on how to make kids great eaters while making a moms life easier in the kitchen at the same time!
Chocolate Muffins

Yield: 12 regular-sized or 4 mini muffins

Prep Time: 15 min

Cook Time: 18 min

Ingredients:

1 1/2 cups all purpose flour
1/2 cup unsweetened cocoa powder
1/2 cup granulated white sugar
1 1/2 teaspoons baking powder
1/2 teaspoon salt
3/4 cup milk
1/3 cup vegetable or canola oil
1 large egg, beaten

Directions:

1. Preheat the oven to 400° F. Grease 12 regular or 24 mini muffin tins.

2. In a medium bowl, sift flour, cocoa powder, sugar, baking powder, and salt.

3. In a large bowl, whisk together the milk, oil, and the egg. Add the dry ingredients and stir just until combined.

4. Fill the muffin cups 2/3 full.

5. Bake 18 – 22 minutes, or until a wooden pick inserted into the center comes out clean.

Nutritional Information per serving:

Serving size:

1 regular-sized muffin

Calories per serving:

155

Fat per serving:

6.9g

Saturated Fat per serving:

.9g

Sugar per serving:

9.1g

Fiber per serving:

1.7g

Protein per serving:

3.2g

Cholesterol per serving:

15.7mg

Carbohydrates per serving:

22.2g

WW POINTS per serving:
Points Plus Program: 4 Old Points Program: 3

Source: RecipeGirl.com (recipe from Catherine McCord of Weelicious.com)