Green Velvet Cheesecake Cake
St. Patrick's Day is coming up soon, and because I have a very Irish (& proud of it) husband– it's my duty to share a few St. Paddy's Day recipes.  I know, I know… here she goes again with the cheesecake cakes, right? I just can't help it. These cheesecake-in-the-middle cakes are so darn good! They should come in every flavor. This cake here is your typical red velvet cake made with green food color instead of red. So if you're a red velvet fan, you'll like this green version just as much: Green Velvet Cheesecake Cake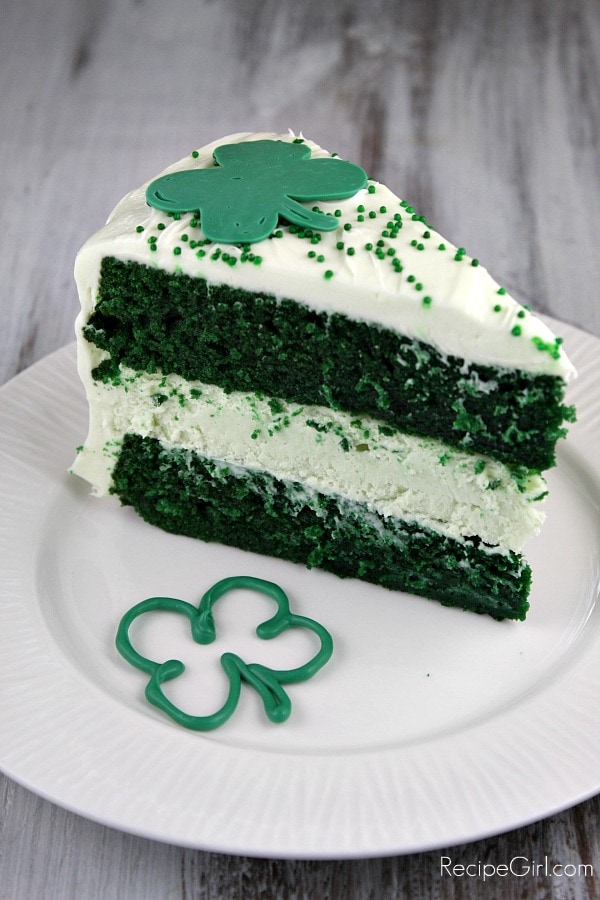 I tinted the cheesecake lightly with green too (but it's not mint).  Though I'm thinking a chocolate-mint combination would be super cool for St. Patrick's Day too!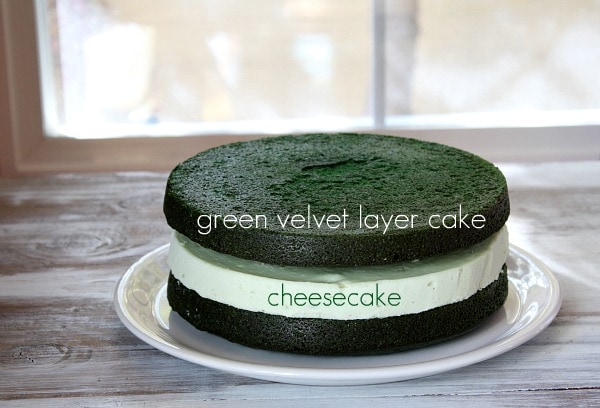 It's just regular 'ol yummy cheesecake tucked in between two layers of green velvet cake. After you bake the cheesecake, you just have to freeze it for a few hours and then it is firm enough to pick up, trim slightly and place between the two layers.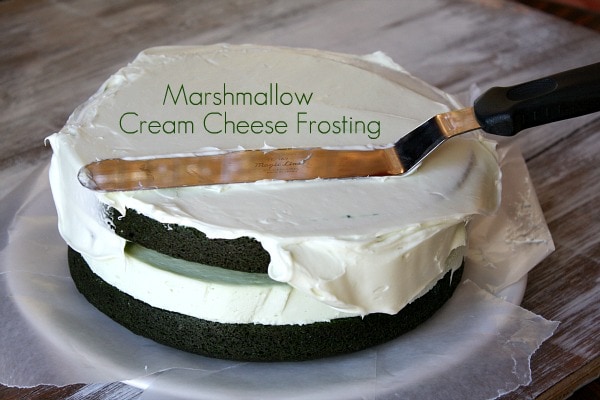 The frosting is a very simple marshmallow cream cheese frosting.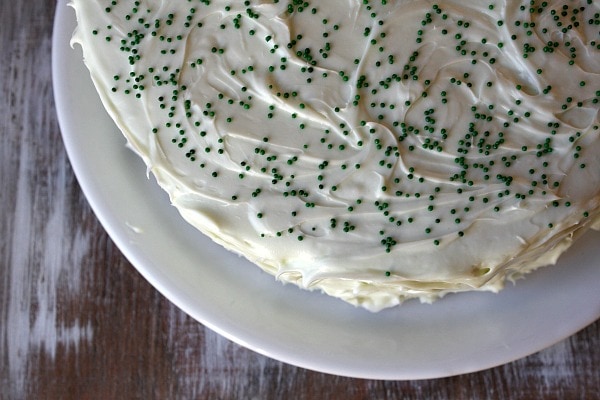 Gotta have festive sprinkles on top, right?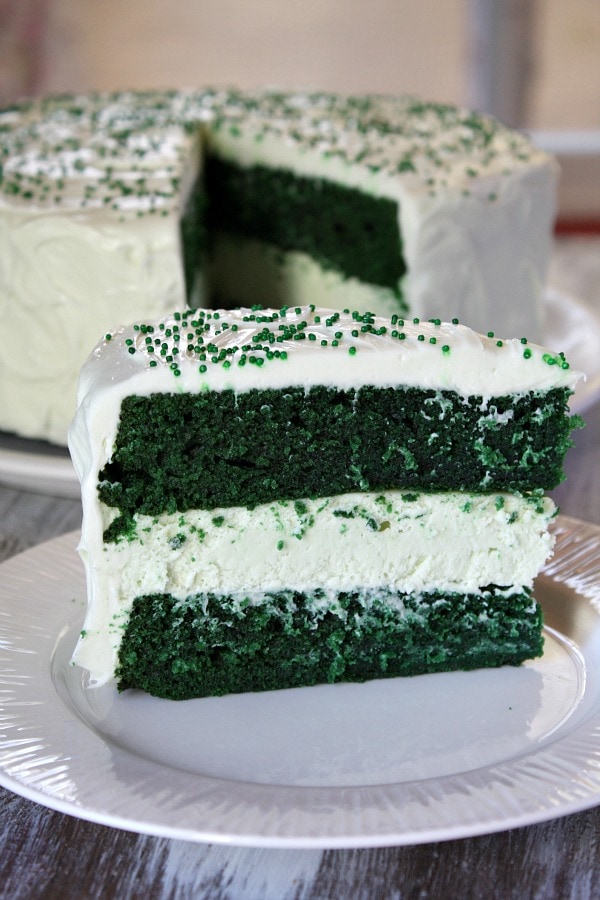 The cheesecake layer defrosts quickly to create a wonderfully creamy middle layer to the cake.  It's like having a giant layer of frosting, but it's CHEESECAKE!  oh my.  I love it.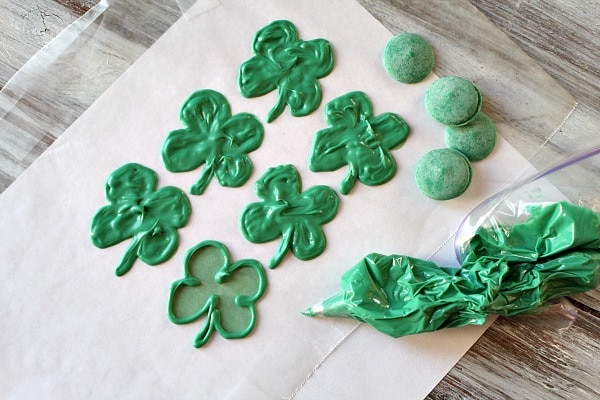 But it needed a little bit of St. Patrick's Day bling, so I melted some green candy melts (available at craft stores) and piped some 4-leafed clover shapes on waxed paper. (so technically a four-leaf clover is NOT considered a shamrock.  Oh well, lucky four leaf clovers will have to do!)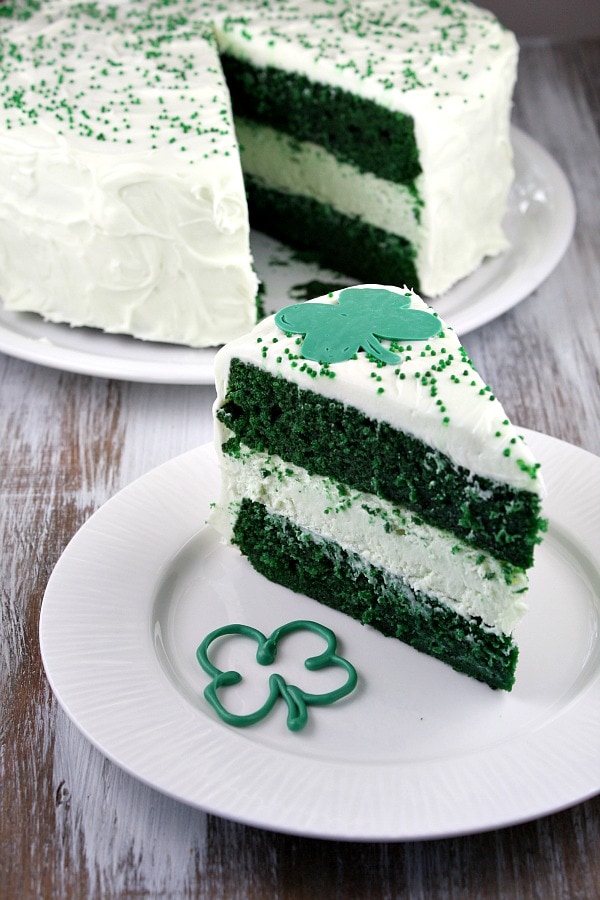 And here it is in all its glory with a couple of 4-leaf clovers to accompany it.  This is a fun cake for St. Patrick's Day… plus or minus the clover bling!
My family chowed down on the sample slice, and then I broke the news to them that I'd be shipping the rest of the cake off tomorrow to the teachers at my son's school.  So they forced me to slice up a tiny bit more!  I can't have treats like this lying around in my house for long.  If you lived next door to me… I would bring them to you-  enjoy!
Green Velvet Cheesecake Cake

Yield: 12 to 14 servings

Prep Time: 1 hr + cooling and chill times

Cook Time: 1 hour 15 min

Ingredients:

Cheesecake:
Two 8-ounce packages cream cheese, at room temperature
2/3 cup granulated white sugar
pinch of salt
2 large eggs
1/3 cup sour cream
1/3 cup heavy whipping cream
1 teaspoon vanilla extract
a few drops of green food coloring, if desired

Green Velvet Cake:
2 1/2 cups all-purpose flour
2 tablespoons cocoa powder
1/2 teaspoon salt
1 1/2 cups canola or vegetable oil
1 1/2 cups granulated white sugar
2 large eggs
1 teaspoon vanilla extract
1 teaspoon white vinegar
1 teaspoon baking soda
1 cup buttermilk
2 tablespoons (1-ounce bottle) green food coloring

Frosting:
Two 8-ounce packages cream cheese, at room temperature
1/2 cup unsalted butter, at room temperature
One 7-ounce jar marshmallow creme
1 cup powdered sugar
a few drops of green food coloring, if desired

Directions:

1. Prepare the cheesecake layer: Preheat the oven to 325dgF. Place a large roasting pan on the lower third rack of the oven. Place a kettle of water on the stove to boil. Spray a 9-inch springform pan with nonstick spray and line the bottom with a round of parchment paper. Wrap a double layer of heavy duty foil around the bottom and up the sides of the pan (you want to seal it so the water from the water bath doesn't seep into the pan).

In a large bowl, use an electric mixer to blend the cream cheese until it is smooth and creamy, 1 to 2 minutes. Mix in the sugar and salt and blend for 2 minutes, scraping down the sides of the bowl to make sure all is mixed in. Add the eggs, one at a time, blending after each addition. Finally, mix in the sour cream, whipping cream and vanilla (and food color, if using). Mix until smooth. Pour the batter into the prepared pan. Set the pan into the roasting pan in the pre-heated oven. Carefully pour the hot water from your kettle into the roasting pan. Pour enough water so that there is about an inch of water coming up the foil along the sides of the cheesecake pan.

Bake the cheesecake for 45 minutes. It should be set to the touch and not jiggly. Remove the cheesecake from the roasting pan and let it cool on a wire rack for at least an hour. When it has cooled, place the pan into the freezer and let the cheesecake freeze completely (4 to 5 hours or overnight).

2. Prepare the cake layers: Preheat the oven to 350dgF. Spray two 9-inch round pans with nonstick spray and line each pan with a round of parchment paper (see *Tips). In a medium bowl, sift together the flour, cocoa powder and salt. In a large bowl, combine the oil and sugar together and beat with an electric mixer for 2 minutes. Add the eggs, one at a time, and the vanilla, and beat for an additional 2 minutes.
In a small bowl, combine the vinegar and baking soda and stir to dissolve. Add the vinegar to the bowl, along with the buttermilk and food coloring. Beat on medium-low speed for 1 minute, until blended. Add the dry ingredients and increase speed to medium-high, scraping down the sides of the bowl while mixing, for 2 additional minutes. Divide the batter evenly between the prepared pans. Bake 30 to 35 minutes, or until a toothpick inserted into the center comes out with a few moist crumbs attached. Let the cakes cool for 20 minutes. Run a knife along the edge of the pans, then invert the cakes onto a rack to cool completely.

3. Prepare the frosting: In a large bowl, using an electric mixer on medium-high speed, combine the cream cheese and butter and beat until creamy and smooth. Add the marshmallow creme and mix until smooth. Add in the powdered sugar (and food color, if using) and continue to beat, scraping down the sides of the bowl, until all of the ingredients are mixed in and the frosting is smooth and spreadable.

4. Assemble the cake: Place one cake layer into the center of a cake plate or platter. Remove the cheesecake from the freezer, take off the sides of the pan, and slide a knife under the parchment to remove the cheesecake from the pan. Peel off the parchment. Trim the cheesecake, as needed to match the size of your cake layers (see *Tips). Place the cheesecake layer on top of the first cake layer. Place the second cake layer on top of the cheesecake.

5. Frost the cake: Apply a crumb coat layer of frosting to the cake (see *Tips), and refrigerate the cake for 30 minutes, or until the frosting is set. Apply the second layer of frosting. Add a large scoop of frosting onto the top of the cake. Use a long, thin spatula or knife to spread the frosting evenly across the top and then spread it down the sides of the cake too. Decorate, as desired.

Tips: