Reuben Bread
My Irish husband has been demanding Corned Beef lately.  Must be something in the air causing this uncontrollable craving… or it must be that St. Patrick's Day is almost here!  We actually won't be home for the big day– we'll be with friends celebrating an Irish-themed dinner.  Since I so slyly got out of making that much-requested corned beef, I went another route instead and prepared a corned beef-stuffed Reuben Bread for our pre- St. Patrick's Day festivities.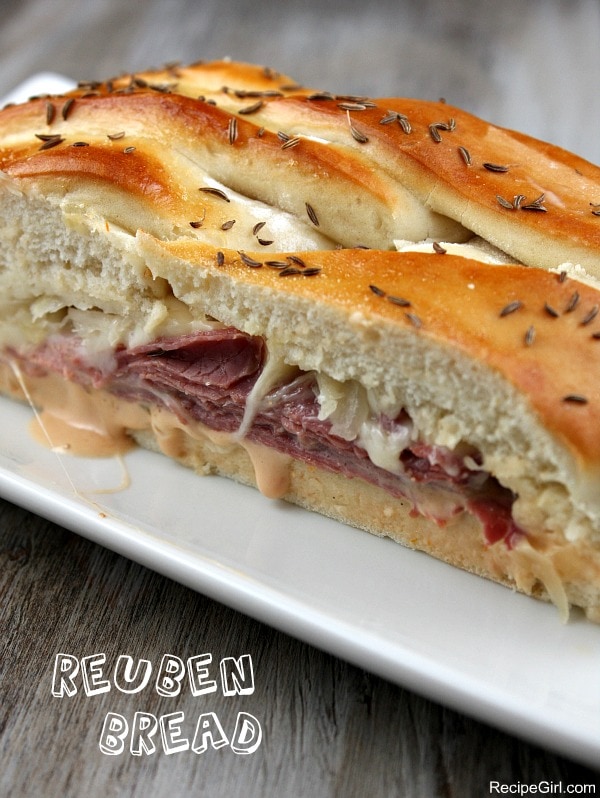 This reuben bread recipe was adapted from a 10-year-old Junior League cookbook - Come On In! Recipes from the Junior League of Jackson, MS (I've always LOVED the Jr. League cookbooks… I was in the San Diego league for a number of years, and the Junior Leaguers just know how to put together great recipe collections.)  Anyway, I found this recipe to be quite interesting.  It's a braided yeast bread with all of the components to a Reuben sandwich tucked inside.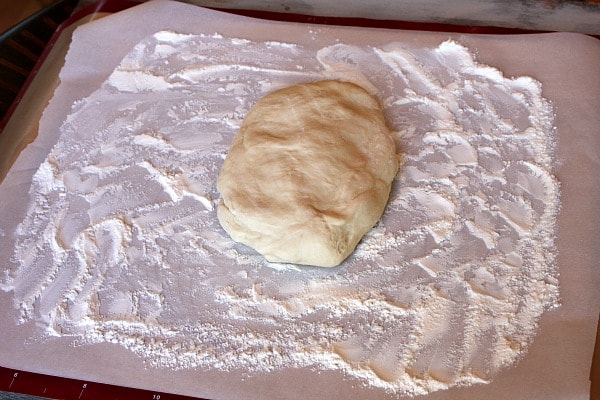 If you have a stand mixer, this recipe is a no-brainer.  The dough hook can do the 4-minute kneading for you.  If you don't have a stand mixer, then you'll just get a little bit of a workout with your arms and shoulders kneading the dough on a floured surface!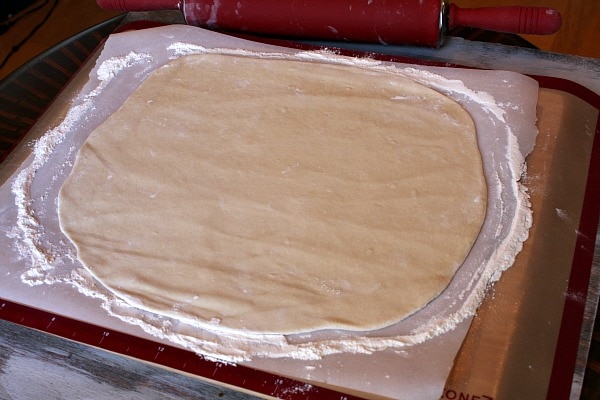 The dough is very easy to work with.  Just roll it out flat into a rectangular-ish shape.  As you can see, it does not have to be a perfect rectangle.
Spread Thousand Island salad dressing in the middle of the dough.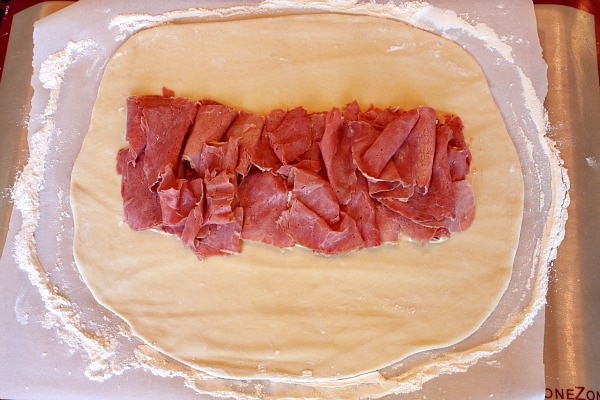 Top it with corned beef (purchased from the deli, or leftovers from your St. Patrick's Day feast).
Sprinkle Swiss cheese on top of the corned beef.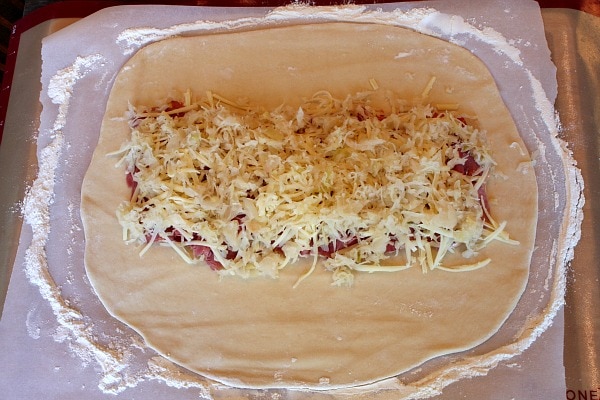 Put sauerkraut on top (the canned or jarred stuff is fine… just drain it first).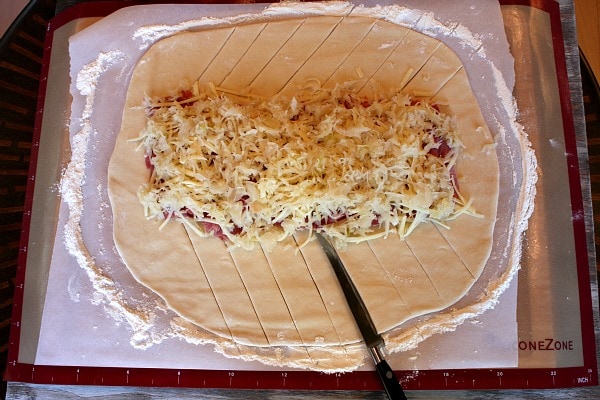 Here's where it gets fancy.  Cut the sides of the dough at an angle, about 1-inch wide strips from center out to the edge.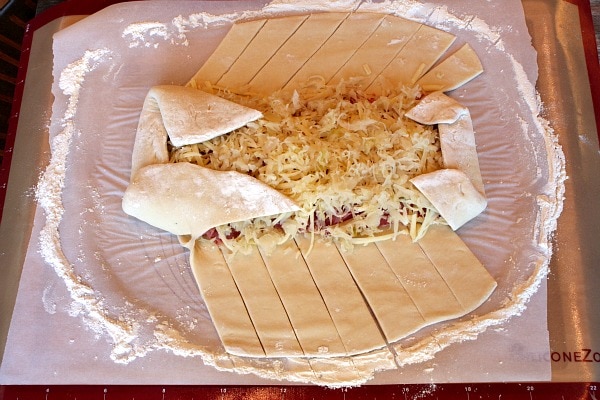 Tuck the ends in first.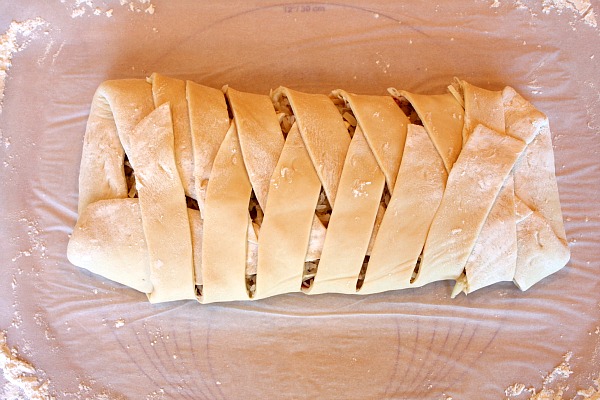 Then wrap the strips of dough over toward the middle, alternating to give it a braided look.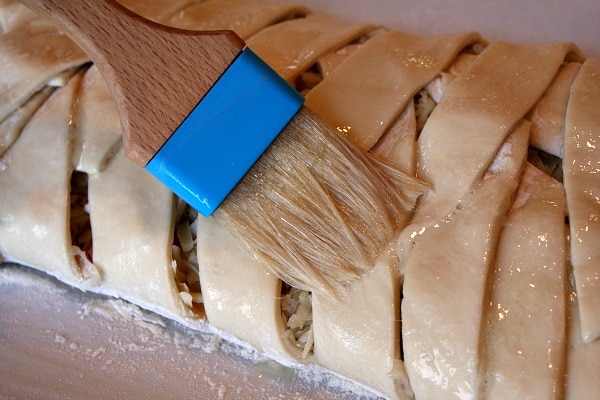 Brush the surface of the dough with beaten egg white.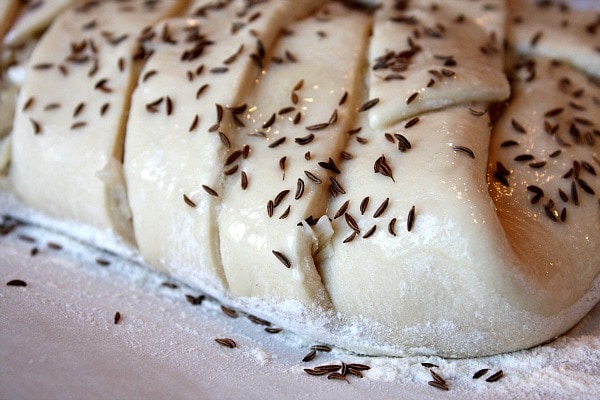 Sprinkle with caraway seeds (the seeds you see in Rye bread).  Then you're going to cover the dough with a towel and let this baby rise for 30 to 45 minutes.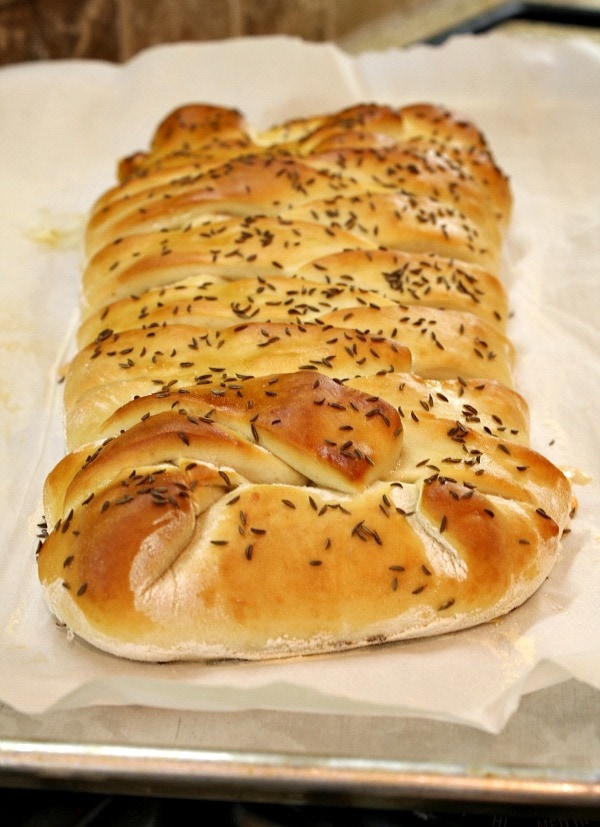 Bake for 25 minutes until it turns golden brown…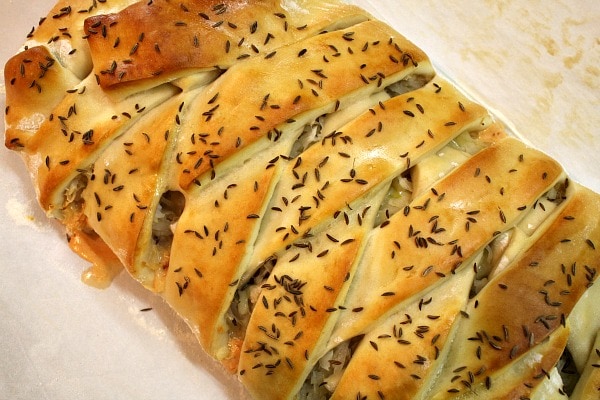 …and until things begin oozing out of the nooks and crannies.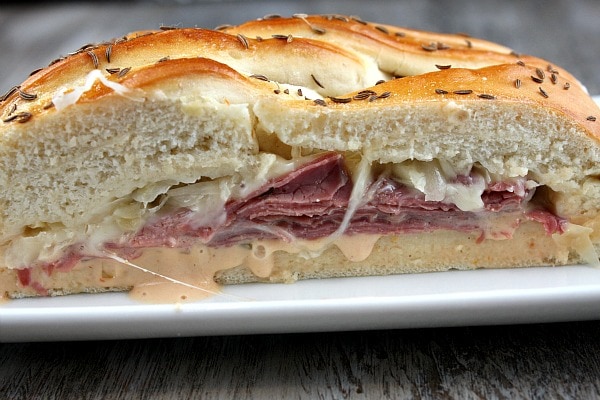 Slice the bread while it's warm and serve- just as you would serve up slices of a sub sandwich.  The cheese will be all melted and oh-my-gosh good, and the dressing will drip out the sides acting as a delicious sauce.
So… if you want to do a little something different for dinner on St. Paddy's Day… or if you're looking for something to do with your leftover corned beef (is it possible to have leftover corned beef???), here's a recipe for you to try.  It does involve that scary stuff called yeast, but I promise that it is rather simple to make.  Just follow my step-by-step photos and you'll do great!  Irish or not (um, I'm Swedish…), Happy St. Patrick's Day weekend!
Reuben Bread

Yield: 4 to 6 servings

Prep Time: 25 min + rising time

Cook Time: 25 min

Ingredients:

1 package active dry yeast
1 cup warm water (105°- 115°)
3 teaspoons granulated white sugar, divided
2 3/4 to 3 cups bread flour (+ extra for dusting the mat)
1 teaspoon salt
1 Tablespoon unsalted butter, at room temperature
2/3 cup bottled Thousand island salad dressing
6 ounces corned beef, thinly sliced
4 ounces Swiss cheese, sliced or shredded
3/4 cup canned sauerkraut, drained
1 large egg white, beaten
caraway seeds

Directions:

1. In a small bowl, dissolve the yeast and 1 teaspoon sugar in the warm water until bubbly, about 5 minutes

2. Combine 2 3/4 cups flour, remaining sugar, salt and butter in a stand mixer. Add the dissolved yeast and beat, using the dough hook, to make a soft dough (scraping sides as needed). Add an additional 1/4 cup flour if the dough is too wet. Knead with the dough hook for 4 minutes. Turn the dough out onto a floured mat. Roll out the dough to a 10x14-inch rectangle. Spoon the dressing down the center of the dough. Top with corned beef, cheese, and sauerkraut. Make cuts along sides of the dough, from the filling to the outer edge, at 1-inch intervals. Tuck the ends in first, then alternating sides, fold strips across filling. Carefully move the bread to a parchment-lined baking sheet. Brush the dough with egg white and sprinkle with caraway seeds.

3. Loosely cover the bread with a clean dishtowel and allow to rise for 30 to 45 minutes. Preheat the oven to 400°F.

4. Remove the dish towel, and bake 25 minutes, or until golden brown and cooked through, then slice and serve warm.

Tips: