Malted Dark Chocolate Chip Cookies
When I was a teenager, I worked at a little fast food joint in the small Nevada town where I was living.  It wasn't any ordinary, fast-food chain though.  It was the sort of family-owned place where you stop to grab a burger and a frosty when you're driving on a long road trip. At the age of 15/16, I was trusted to close the place down at night with another young co-worker.  I was a responsible employee, but I'm sure you can imagine the experimenting that went on in that place after hours.  I dreamed up new burgers, dipped fries in butterscotch syrup, and created every possible flavor combination of milkshakes, malts and sundaes.  My all-time favorite ice cream creation was a marshmallow chocolate chip malt.  I've been obsessed with malt powder every since.  And so I bring you my latest Cookie Craving:  Malted Dark Chocolate Chip Cookies.  Details on today's "Cookie Cravings" giveaway are at the end of this post.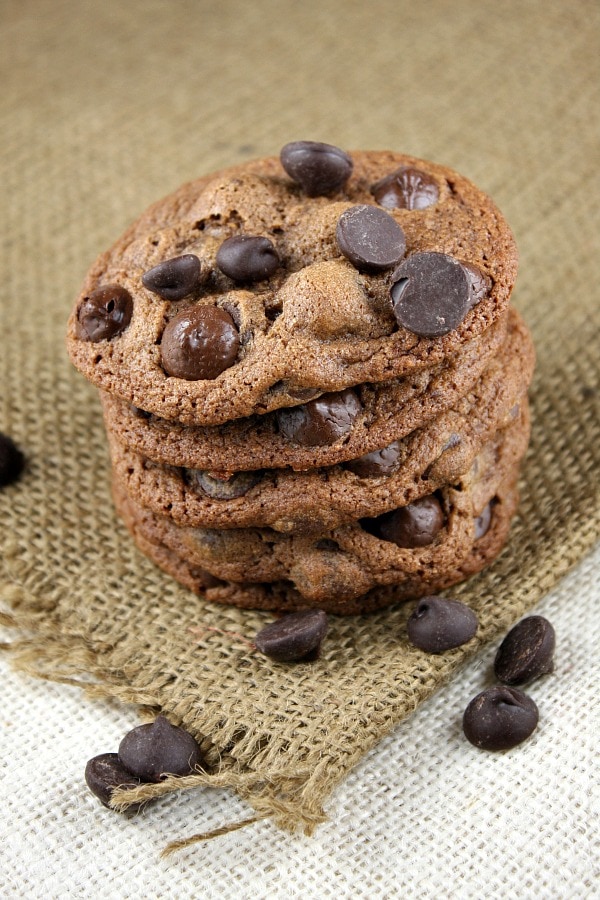 These are a rich chocolate malt cookie with plenty of dark chocolate chips tucked inside.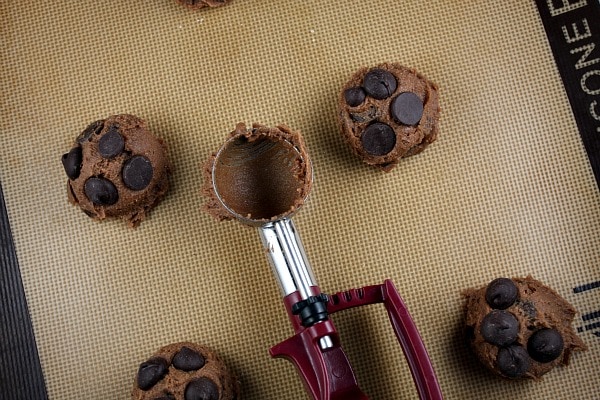 For good measure and visual appeal, I added even more chips on top of each ball of cookie dough before baking.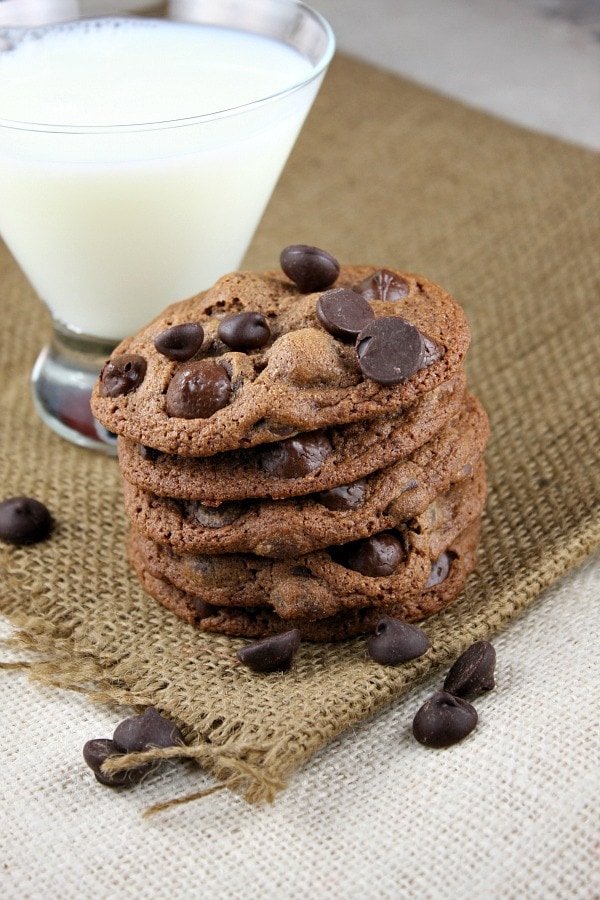 A pretty major glass of milk is needed to chase down such a chocolatey cookie.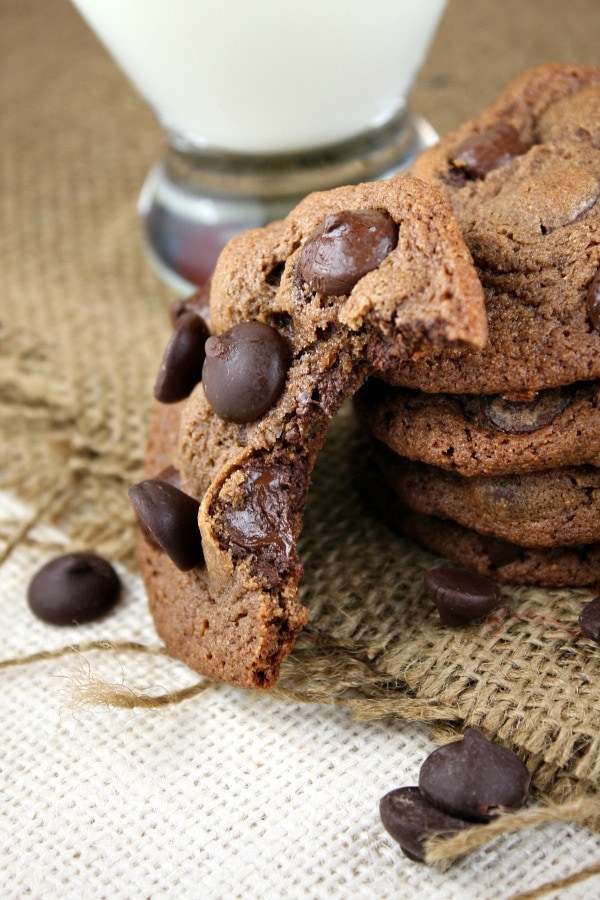 The malt flavor is subtle but detectable, and the chocolate flavor isn't subtle at all.  You're welcome.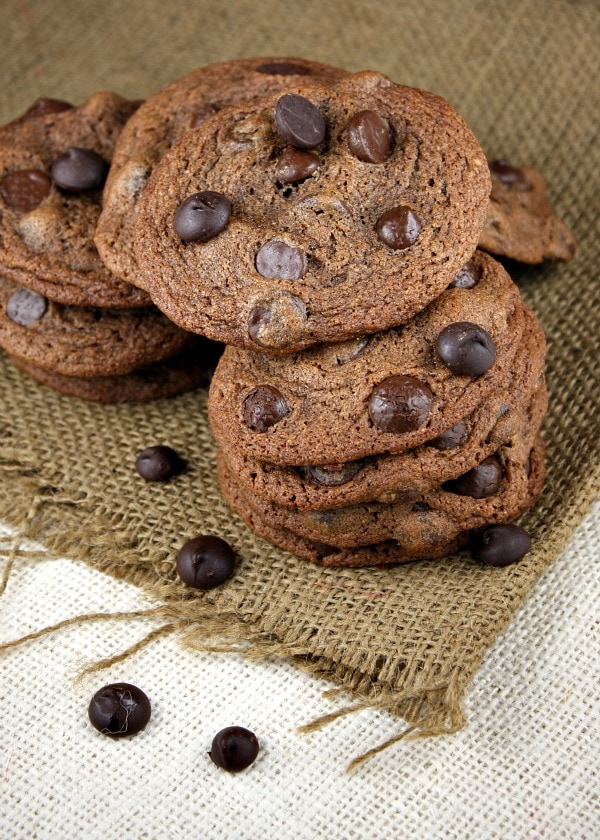 This recipe makes just 24 cookies so you're not on cookie overload, but you're welcome to double it if you happen to be in need of a cookie overload.  I'm not a huge fan of chocolate, but I can't seem to stop eating these.  They're in my freezer, where cookies are usually safe… but not these!  I keep nibbling…
——————————————————————–
Ohhhhh, I have an exciting e-book to share with you today… one that will make you crave cookies forever and ever and give you a hankering to bake a new batch every day for an entire month!
Cookie Cravings is an e-cookbook packed with a MONTH of cookie recipes and beautiful color photographs too, assembled by the oh-so-talented Heidi of FoodieCrush. It's a gorgeous, delicious book!!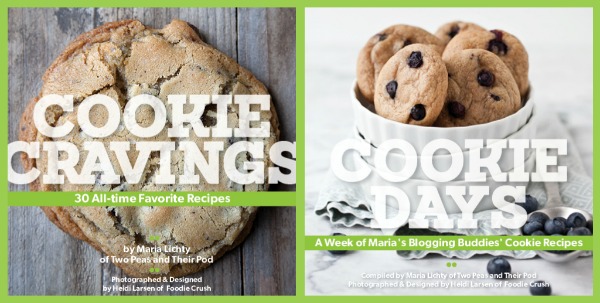 The Cookie Cravings e-cookbook also includes Cookie Days – a cookbook featuring a week worth of cookie recipes from some great bloggers including Picky Palate, Kevin and Amanda, Confessions of a Cookbook Queen, How Sweet It Is, Eat Live Run, Brown Eyed Baker and yours truly too.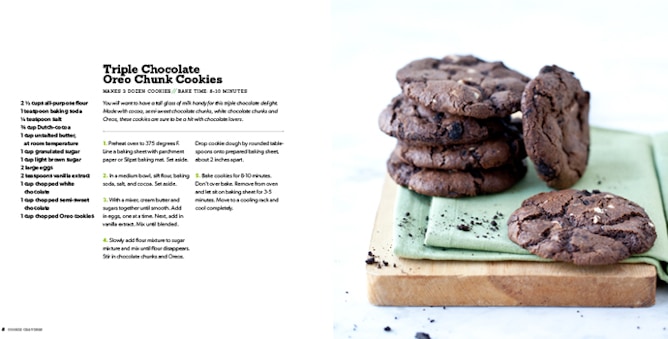 Here's a peek at what a typical recipe looks like inside.  Yum!
Maria and Josh from Two Peas and Their Pod are giving away a copy of their e-cookbook Cookie Cravings to one lucky RecipeGirl reader.  In additional toCookie Cravings and Cookie days, the winner will receive:
Printable gifting labels for a year of special occasions from ChicSprinkles.com
Printable Kitchen Conversion Chart
Printable What's in Maria's Pantry: Baking Cookies
Printable Cookie Recipe Cards for your own cookie recipes
Printable Chocolate Toffee Almond Cookie Recipe Card from Two Peas and Their Pod
Printable Keep Calm and Bake On Graphic
Computer Screen Saver Wallpapers
VIDEO: Maria's Step-by-Step Cookie Baking Tutorial
For a chance to win, just leave a comment below sharing your all-time favorite cookie! This giveaway is open to anyone- anywhere- worldwide!  You just need a valid email address for delivering the e-cookbook.  Giveaway ends on Sunday, April 1st.  The winner will be selected via random.org and will be posted here.  Good luck to all!  This giveaway is now closed- the randomly selected winner is commenter # 94 Allia- congrats!
If you'd like to purchase Cookie Cravings, you can do so here.
Malted Dark Chocolate Chip Cookies

Yield: 2 dozen cookies

Prep Time: 15 min

Cook Time: 13 min

Ingredients:

8 tablespoons (1 stick) unsalted butter, softened
3/4 cup packed dark brown sugar
1/4 cup granulated white sugar
1 large egg
1/2 tablespoon vanilla extract
1 1/4 cups all-purpose flour
1/4 cup malt powder
2 tablespoons unsweetened cocoa powder
1/2 teaspoon baking soda
1/4 teaspoon cream of tartar
1/4 teaspoon salt
One 10-ounce bag dark chocolate chips

Directions:

1. Preheat the oven to 350 degrees F. Line a baking sheet with parchment paper or a silpat mat (or spray with nonstick spray).

2. In a large bowl, use an electric mixer to combine the butter and sugars until well mixed. Mix in the egg and vanilla.

3. In a separate bowl, whisk together the flour, malt, cocoa, baking soda, cream of tartar, and salt. Add the dry ingredients to the wet and mix until the flour is incorporated. Stir in 1 1/4 cups of chocolate chips.

4. Using a cookie scoop or a tablespoon, scoop about 2 tablespoons of dough onto the cookie sheet in a rounded lump. Dot 5 or 6 additional chocolate chips on top of each cookie dough lump, if desired. Space cookies 3-inches apart on the cookie sheet (8 per cookie sheet works well).

5. Bake cookies for 12 to 14 minutes, or just until the cookies are almost set and no longer super soft in the middles. Let them cool on the baking sheet for a few minutes before transferring them to a rack to cool completely.

Tips: