Spinach Salad with Chicken, Avocado and Goat Cheese
Oh, if I were a single girl, I'd eat salad every night for dinner.  That's how much I love the stuff.  I'd eat mixed greens with berries and chicken.  I'd eat arugula topped with salmon and drizzled with fresh lemon juice and olive oil.  I'd eat crunchy romaine with roasted tomatoes, bacon and a generous dose of blue cheese dressing. And I'd eat a ton of spinach salads like this one:  Spinach Salad with Chicken, Avocado and Goat Cheese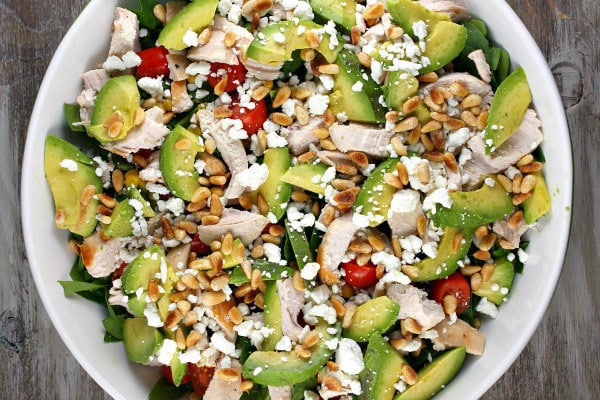 I gave up my single life (and eating salads for dinner) 17 years ago.  It's pretty rare that I can actually get away with serving salad for dinner these days.  Instead, my family wants their version of dinner, which means a plateful of three things: a meat, a starch and a vegetable (or a big bowl of pasta).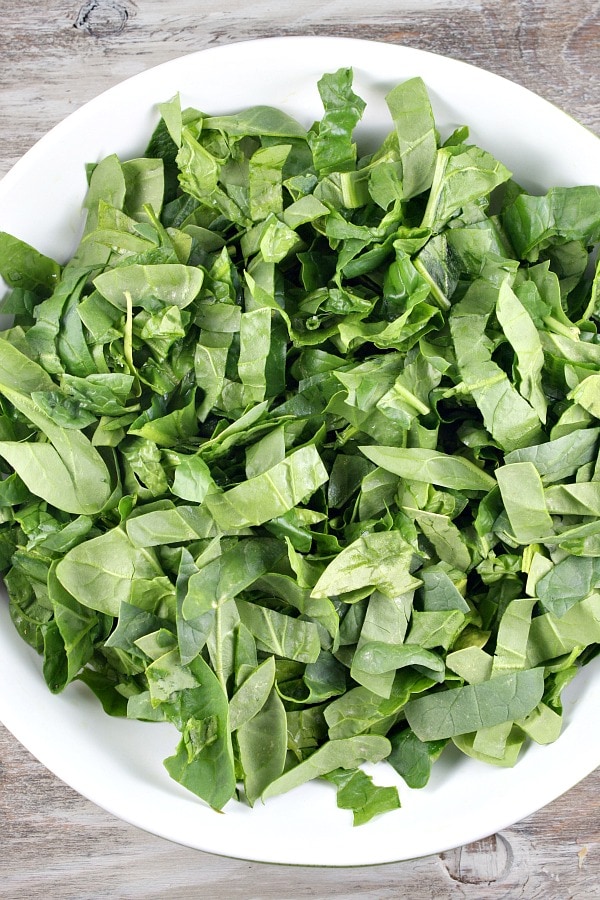 Having somewhat of a rebellious nature, I decided to go for it with this salad.  I fed my family SALAD for dinner.  I started with spinach… sliced it into slivers.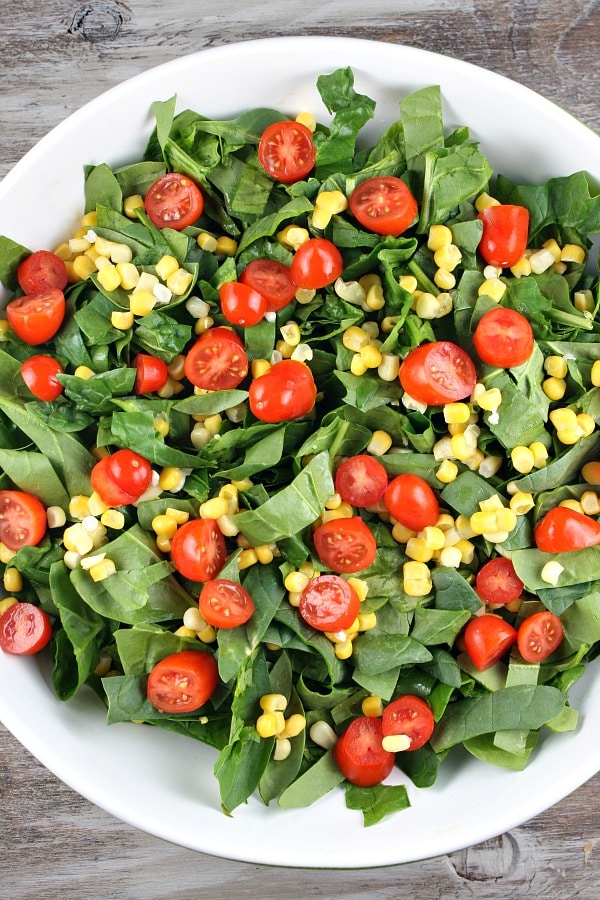 …and then I added tomatoes and corn…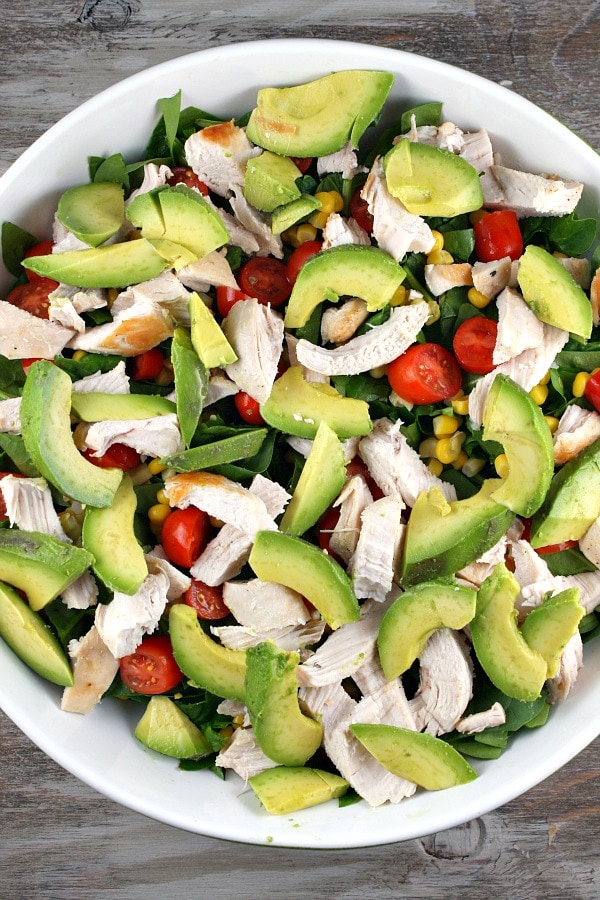 …and plenty of avocado and chopped, cooked chicken…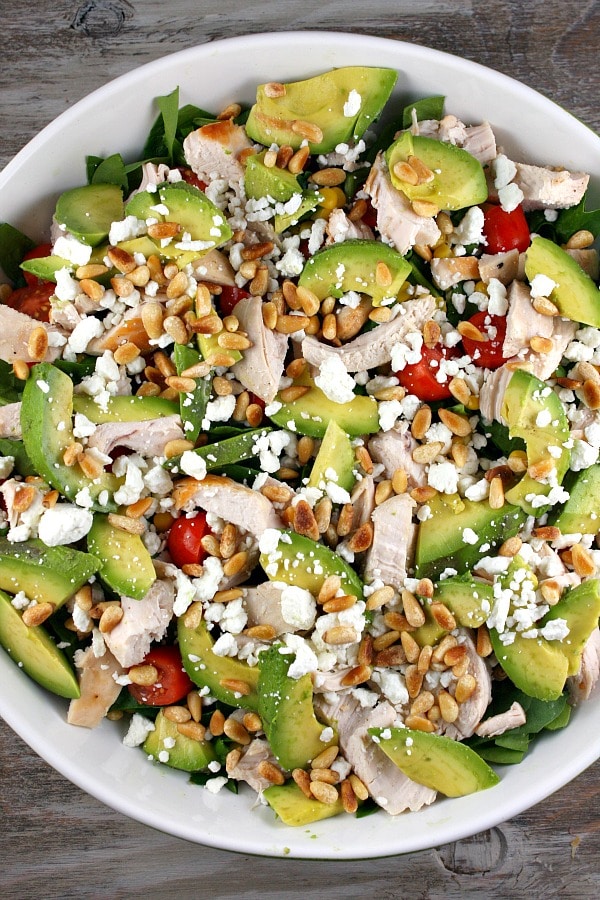 …and goat cheese and toasted pine nuts.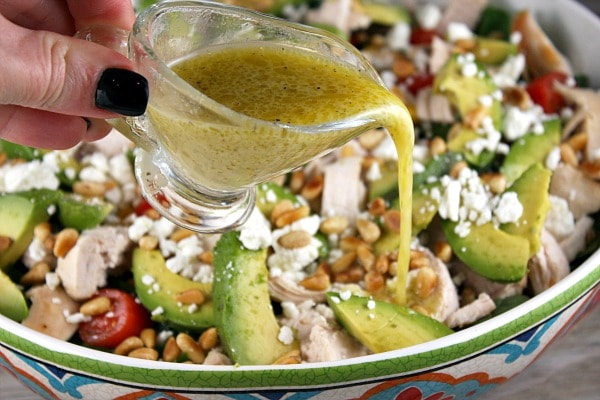 I drizzled a simple and tangy Dijon vinaigrette on top…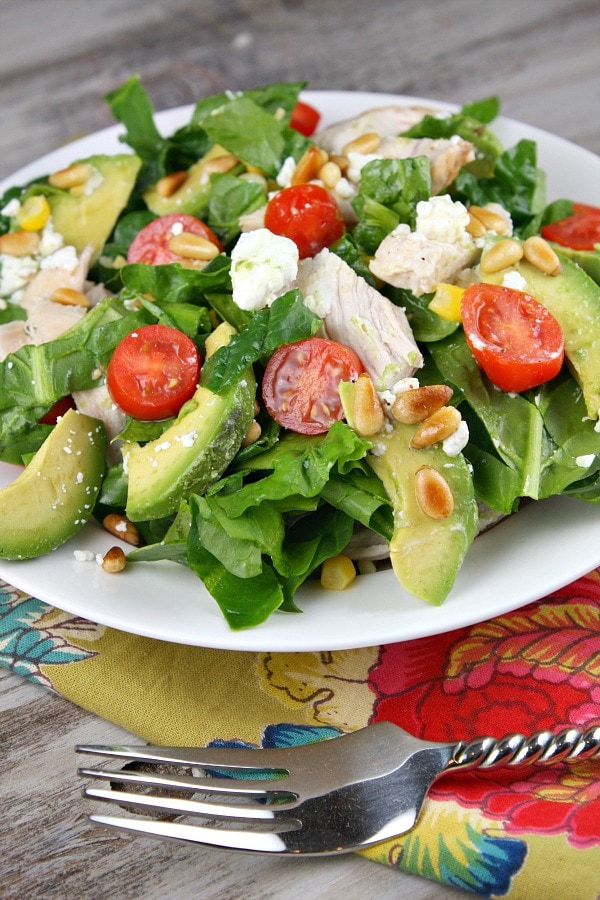 …and then I plated this as dinner for my family.  No meat/vegetable/starch meal for them on this night- just SALAD for dinner.
And guess what?  They loved it 🙂
Yield: 4 servings
Prep Time: 20 minutes
Spinach Salad with Chicken, Avocado and Goat Cheese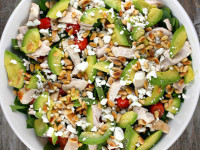 Ingredients:
SALAD:

8 cups chopped spinach (1 bag)
1 cup halved cherry or pear tomatoes
1/2 cup corn (frozen, canned, or cut off the cob)
1 1/2 cups chopped cooked chicken
1 large avocado, sliced
1/3 cup crumbled goat or feta cheese
1/4 cup toasted pine nuts
DRESSING:
3 tablespoons white wine vinegar
2 tablespoons extra-virgin olive oil
1 tablespoon Dijon mustard
salt and freshly ground black pepper, to taste
Directions:
Place spinach in a large salad bowl. add remaining salad ingredients.
In a small bowl, whisk together the dressing ingredients. Pour over the salad and toss (a little at a time... as much dressing as you desire).
SOURCE: RecipeGirl.com