Chocolate Chip Cookie Dough Cupcakes
It's about time for another cookie dough dessert.  My obsession with cookie dough continues with cupcakes.  I'm sure my fellow cookie-dough lovers can relate.  Today, I give you:  Chocolate Chip Cookie Dough Cupcakes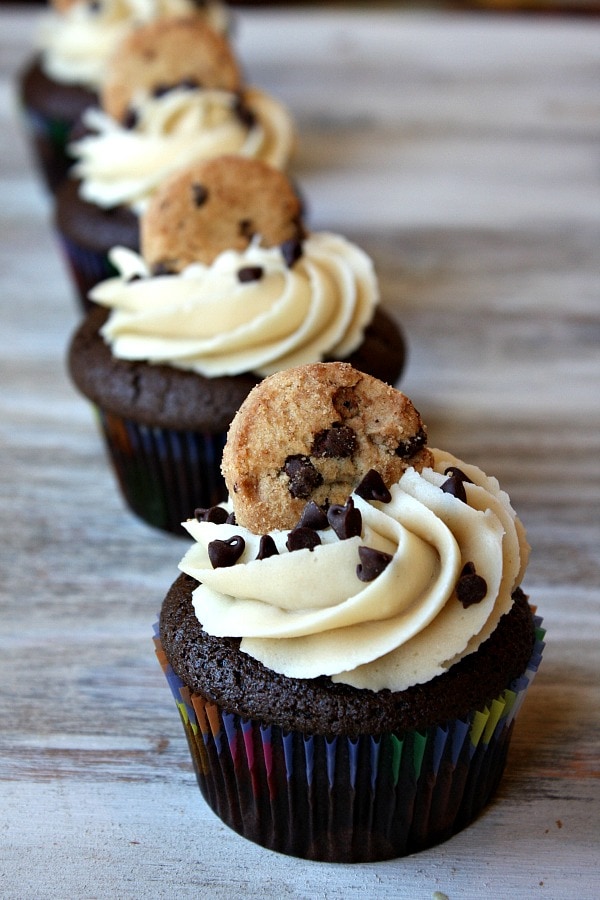 There are more than a few folks who have whipped up a version of Cookie Dough Cupcakes.  My friend Cheryl has shared a fabulous version using a chocolate chip cupcake for the base.  And I'm drooling over the beautiful Chocolate Chip Cookie Dough Cupcakes that my friend Amanda shared too in fancy wrappers and all.  This is a cupcake flavor that is simply irresistible to make.

This recipe is for 12 cupcakes.  If you want 24, just go ahead and double everything.  I went with a chocolate cupcake batter.  The batter is whipped up in the blender, a genius idea from Abby Dodge.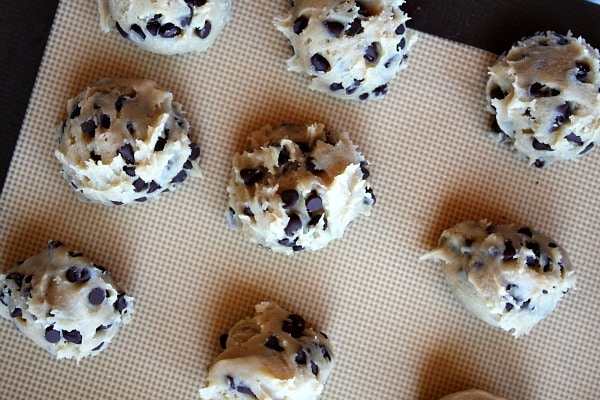 Egg-free chocolate chip cookie dough is mixed up, scooped into cookie dough balls and FROZEN.  The freezing will help the cookie dough STAY COOKIE DOUGH during the baking process.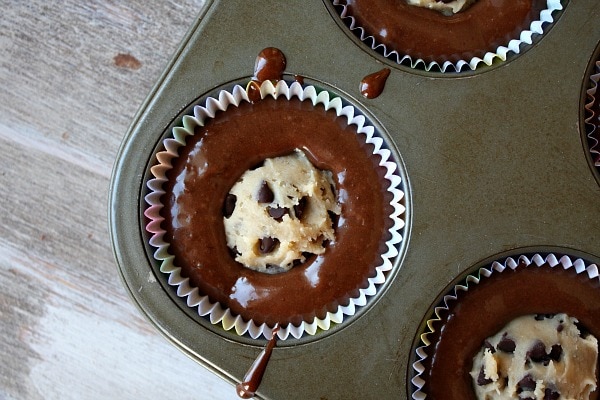 If you'd prefer to bake your cookie dough a little bit, let the cookie dough peek out the top of the batter like this.  The top of the cookie dough will bake into a cookie-like texture, while the bottom will stay more cookie dough-like.  If you'd rather have more of a raw cookie dough in there, poke the dough underneath the batter.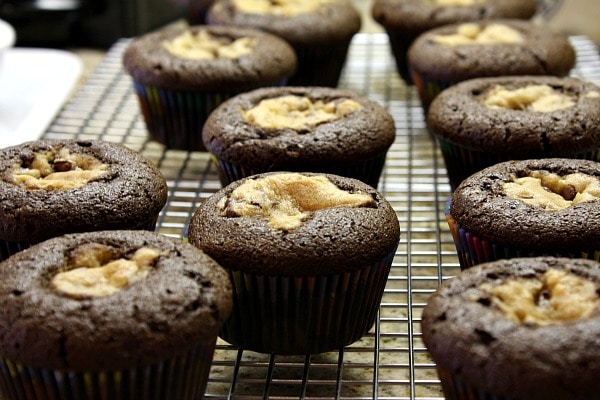 I made mine so they baked up half and half- a little baked cookie on top and doughy underneath.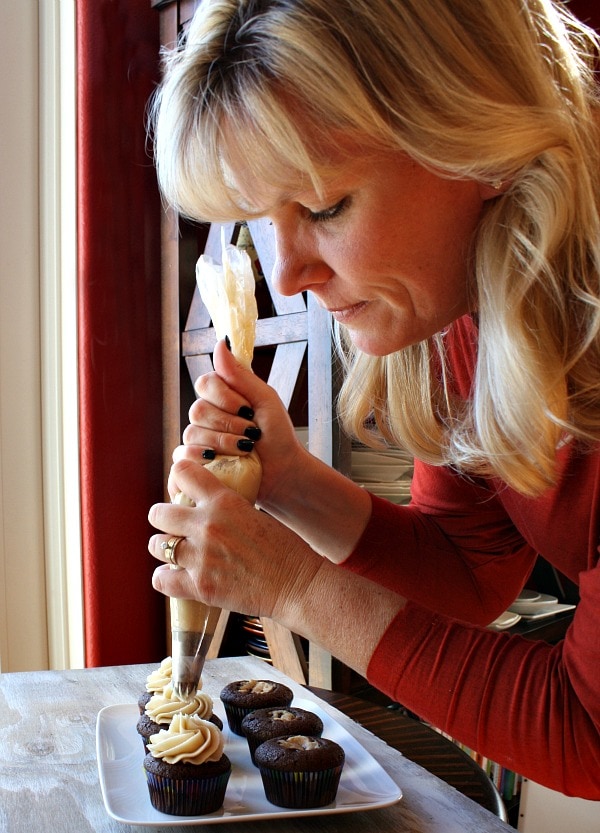 The frosting is an absolutely amazing-tasting cookie dough frosting!!  No kidding.  It's addicting and yummy.   I used Tidy Mom's recipe for the frosting- again, no egg.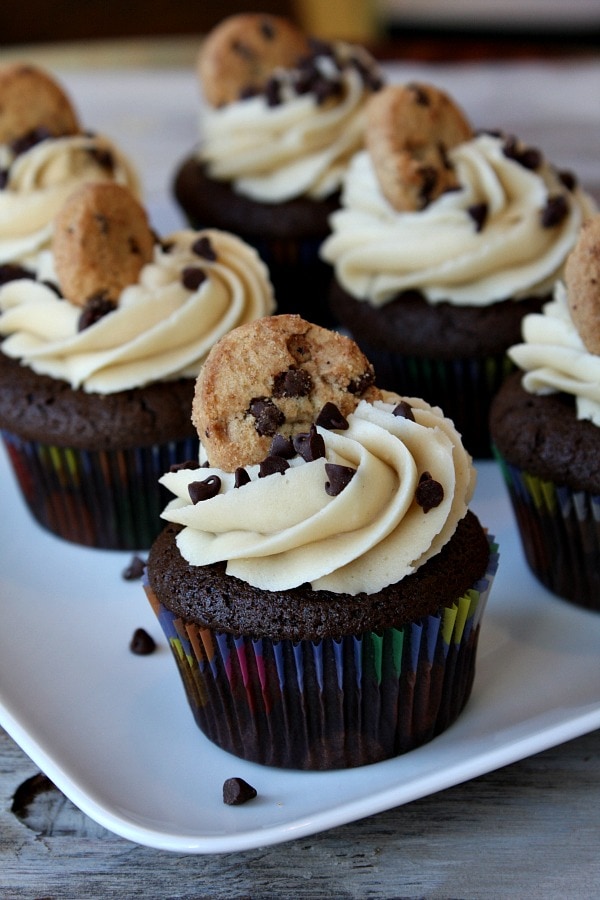 And of course you need some mini chocolate chip cookies and mini chips as garnish too.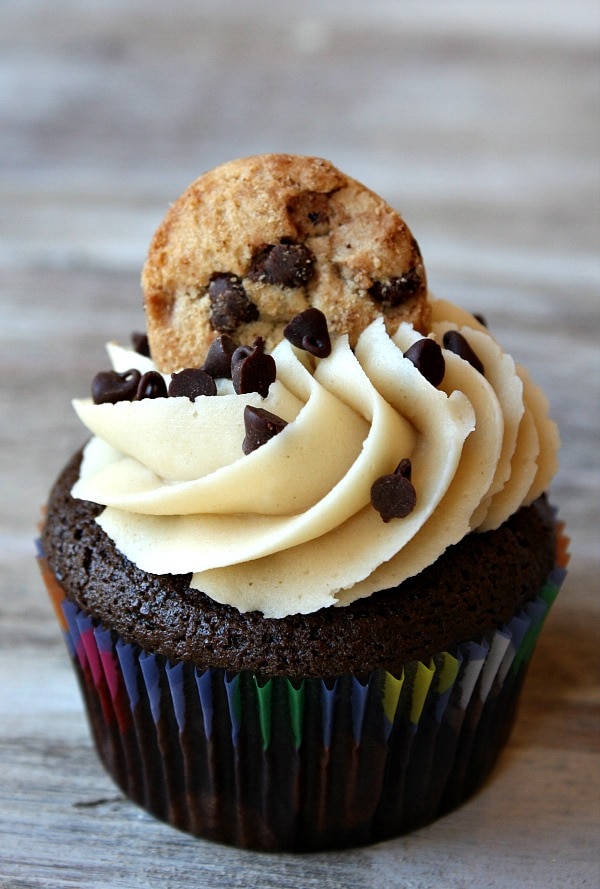 I tend to get a little out of control with cookie dough, so anything resembling cookie dough is far too dangerous to have around my house.  I ate a sample cupcake and then I shared them with Recipe Girl Cookbook photographer Matt and his fabulous team when I visited his studio for the cookbook shoot last week.  They had plenty of food lying around from the shoot, but I'm pretty sure they managed to eat these too.  These cupcakes are not going to be in the cookbook, but they're good nonetheless.
If you're a crazed cookie dough fan like me, you simply must try them.
Chocolate Chip Cookie Dough Cupcakes

Yield: 1 dozen cupcakes

Prep Time: 45 min + freeze time

Cook Time: 25 min

Ingredients:

COOKIE DOUGH FILLING:
3/4 cup all-purpose flour
1/8 teaspoon baking soda
1/8 teaspoon salt
4 tablespoons (1/2 stick) unsalted butter, melted
1/4 cup packed brown sugar
2 tablespoons granulated white sugar
2 tablespoons milk
1 teaspoon vanilla extract
1/2 cup miniature chocolate chips

CUPCAKES:
1 cup all-purpose flour
1/2 cup unsweetened cocoa powder
1 cup granulated white sugar
1/2 teaspoon baking soda
1/4 teaspoon salt
3/4 cup hot water
1/2 cup vegetable or canola oil
1 large egg
1 1/2 teaspoons vanilla extract

COOKIE DOUGH FROSTING:
3/4 cup (1 1/2 sticks) salted butter
1 3/4 cups powdered sugar
1/3 cup packed brown sugar
1/2 cup all-purpose flour
1 1/2 tablespoons milk
1 teaspoon vanilla extract

GARNISH:
additional mini chocolate chips
12 mini Chips Ahoy cookies

Directions:

1. Prepare the cookie dough filling (see *Tips below): In a small bowl, whisk together the flour, baking soda and salt. In a medium bowl, use an electric mixer to stir together the butter, sugars, milk and vanilla. Stir in the dry ingredients and the chocolate chips. Refrigerate for 15 to 30 minutes, or until the cookie dough is firm. Scoop out dough in 2 tablespoon scoops and place it on a cookie sheet. Freeze until firm, at least 30 minutes.

2. Prepare the cupcakes: Preheat the oven to 375 degrees F. Line a cupcake pan with 12 liners. Place the flour, cocoa, sugar, baking soda and salt in a blender. Blend to combine. Add the water, oil, egg and vanilla. Blend to combine, scraping down the sides as needed a couple of times until all is well mixed. Divide the batter between the 12 cupcake liners. Drop a ball of frozen chocolate chip cookie dough into the center of each cupcake. If you would like the cookie dough to bake up slightly, keep the top visible as pictured in the post. If you'd like to keep the cookie dough somewhat raw, push it to the bottom of the cupcake wrapper, making sure that the batter comes up and over the dough.

3. Bake the cupcakes for 20 to 25 minutes, or until a toothpick inserted into the cupcake portion of the cupcake (not tested through the center where the dough is), comes out fairly clean. Cool the cupcakes completely before adding the frosting.

4. Prepare the frosting: In a medium bowl, use an electric mixer to combine the butter and sugars until smooth and creamy. Mix in the flour, milk and vanilla and continue to mix until all is well combined.

5. Assemble: Frost cupcakes with a knife or scoop the frosting into a piping bag and pipe it on decoratively. Sprinkle mini chips on top and garnish with a small chocolate chip cookie.

Tips: