Chocolate Wedding Cupcakes
A couple of years ago, I had the task of making White Wedding Cake Cupcakes with Wedding Cupcake Buttercream for one of the teachers at my son's school. I managed to squeak out about 125 cupcakes for her and a small wedding cake too. Those cupcakes have been a very popular recipe on the blog- and for good reason. They're moist and perfect. They're jazzed up so much that you'd never know they started with a boxed mix (eek!). Seriously, you'd never know.  Here's the chocolate version of those cupcakes: Chocolate Wedding Cupcakes with Chocolate Buttercream Frosting.  And of course, they are not just for weddings!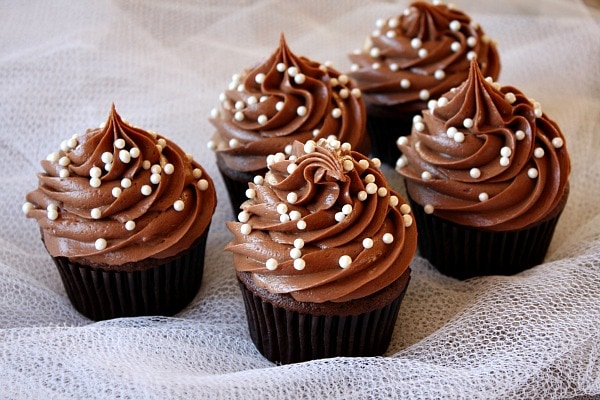 Again, the cupcakes themselves are moist and wonderful. The frosting is a simple chocolate buttercream- easy to pipe on in a swirly motion. I used an Ateco # 846 Closed Star Tip.  HERE is a great link from a blog that shows you some different ways to frost cupcakes.  Decorate with pearls or sprinkles or leave them simple and plain.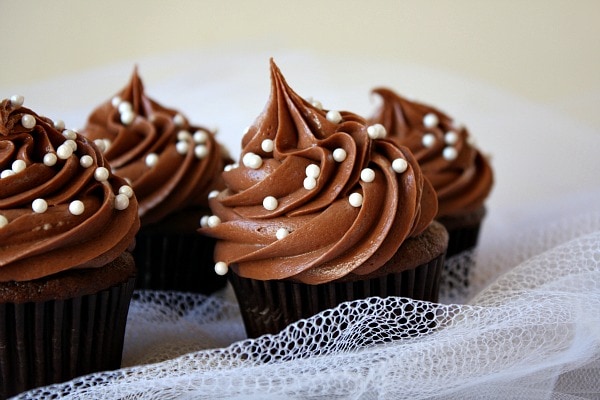 If you're baking these for a wedding, I recommend baking them in brown cupcake wrappers.  You can always set the baked cupcakes inside of a more decorative wrapper on your display.
I own a wonderful cupcake stand from www.TheCupcakeTower.com.  The one I have holds 128 cupcakes, but you can order a larger one that holds 208 (or simply display the rest of your cupcakes on the table surrounding the bottom of the tower.  Then there are ribbon packs that you can order to add color to your tower.  These stands are great for a wedding, but I've actually used them on a number of other occasions too.  They're a good investment if you see a lot of cupcakes in your future!  I figure it will cost just as much or more to rent a nice cupcake stand, and if you fork over the $$ to just purchase one yourself-  you'll have something to use for parties in the future!
Chocolate Wedding Cupcakes

Yield: 36 cupcakes

Prep Time: 15 min

Cook Time: 18 min

Ingredients:

CUPCAKES:
One 18.25-ounce box of chocolate cake mix
1 cup all-purpose flour
1 cup granulated white sugar
3/4 teaspoon salt
1 1/3 cups water
2 tablespoons vegetable or canola oil
1 teaspoon vanilla extract
1 cup sour cream
4 large eggs

CHOCOLATE BUTTERCREAM FROSTING:
(double this recipe if you want to pipe the frosting)
1/2 cup salted butter, at room temperature
3 ounces cream cheese, at room temperature
1 pound powdered sugar, sifted
1/4 cup milk
1 teaspoon vanilla extract
1 cup dark chocolate chips (or chopped dark chocolate)

Directions:

1. Prepare the cupcakes: Preheat oven to 325°F. Place cupcake liners in cupcake pans (you'll need approx. 36).

2. In a large bowl, whisk together the cake mix, flour, sugar and salt. Add the remaining ingredients and beat with hand mixer for 2 minutes, or until well blended.

3. Use ice cream scoop to fill prepared cupcake tins- fill about 3/4 full. Bake about 18 minutes, or until toothpick inserted in center comes out clean. Let the cupcakes cool completely before frosting.

4. Frost the cupcakes: In a large bowl, use an electric mixer to beat the butter and cream cheese at medium speed until creamy. Gradually add the powdered sugar, beating at low speed until blended. Increase speed to medium, and slowly add milk and vanilla, beating until smooth.

5. Microwave the chocolate chips in a microwave-safe bowl at MEDIUM 1 1/2 to 2 minutes or until melted and smooth, stirring at 30 second intervals. Gradually add melted chocolate to mixture; beat until blended and smooth. If the frosting is too soft for piping, cover and refrigerate for a few minutes until it firms up a little bit. Otherwise, spread frosting on top of cupcakes and decorate as desired.

Tips: