Homemade Granola Bars
Boxes of granola bars are so easy to purchase.  They're right there in that snack aisle, packaged so nicely.  And there's usually a brand or two on sale for a great price.  I admit to buying them all.  But every time my son reaches for one of those processed bars in our pantry, I feel a little twinge of guilt creeping across my shoulders.  I'm Recipe Girl, darn-it… I should be making that kind of stuff homemade!  I'm going to make a pact with myself right here and now that I will do my best to provide more healthy, unprocessed snacks for my family.  And I'm starting with these:  Homemade Granola Bars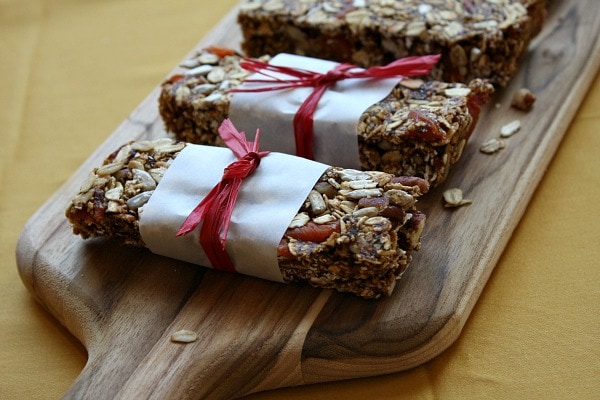 This recipe comes from a brand new cookbook called The Pure Kitchen from first time author Hallie Klecker.  Hallie is also the author of a gluten-free website called Daily Bites. These granola bars are easy to make gluten free, they are dairy free too, and they also happen to be vegan (though the cookbook does not include vegan-only recipes).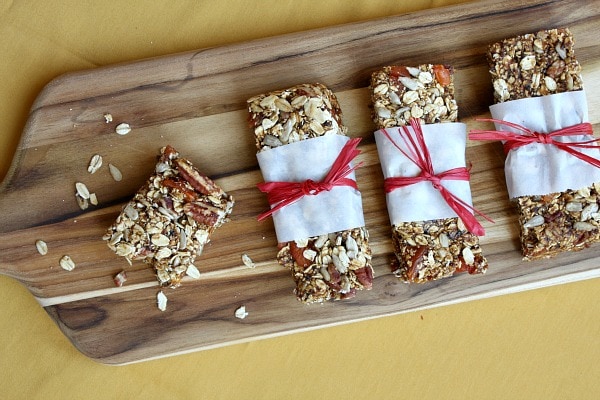 A few things about the recipe:
1. It's all done in the food processor.
2. It begins with something I never thought I'd eat in 5,842 years: Prunes. The prunes are softened in hot water and then pureed in the processor. They act as the binding for the rest of the ingredients. I bravely tasted a prune all.by.itself, and I LIKED IT. Who knew? Crazy that at my ripe old age, I just figured out that prunes aren't all that bad.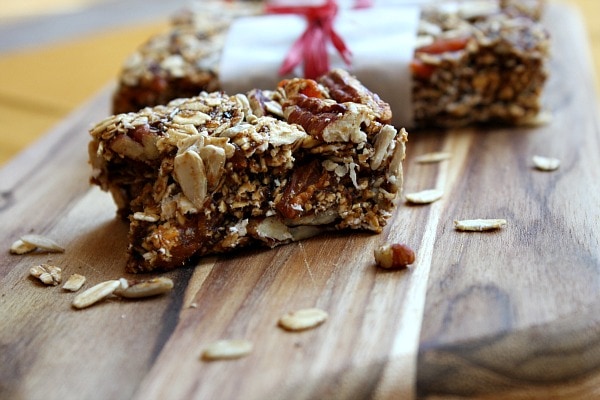 3. They're sweetened with maple syrup, molasses, and dried apricots, and they're flavored with cinnamon, vanilla and a little sea salt.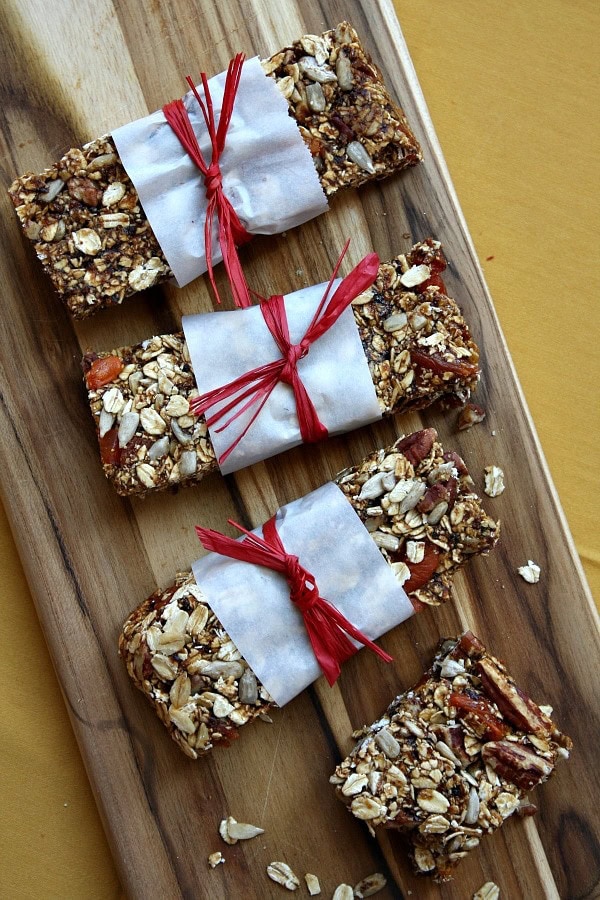 4. You can choose your nuts- walnut, pecan, or almond. And there are sunflower seeds too. All is mixed together with oats and baked for a short time.
My version turned out to be a Maple- Pecan Granola Bar. They're a chewy sort of granola bar, rather than hard and crunchy. And the best part is… my kiddo likes them! No guilt on my part when he reaches for one of these to snack on. Completely healthy and homemade granola bars- yay!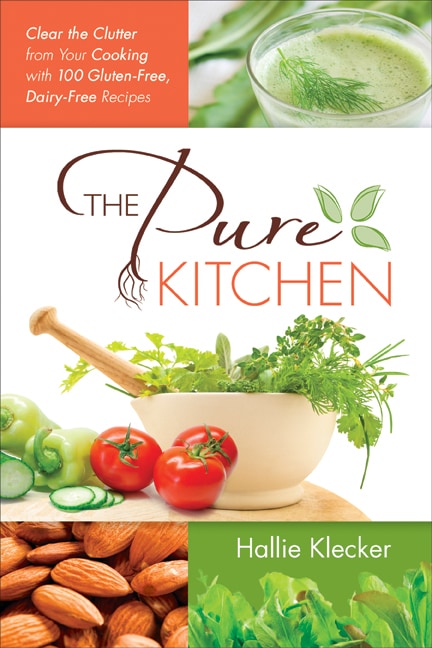 The Pure Kitchen offers a unique but easy approach to fortifying your diet with whole, natural, pure foods. Included are 100 recipes free of gluten, dairy and refined sugar. Included in the book are tips on how to transition to a whole foods diet, a guide to stocking the pure kitchen, lessons in label-reading and tips for menu planning and picky eaters. Recipes I'm looking forward to trying in this cookbook: Herb & Heirloom Tomato Frittata, Flourless Banana- Nut Breakfast Cookies, Greek Chicken Meatballs with Creamy Tahini Sauce, Cumin- Scented Potato- Leek Soup, Shredded Balsamic- Beet & Kale Salad, Honey- Mustard Salmon w/ Lemon Herb Quinoa, Baked Chicken Thighs with Balsamic- Cherry Pan Sauce, and Lemon Bars with Oatmeal- Coconut Crust. There are lots of delicious-sounding dishes in this book, and I'm not even gluten free or  dairy free!
Author Hallie Klecker is offering a copy of The Pure Kitchen to one Recipe Girl reader. This giveaway is open to anyone who has a mailing address in the USA. One winner will be chosen via random.org on Sunday, April 22nd and will be contacted via email. The winner will receive one copy of The Pure Kitchen cookbook. GIVEAWAY NOW CLOSED.  The first winner I picked did not respond to my email, so I picked another… the randomly selected winner of this cookbook is: #261 Vera- congrats! 
The Pure Kitchen is available for purchase on Amazon, and it's in bookstores too. You can visit author Hallie Klecker on her blog: Daily Bites, on Twitter and Facebook.

Homemade Granola Bars

Yield: 10 to 12 bars

Prep Time: 20 min + chill time

Cook Time: 25 min

These are a "chewy" variety of granola bar.

Ingredients:

1 cup pitted prunes
1/3 cup dark maple syrup
1 tablespoon blackstrap molasses
1 teaspoon ground cinnamon
1 teaspoon vanilla extract
pinch of sea salt
2 1/2 cups rolled oats, divided
1/2 cup finely chopped dried apricots
2/3 cup chopped walnuts, pecans or almonds (or a combination)
1/3 cup raw sunflower seeds

Directions:

1. Preheat the oven to 325 degrees F. Line an 8x8-inch or 9x9-inch baking dish with parchment paper, leaving a 2-inch overhang on 2 sides. Spray with nonstick spray.

2. In a heat-safe bowl, cover the prunes with hot water. Soak for 10 minutes. Drain and place in the bowl of a food processor fitted with the steel blade. Add the syrup, molasses, cinnamon, vanilla and salt. Process to form a thick paste, about 20 seconds (stopping to scrape down the sides of the bowl once or twice with a rubber spatula). Add 2 cups of the oats and pulse 8 to 10 times, until the oats are coarsely chopped. Transfer the mixture to a large mixing bowl. Stir in the remaining 1/2 cup oats, apricots, nuts and sunflower seeds.

3. Using slightly dampened hands, press the mixture firmly and evenly into the prepared pan. Bake for 25 to 30 minutes.

4. Cool the dish for 15 minutes at room temperature, then transfer to the freezer and chill until completely cooled (about 30 minutes). Cut into 10 or 12 bars. Store in an airtight container at room temperature.

Tips:

Source: RecipeGirl.com (reprinted w/ permission from The Pure Kitchen)