Monster Cookies
This post should be titled, "Out of Sight, Out of Mind!" or "Hiding Cookies in Your Freezer is a Good Idea!" Or better yet, "When Cookies Are in My Freezer, I Don't Remember They're There!" Only I'd be lying to myself. I bake cookies and put them in little ziploc baggies and place them in the freezer for instant munching for the boys in my house. I tell myself that since they're in the freezer, they're totally safe. Safe from ME. Safe from my strong desire to eat something sweet at a certain time of day.  That little trick seems to work at first, until my cravings turn mad and uncontrollable.  I try to tell myself that frozen cookies aren't any good.  But guess what?  They're good.  They're actually better than un-frozen cookies.  Here's my latest cookie:  Monster Cookies
Monster cookies aren't anything new.  They've been around a very long time, and this recipe was tucked into my collection sometime way back in my pre-teen years.  Someone… somewhere made them up- Betty Crocker, I'm guessing.  They are indeed a cookie recipe worth keeping around for decades.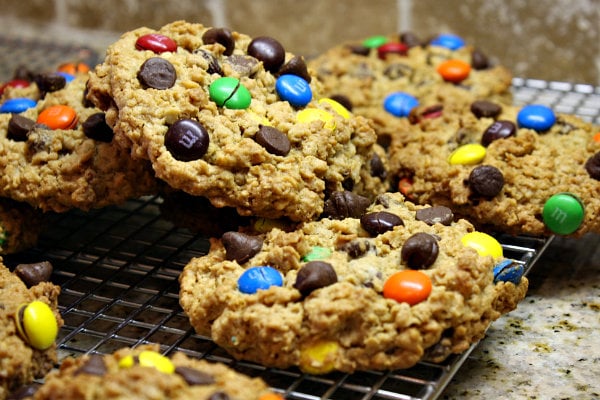 Monster Cookies are basically a peanut butter- oatmeal cookie with chocolate chips and M&M candies mixed in.  I dot extra M&M's and chocolate chips on top of each blob of cookie dough on the baking sheet.  This ensures that they will be extra pretty when they are all baked up and ready to eat.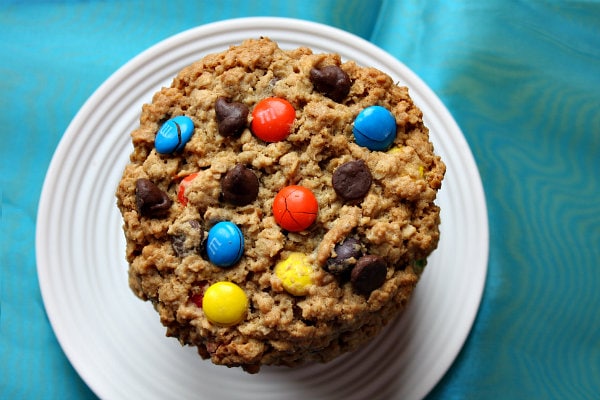 I opted to make giant Monster Cookies (using an ice cream scoop to dole out the dough), and I came up with 22 fabulously large cookies.  If you'd like to make a normal-sized cookie, you'll get 36 cookies.
Make some Monster Cookies today, and keep them in the freezer… where they'll be safe

Monster Cookies

Yield: 36 regular sized or 22 giant cookies

Prep Time: 15 min

Cook Time: 10 min

Ingredients:

1 1/2 cups creamy or chunky peanut butter
1 cup packed light brown sugar
1 cup granulated white sugar
8 tablespoons (1 stick) unsalted butter, softened
3 large eggs
1 tablespoon vanilla extract
4 1/2 cups quick cooking oats
2 teaspoons baking soda
1 cup semi-sweet chocolate chips
1 cup M&M's plain chocolate candies

Directions:

1. Preheat oven to 350°F. Spray cookie sheets with nonstick spray, or line with parchment paper or a silpat mats.

2. In a large bowl, combine the peanut butter with the sugars and butter. Use an electric mixer to mix until well combined. Mix in the eggs and vanilla. Mix in the oats and baking soda. Then stir in the chips and M&M's.

3. Drop the cookies by heaping spoonfuls onto the prepared cookie sheets. If you'd like your cookies to look pretty (like the photo), dot a few extra M&M's and chocolate chips on each mound of dough before baking.

4. Bake 10 to 12 minutes. Do not overbake. Cool for 5 minutes on cookie sheets until cookies are set. Transfer to wire racks; cool completely before storing in an airtight container.

Tips: