New York Times Chocolate Chip Cookies
I've been eyeing this famous New York Times Chocolate Chip Cookies recipe for a very long time now.  First published in the New York Times on July 9, 2008, this recipe took the internet by storm when David Leite experimented with baking cookie dough that had a chance to rest in the refrigerator for a given number of hours.  Leite described that refrigeration allows for the dough and other ingredients to fully absorb the liquid, resulting in a drier dough baking to a better consistency.  Leite shared that even Chocolate Chip Cookie inventor Ruth Wakefield noted in her 1953 Toll House Cookbook that the cookie dough is meant to be chilled overnight (a crucial piece of information that is not included in the recipe on the bags of Nestle's chocolate morsels).  Interesting stuff, huh?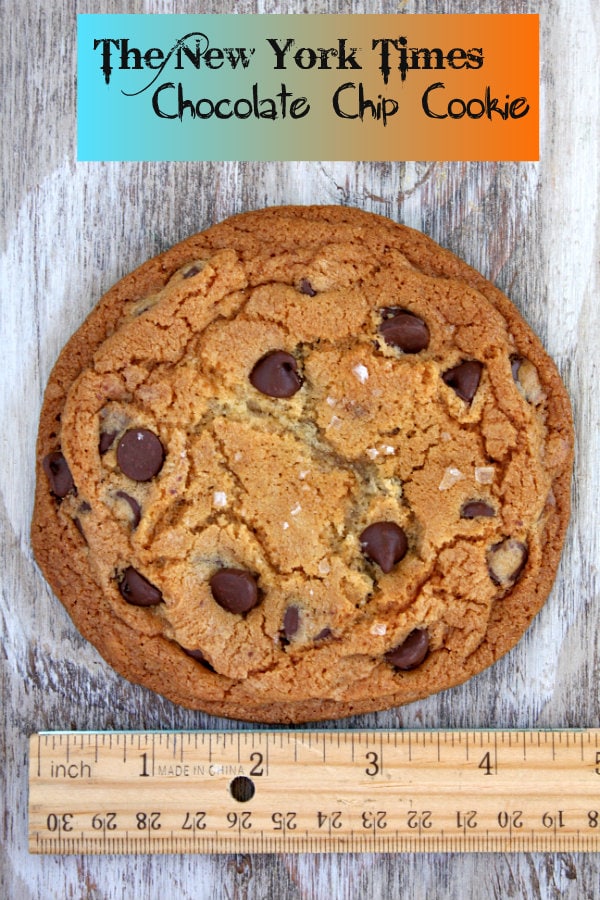 I decided to put this dough to the test for myself once and for all.  I measured the flour and the sugar using a scale so that everything would be very accurate.  And I baked all three versions of the cookies below on the same baking sheet lined with a silpat mat- at the same temperature- for the same amount of time.  I also rolled out the cookie dough and measured it so that it was exactly 3.25 ounces.  The recipe suggests 3.5 ounces, but these still yielded a very large cookie with a slightly smaller measurement. I dotted additional chocolate chips on top of each round of cookie dough (as I do w/ all of my cookies… since it makes them look prettier).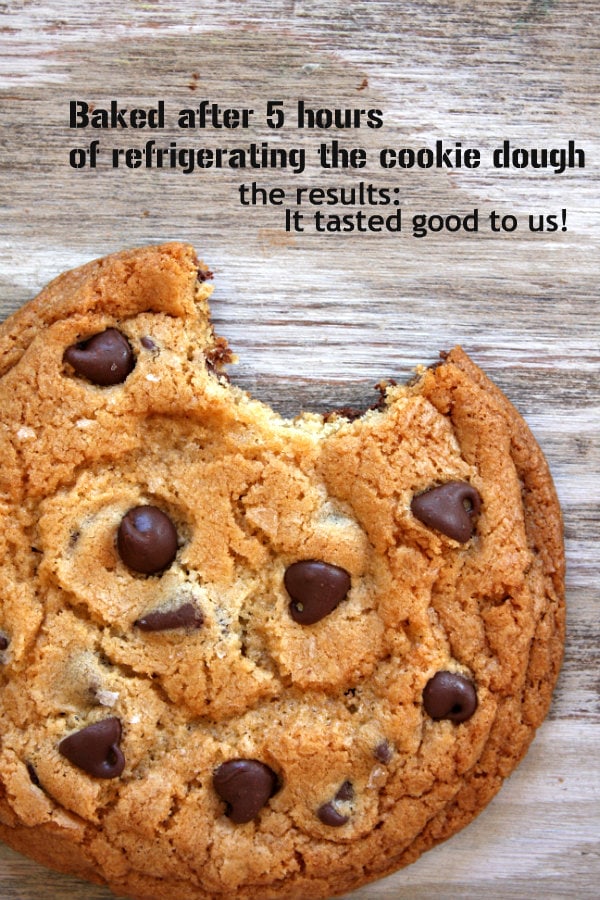 After 5 hours of refrigeration, I couldn't stand it any longer.  I baked up my first cookie.  It was what we like to call, "a very good chocolate chip cookie."  Nothing super special though.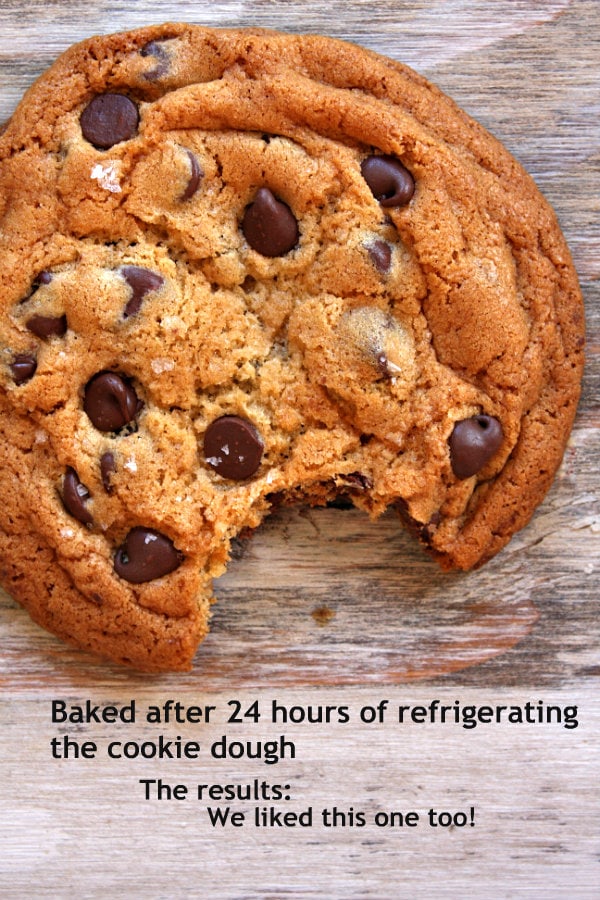 After 24 hours, we pretty much had the same reaction as the first.  It was good.  Nothing to alert the media about.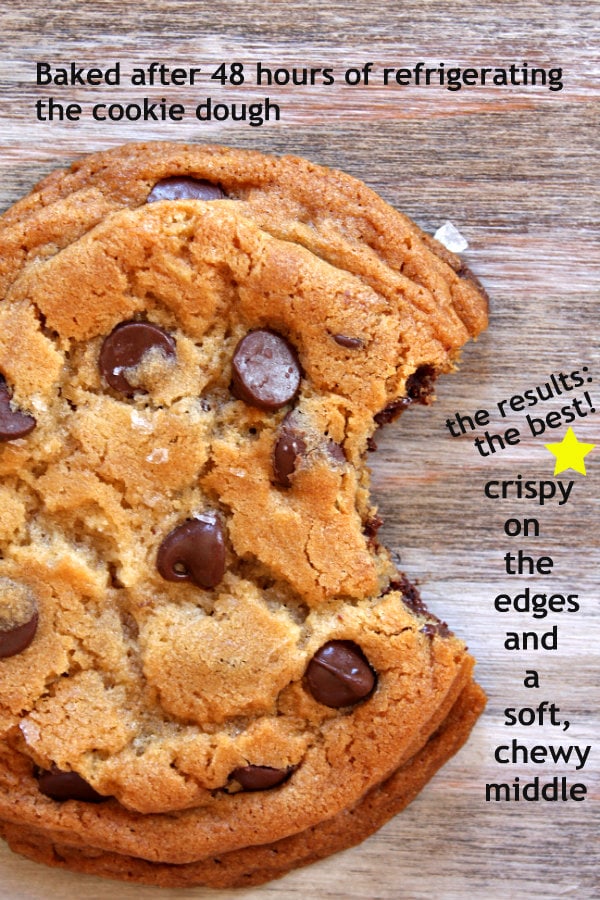 For some reason, the magic seemed to happen around hour 48.  The cookie dough was more crumbly and dry, as Leite mentioned in his article.  The result of the baked cookie was a crispy edge with a softer interior.  The key to making them perfect is to take them out of the oven when they're golden brown on the edges and still look slightly doughy in the middle.  As they set on the cooling rack, they transform into the perfect cookie.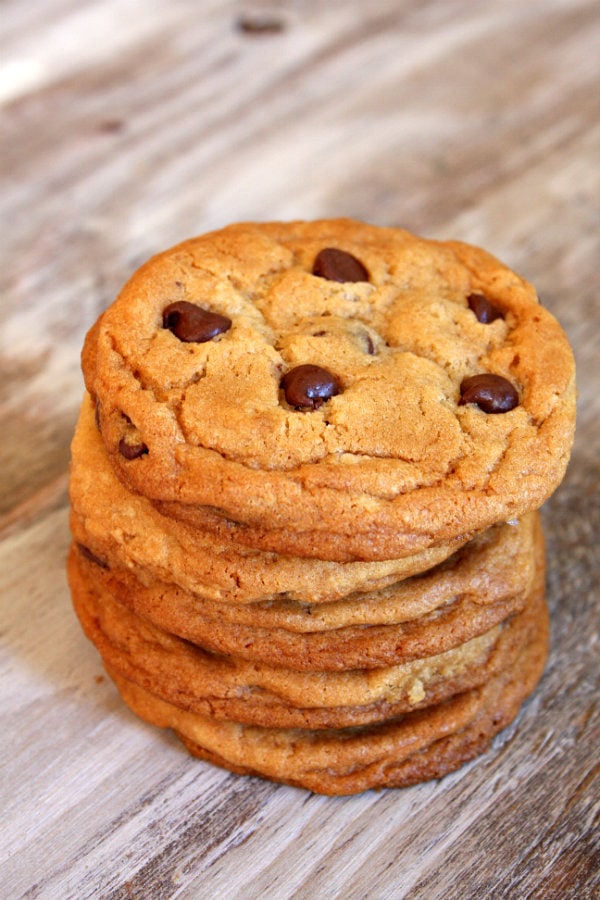 What's different about these cookies?  Well, they're made with cake flour and bread flour- two ingredients that people don't typically stock in their kitchen.  I really have no idea how they'd turn out if you tried to sub all-purpose flour, but my instinct is that the measurements would be different and they just wouldn't turn out the same.  They're topped with a sprinkle of sea salt- I used a flaky sea salt.  It's not overwhelming, just a little sea salt sprinkled on top.  My kiddo didn't care for the salt on top, so I made a few without.  My husband and I enjoyed the occasionally salty bite that you get as you make your way through eating the cookie.
For the rest of the dough, I went with 2 ounce balls of cookie dough- about the size of a normal golf ball.  I found that you still get the same result with a crispy edge and soft interior.  And it's not an overwhelming size for most people to eat.
Are they the best chocolate chip cookie ever?  Perhaps… though I'm not entirely sure.  I really love my Brown Butter Chocolate Chip Cookies and my Secret Ingredient Chocolate Chip Cookies too.  One of these days I'll have to put all three side-by-side in a blind taste test to see which one truly takes the prize for best chocolate chip cookie ever.
New York Times Chocolate Chip Cookies

Yield: 18 very large cookies or 31 smaller cookies

Prep Time: 15 min + chill time

Cook Time: 18 min

Ingredients:

2 cups minus 2 tablespoons (8 1/2 ounces) cake flour
1 2/3 cups (8 1/2 ounces) bread flour
1 1/4 teaspoons baking soda
1 1/2 teaspoons baking powder
1 1/2 teaspoons coarse salt (I used sea salt)
1 1/4 cups unsalted butter (2 1/2 sticks)
1 1/4 cups (10 ounces) packed light brown sugar
1 cup plus 2 tablespoons (8 ounces) granulated white sugar
2 large eggs
2 teaspoons vanilla extract
20 ounces bittersweet chocolate chips (I used semi-sweet)
extra chocolate chips, optional
sea salt (optional)

Directions:

1. Sift together the dry ingredients (flour through salt). I just scraped mine through a fine strainer/sieve since my sifter isn't all that great. Set aside.

2. Use an electric mixer to combine the butter and sugars- mixing until the mixture is very light, about 5 minutes. Mix in the eggs, one at a time. Add the vanilla. Reduce the speed to low, add the dry ingredients and, mix just until the dry ingredients are incorporated. Stir in the chocolate chips. Place the dough in an airtight container and refrigerate a minimum of 24 to 36 hours before baking (and up to 72 hours).

3. Preheat oven to 350 degrees F. Line baking sheets with parchment paper or silpat mats.

4. For 5-inch cookies, scoop six 3.25 ounce mounds of dough- giant golf ball-sized (I rolled mine into balls) onto a baking sheet, spacing them evenly apart. Don't try to fit more on the sheet or you'll end up with cookies baking into each other. Dot some extra chocolate chips on top, if desired. Sprinkle each ball of dough with a small pinch of sea salt, if desired.

5. Bake until the edges are golden brown and the center is lighter and soft, 18 to 20 minutes. Let the cookies cool on the baking sheet for about 15 minutes, then transfer the cookies to a rack and let them cool completely. Repeat with the remaining cookie dough.

Tips:
Other bloggers who have tested out the NY Times Chocolate Chip Cookie Recipe:
TidyMom
The Little Kitchen
Two Peas and Their Pod
Ezra Poundcake
Good Life Eats
Mountain Mama Cooks (adapted for high altitude)
Gluten-Free Girl (gluten-free version)