Grilled Swordfish with Pineapple- Peach Salsa
My sister Susie has always had a bunch of recipes in her at-home collection.  It's like Disneyland for a recipe freak like me when I visit her, since I can flip through loads of new-to-me cookbooks and recipe clippings for ideas- especially since we tend to be drawn to the same kinds of recipes!  When we're together, we can usually come up with some pretty good stuff.  Susie came to visit us on our vacation last week, we chatted up dinner ideas, and here's one of the ones we came up with: Grilled Swordfish with Pineapple- Peach Salsa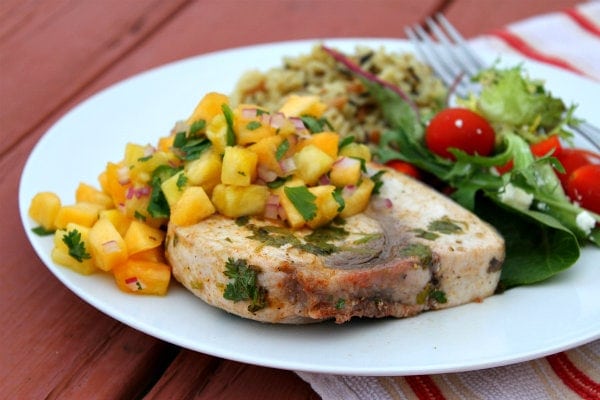 There's a great little (fresh-off-the-boat) fish market near the house we're renting this summer in Massachusetts.  It's pretty fun to just pop in the market in the morning to see what they've brought in that day.  Swordfish was fresh on this day, so we snatched it up!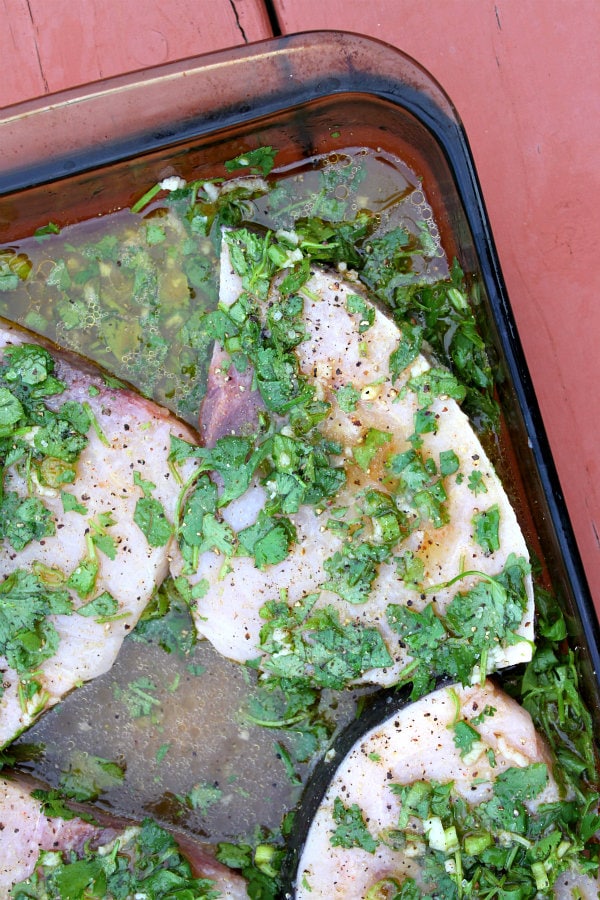 We marinated the swordfish briefly (about an hour) in a cilantro-lime-cumin flavored vinaigrette.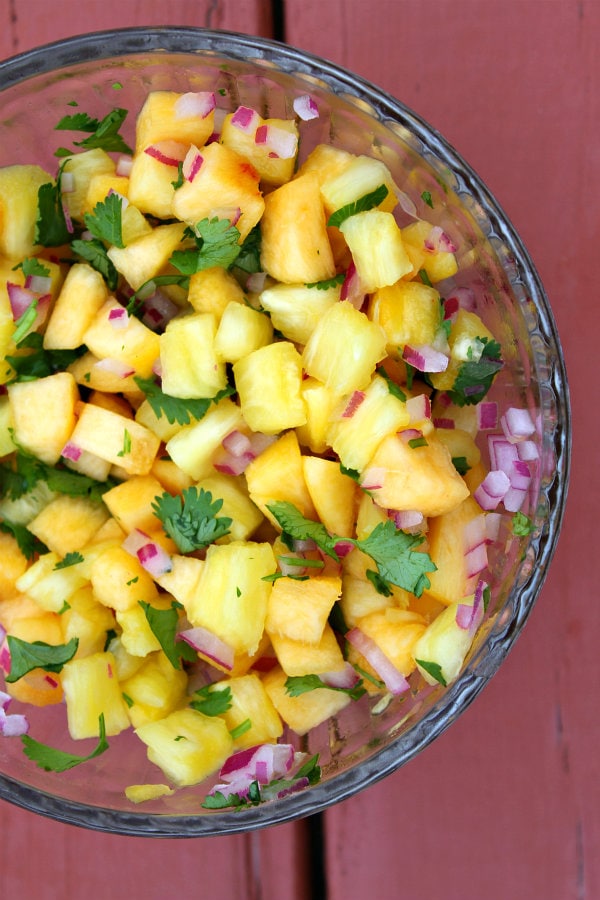 Our discussion of the salsa choices started with mango- but if you don't plan ahead, it's pretty tough to find a ripe mango.  We went with pineapple (since you can buy it already cored and sliced and ripe) and summer-fresh peaches. It's so simple to make a fresh salsa, and it's definitely good when paired with fish!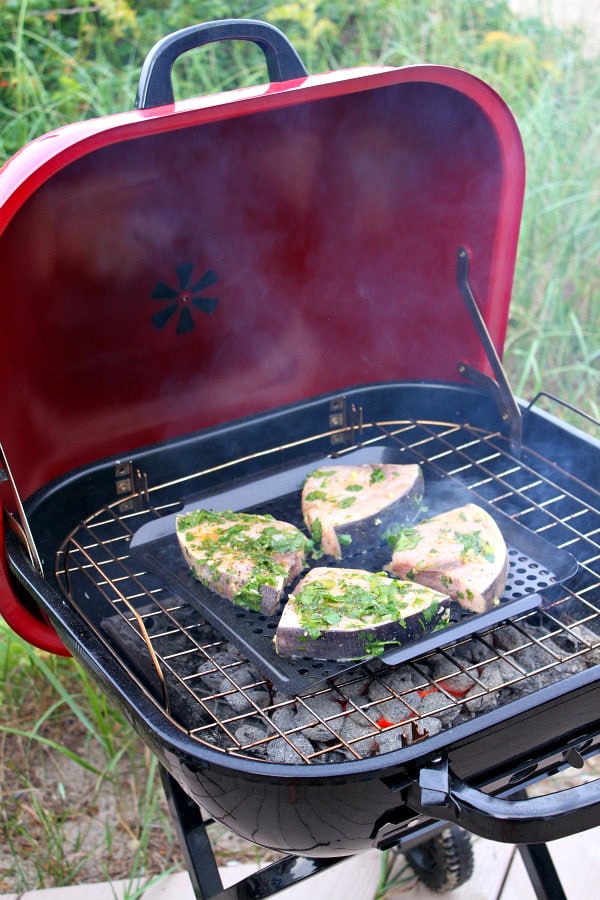 Swordfish only needs to cook briefly on both sides on the grill.  Just enough to barely cook it through so it's still tender on the inside.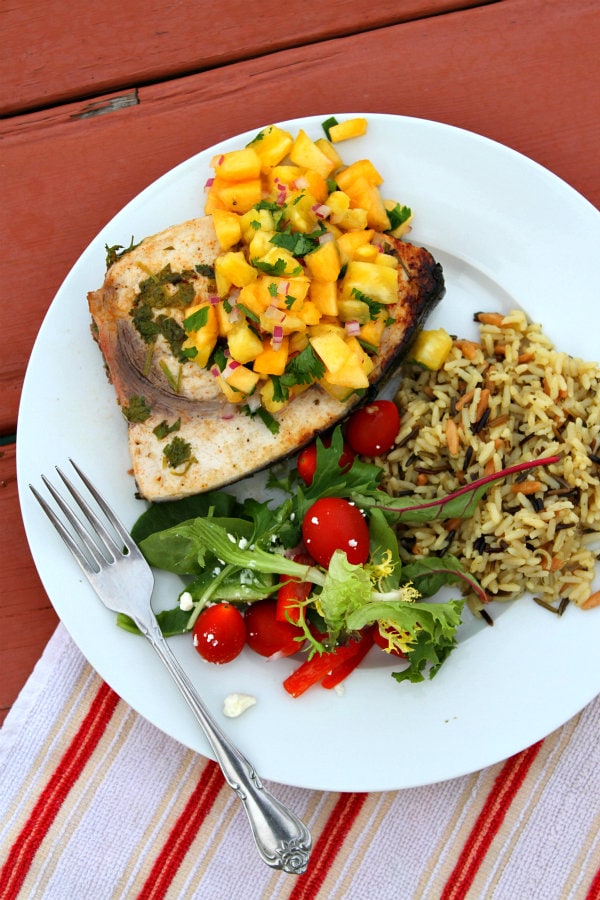 Dump a bunch of the fresh pineapple- peach salsa on top, and be sure to get some of that salsa with every single bite of fish.  We served it up with rice and green salad.  And it was sooooo good.  Perfect for summer!
So, many thanks to sister Susie for the (continued) inspiration she provides for my recipe creations.  We make a pretty good team

Grilled Swordfish with Pineapple- Peach Salsa

Yield: 4 servings

Prep Time: 25 min

Cook Time: 8 min

Ingredients:

2 to 2 1/2 pounds swordfish, cut into 4 serving pieces

MARINADE:
3 tablespoons olive oil
juice of 2 large limes
2 green onions, chopped
One handful of fresh cilantro, chopped
2 large cloves garlic, minced
1 teaspoon cumin
1/4 teaspoon paprika
salt and pepper

PINEAPPLE- PEACH SALSA:
1 cup finely chopped pineapple (about 1/3 of a fresh pineapple)
1 cup chopped, peeled peaches (about 2 medium)
1/3 cup finely chopped red onion
1/4 cup finely chopped cilantro
juice from 1/2 large lime

Directions:

1. Rinse and pat dry the swordfish, and place it in a 9x13-inch glass dish.

2. In a medium bowl, whisk together all of the marinade ingredients. Pour the marinade over the swordfish and turn to coat. Cover the dish with plastic wrap and let marinate for NO MORE than one hour (see *Tips below).

3. While the swordfish is marinating, combine the salsa ingredients in a bowl and toss to combine. Cover the bowl with plastic wrap and refrigerate until ready to serve. Preheat the grill to medium- heat.

4. Grease the rack of your grill (or use a grilling tray), and grill the swordfish 5 to 6 minutes on the first side (covered), then 3 to 4 minutes on the other side, or until the fish flakes apart easily. You definitely don't want to overcook swordfish or it will be tough and dry.

5. Serve immediately- each swordfish steak topped with a generous dollop of pineapple- peach salsa.

Tips: