Cilantro Chicken
Let me tell you a little story about cilantro.  I was once a hater… a very big hater.  When my husband and I were newlyweds, we used to eat at a local fish taco place once a week.  I always ordered the Shrimp Burrito with NO CILANTRO.  One day my husband brought home a shrimp burrito for me.  I took one bite and Pffft!  What the heck?!  He had forgotten to ask them to leave it out.  I disliked the stuff that much.  Somewhere along the way, I became okay with cilantro.  I won't eat it raw by the handful, but I definitely use it in my cooking and have found that I finally have a taste for this fresh herb.  Even if you ARE a hater, you're likely still going to enjoy this recipe:  Cilantro Chicken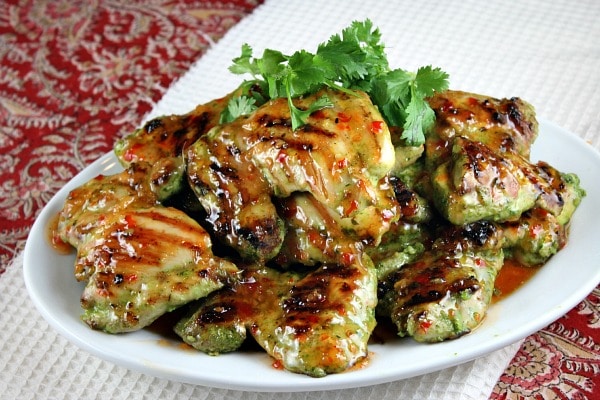 The cilantro is ground up into the marinade.  It coats the chicken before grilling, and then the chicken is brushed with sweet sauce before serving.  This is my new favorite chicken recipe- shared by a beach house neighbor's friend named Joyce who was visiting for dinner this summer.  Joyce was gracious enough to bring samples over for us to try.  It was so delicious that I simply had to have the recipe to share with you.  Here you go: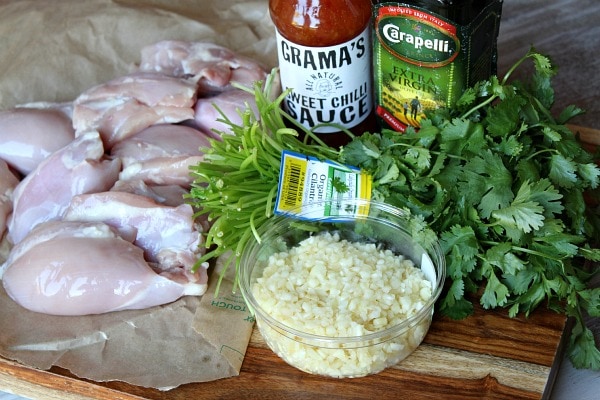 First things first:  this recipe is SO easy!  You'll need chicken- I used wonderful skinless thighs with very little fat from Whole Foods.  I find the thighs that you buy from the regular market are far too full of fat.  By the time you remove the fat, there is hardly any meat left.  It's worth it to go to Whole Foods for chicken thighs.  You can also use chicken breasts, but you'll want to make sure they are evenly pounded out so they don't dry out while grilling.
The marinade is simply made up of olive oil, garlic and cilantro.

And it's all mixed together in the blender (or food processor) until it is thick and smooth.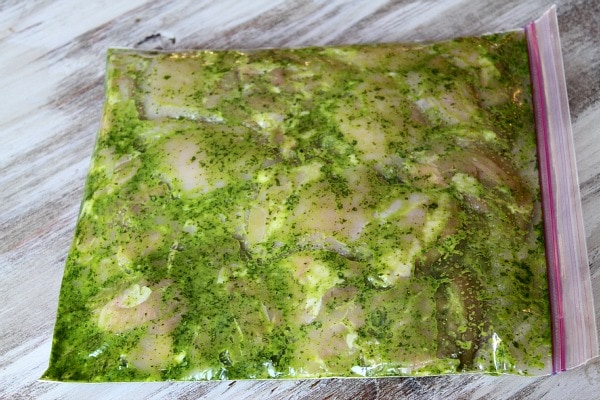 I like to marinate my chicken in a large zip baggie.  I put the chicken in first and then scrape the marinade into the bag too.  Squeeze all of the air out of the bag, zip it closed, and then massage the marinade into every nook and cranny of the chicken.  If you do this in the morning, it can marinate all day long.  Busy folks can get it all ready the night before and let it marinate all night and into the next day.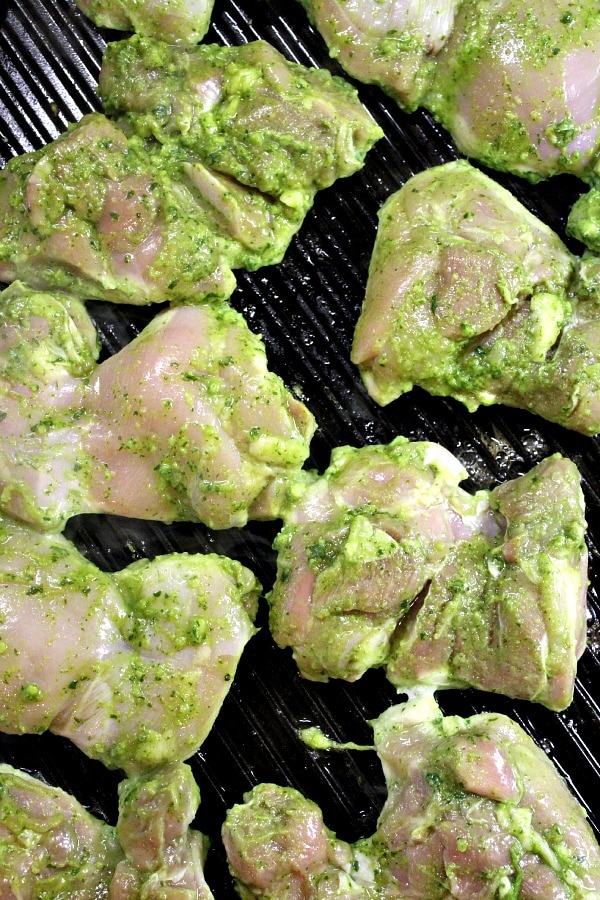 It's been so stinkin' hot where I live that I decided to go with my stovetop grill pan instead of using the hot BBQ outside.  Just a few minutes on each side.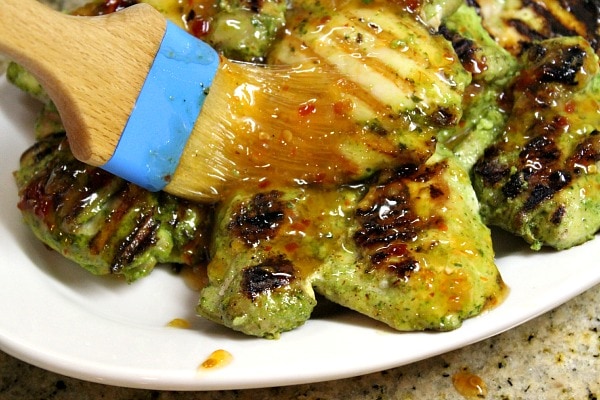 Stack the chicken onto a platter, and give it a generous brush of Sweet Chili Sauce (sweet chili sauce can be found in your market's Asian aisle- if you can't find it, ask.  Here's a brand that is pretty common.  And if you don't have access it, make your own!)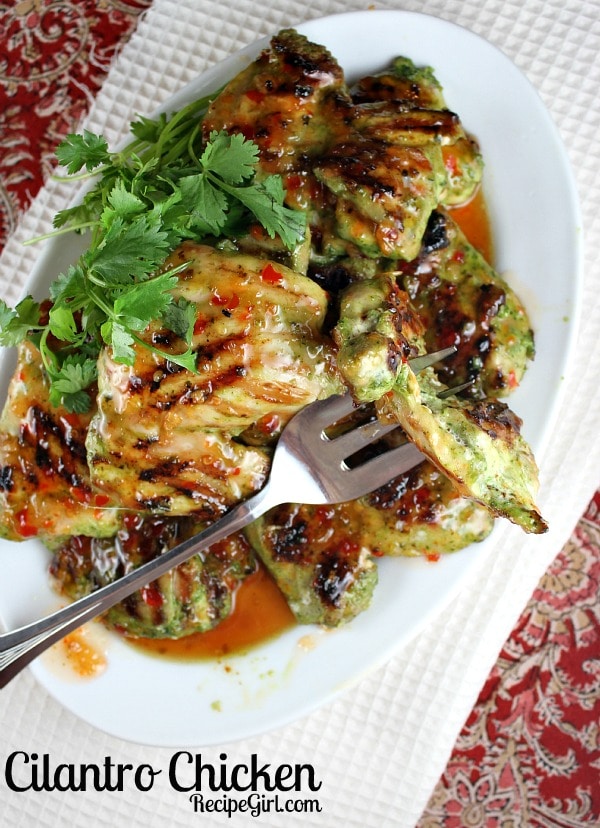 It's ready to serve!  But wait… what will you serve it with?!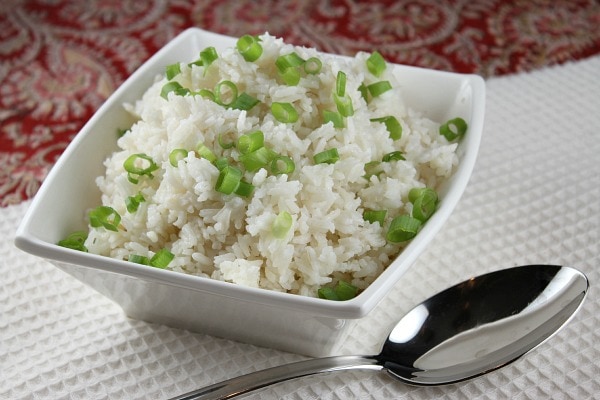 Whip up some Easy Coconut Rice (or regular steamed rice).  Recipe HERE.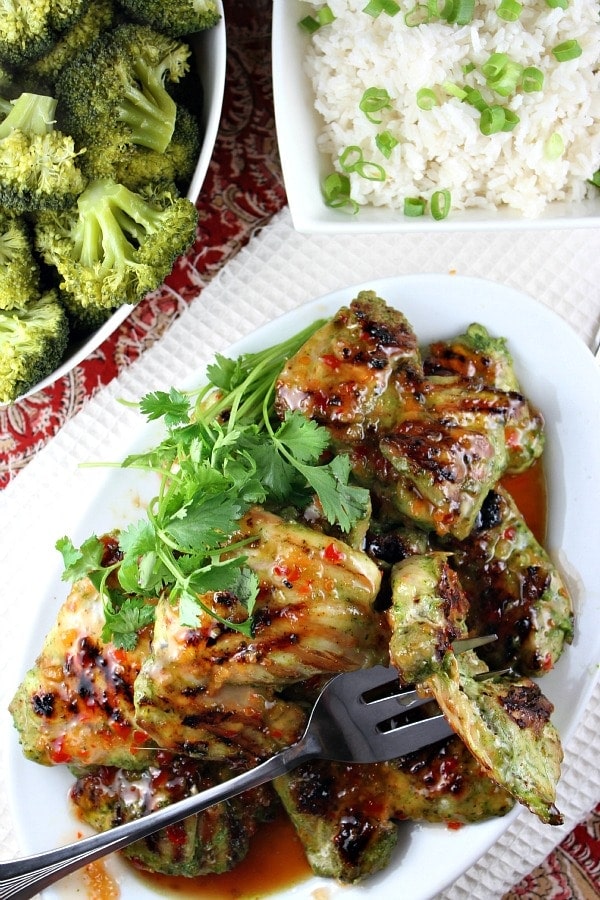 Now you've got something new to make for dinner!  My whole family loved this.  The cilantro didn't scare anyone- it just makes a wonderful addition to the simple marinade.  And the sweet chili sauce is NOT spicy.  I love using chicken thighs for grilling because they always turn out a little more tender and moist than breasts, which have a tendency to dry out on the grill.
Thanks to beach house friend Joyce for sharing such a wonderful recipe this summer!  And thank you to my tastebuds for overcoming your resentment of Cilantro

Cilantro Chicken

Yield: Serves 6

Prep Time: 15 min

Cook Time: 8 min

Ingredients:

2 1/2 pounds boneless/skinless chicken thighs, fat trimmed
1/4 cup extra virgin olive oil
1/4 cup minced garlic
1/2 bunch fresh cilantro (a big handful)
3/4 to 1 cup sweet chili sauce

Directions:

1. Place chicken in a large zip baggie.

2. Place olive oil, garlic and cilantro in a blender or food processor. Process until the mixture is combined and smooth. Scoop the marinade into the bag with the chicken, press the air out of the bag and zip it closed. Knead the marinade into the chicken until it is evenly distributed. Marinate overnight or all day long.

3. Preheat the grill to medium heat and coat with oil or grill spray. Remove chicken from the bag and grill 4 to 5 minutes on the first side, until good grill marks are showing. Flip and grill an additional 3 to 4 minutes, or until the chicken is cooked through.

4. Remove chicken to a platter and brush the sweet chili sauce on top.

Tips: