Broccoli Salad
I have a big sister, and her name is Susie.  Susie was off to college when I was only in elementary school, so we didn't really get a chance to do many things together.  As I got older, I often visited her in the summers, and we began to share recipes and talk on the phone a lot.  I've always considered her "fashion-forward" and someone who has a good eye for design.  Although I have a house of my own, it's Susie's house that is adorable.  She seems to know just what kind of paint looks good in her bedroom and what furniture will work in the family room, and she comes up with the greatest DIY projects that I could never think of on my own.  I guess I just really admire my big sis

 Another talent of Susie's is that she has always been an excellent cook.  At our family reunion this summer, she brought this delicious dish to share (her creation after looking at a handful of recipes):  Broccoli Salad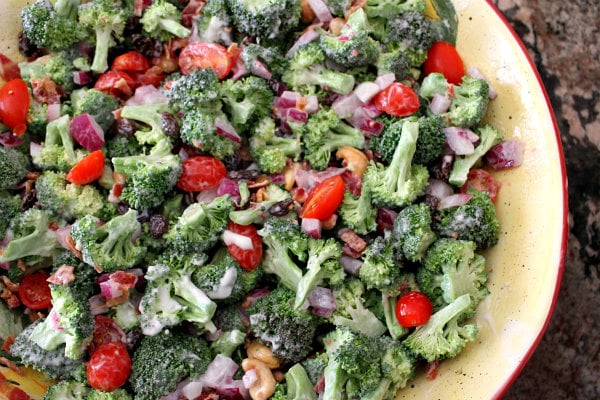 It's full of all kinds of goodies, and it's tossed in a creamy- but light- dressing.  It's a good way to get everyone to eat their vegetables.  Here's how you make it: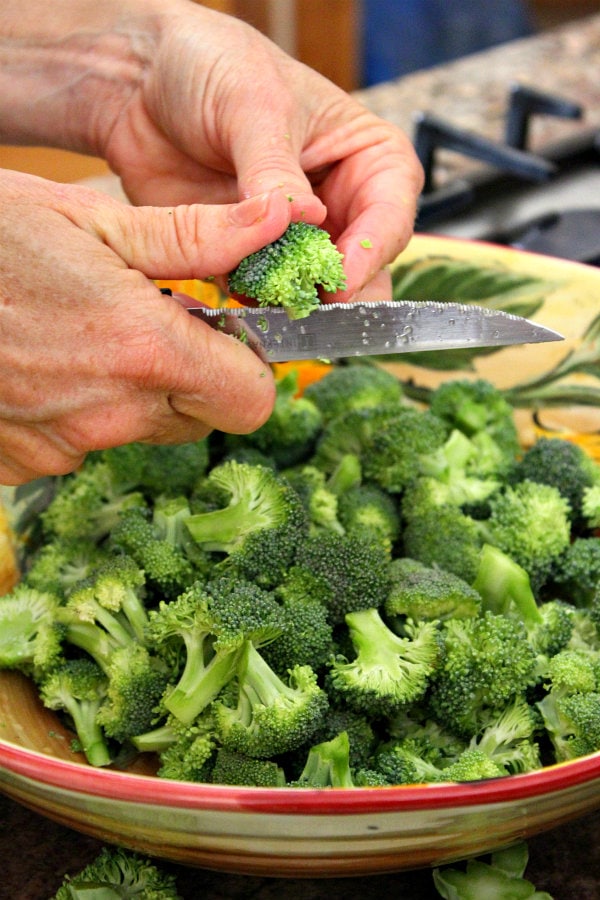 Start with fresh broccoli of course- about 1 large bunch.  Cut it into small florets.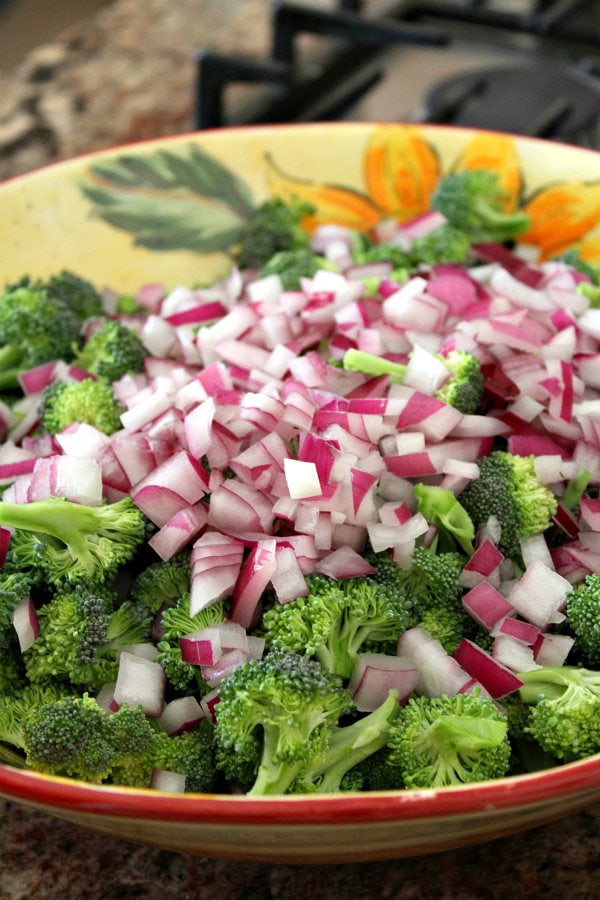 Add diced red onion.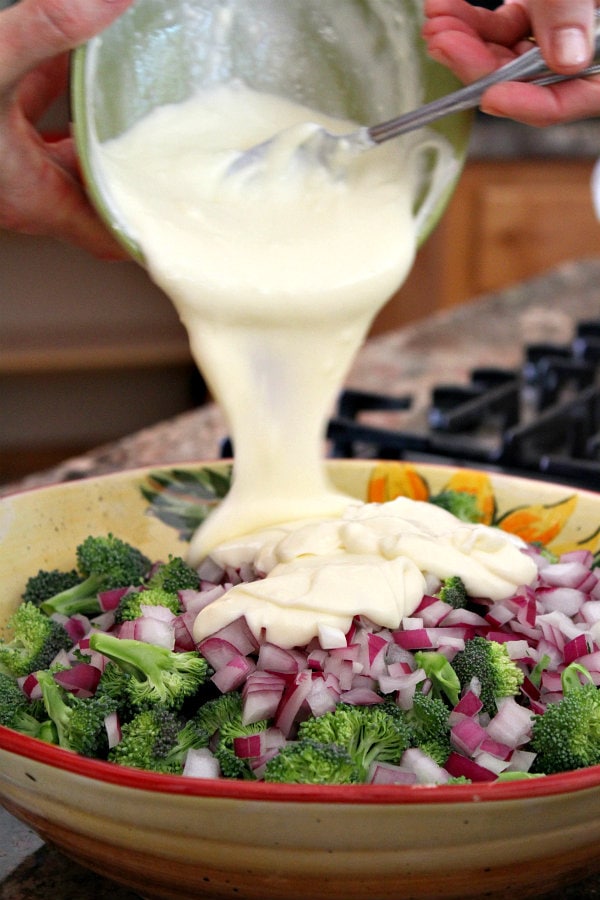 Then toss it all with the creamy dressing (see the recipe for details).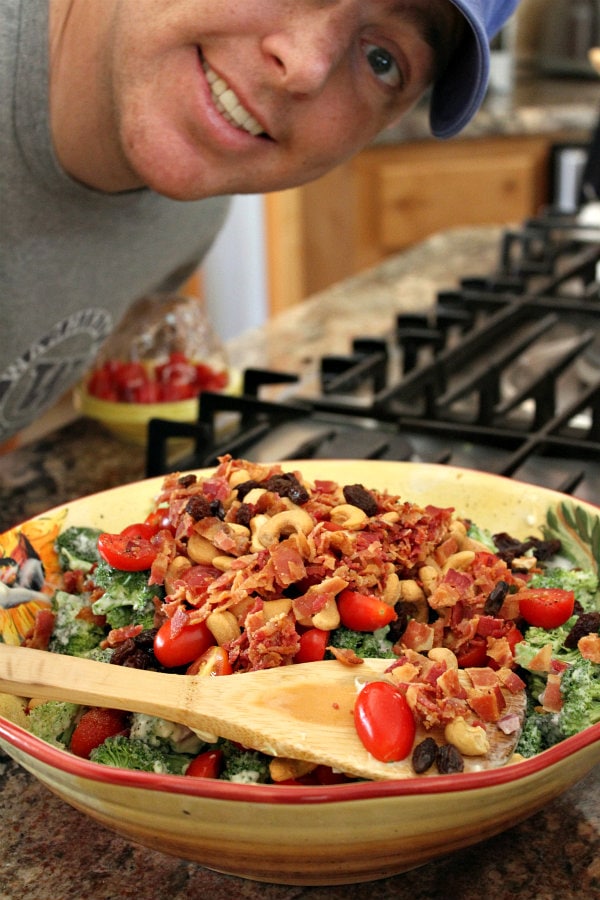 Hey, there's my nephew (Susie's son) Matt peeking in on the recipe!  He's a cutie.  But sorry girls… he's taken.
Add the rest of the goodies, including tomatoes, raisins, cashews and BACON.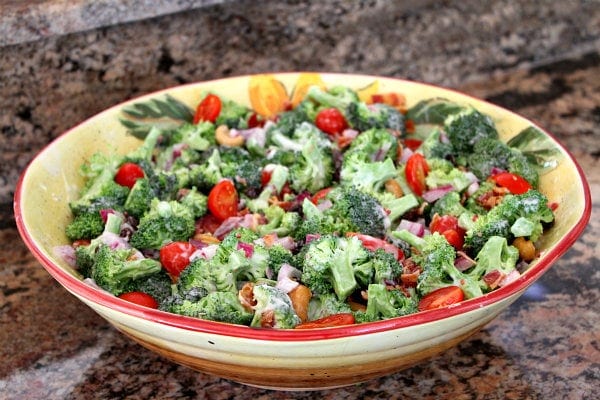 Toss it all again, and you've got Susie's Broccoli Salad!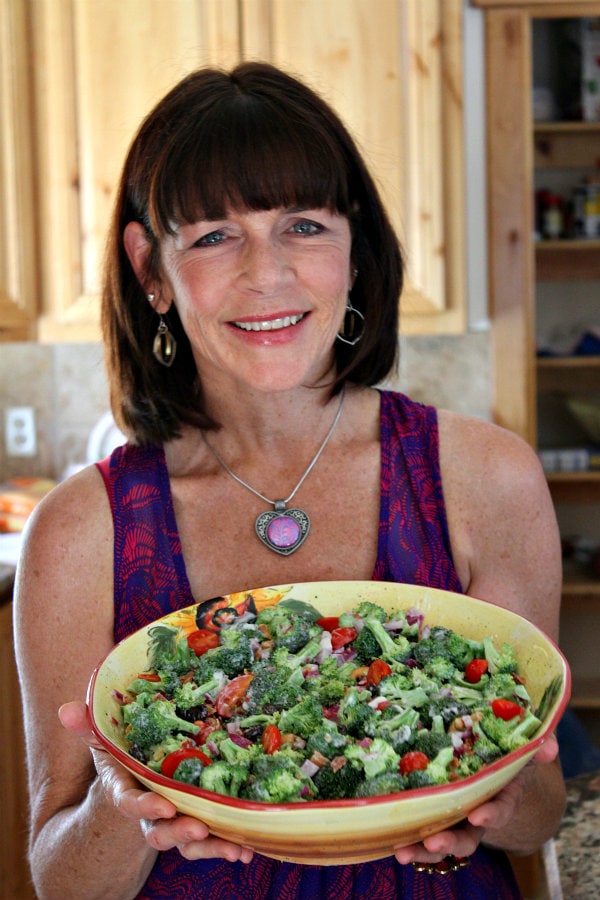 And there is Susie- my wonderful sister.  She's a teacher, she loves to travel, and she lives in the Northwest.  And she actually happens to be single, so if you know anyone… be sure to let me know.  Of course she's going to DIE when she reads this.  But that's okay.  I'm a pretty good matchmaker.  I set up a college roommate once and she's been happily married to the guy ever since.
Anyway, the broccoli salad… it's good!  It got several raves at our family reunion from the people who would actually approach a salad with broccoli in it (because you KNOW there are people who are adverse to the whole idea).  No need to fear a broccoli salad though.  It's good stuff.  And it's awfully nice to bring a salad to a party these days that isn't your same-old greens/potato/pasta/ salad.  This is something a little different.  Thanks, Susie!
Broccoli Salad

Yield: 6 to 8 servings

Prep Time: 25 min

Ingredients:

DRESSING:
1 cup mayonnaise (light or regular- your preference)
2 tablespoons white wine vinegar
2 tablespoons granulated white sugar

SALAD:
1 large bunch of broccoli (you'll need 6 to 8 cups florets)
1 cup diced red onion
1 cup halved grape or cherry tomatoes
1/2 cup raisins
1/2 cup cashews
6 to 8 slices cooked and crumbled bacon (see Tips)

Directions:

1. Prepare the dressing: In a medium bowl, stir together the dressing ingredients and set aside.

2. Prepare the salad: Rinse the broccoli and the flowerette ends into bite-sized pieces (discard the stems). Place the broccoli in a large bowl. Add the onions. Add just enough of the dressing to coat the broccoli- add a little, toss, add a little more- until you have coated the broccoli lightly with the dressing (you may not use it all). Add the tomatoes, raisins, cashews and bacon. Gently toss to blend all of the ingredients evenly. Add more dressing, if needed (only if the salad is looking dry). Refrigerate until ready to serve. Can be prepared up to a few hours in advance, but it's best to toss with the dressing about an hour before serving.

Tips:

Source: Recipegirl.com (thanks to my sister Susie)