RWOP KitchenAid Stand Mixer Giveaway
This giveaway is now closed!
Do you have one of those pretty stand mixers?  And if you do, then do you have one that is a bright and gorgeous color?  I've been dying to get one.  I have a big workhorse mixer, but it's silver… not Bayleaf, Boysenberry, Cornflower Blue or Tangerine! I have a fun giveaway to tell you about today, where you can win one of those pretty mixers.


I'm excited to announce the next big contest going on over at RealWomenofPhiladelphia.com. They're giving away nine KitchenAid Stand Mixers in those cool colors pictured above! Each KitchenAid Stand Mixer color is inspired by a fall ingredient—nothing better to get you into the cooking spirit as the seasons change.
How to Enter:  Every Monday- Wednesday and Friday RWOP will be announcing a secret ingredient of the day and a corresponding KitchenAid® Stand Mixer that will be up for grabs that day.  It's super easy to enter, and best of all, there will be nine winners. All you have to do to enter is make one simple comment  on the RWOP Contest Post with a link to your favorite Real Women of Philadelphia recipe, and you will be entered to win!  Head to  http://realwomenofphiladelphia.com/ to learn more!  And the cool part? You can comment as many times as you want! The more times you comment with different recipe links from RWOP that you love using the secret ingredient, the better your chances are of winning.
Their first mixer was given away already… using APPLE as the secret ingredient and GLOSS CINNAMON RED as the giveaway mixer.  Today's giveaway was just announced-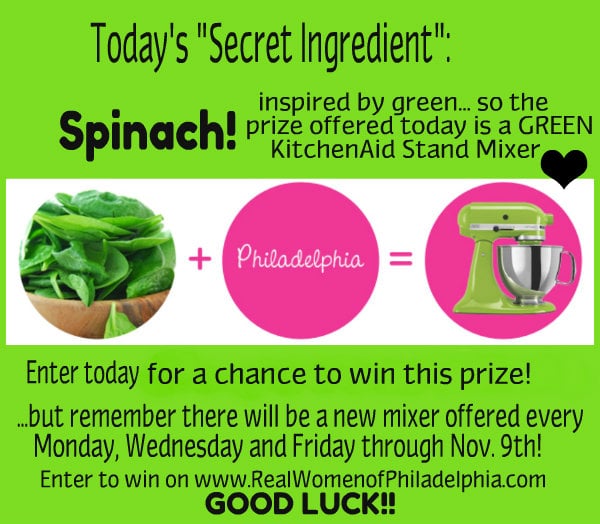 Here are some RWOP recipes to get you inspired using Spinach!

Pictured above:  Spinach- Artichoke Stuffed Shells, Holy Moly Super Simple Stromboli, Sweet Potato- Spinach Soup, and Spinach Sundried Tomato and Cream Cheese Stuffed Pork Chops.  Yum yum… I want them all!
But don't stop there!  This Friday there will be a brand new KitchenAid Mixer giveaway… and every Mon-Wed-Fri until November 9th (9 mixers total).
So which color mixer would you love to have??  I have to say that I'm kind of in love with the pink and the orange.
Disclosure: I have been selected by Kraft Foods to be an ambassador for the Real Women of Philadelphia. While I have been compensated for my time, my opinions are my own.
37 Responses to "RWOP KitchenAid Stand Mixer Giveaway"
Leave a Comment