4 Weeks of Holiday Giveaways #1: Totally Cool Cookbooks!
THIS GIVEAWAY IS NOW CLOSED >>Today begins 4 weeks of giveaways… celebrating the holidays and thanking YOU Dear Readers for reading my 'lil old blog. The first giveaway is for Cookbooks! There's nothing like flipping through the pages of a real book and adding sticky notes on recipes you want to try… jotting down notes on recipes that you've tested. Cookbooks need to live forever, tattered pages, chocolate smears and all.   On that note, I'm sharing twelve newly released cookbooks from some friends of mine. They're all fabulous. There will be FIVE winners of this giveaway. And each winner gets to choose TWO BOOKS from the list below that they'd like me to send to them via Amazon. This giveaway is sponsored by me… because I want to thank you for supporting RecipeGirl all of these years. THANK YOU, and Happy Holidays. Specifics on the giveaway are at the end of this post.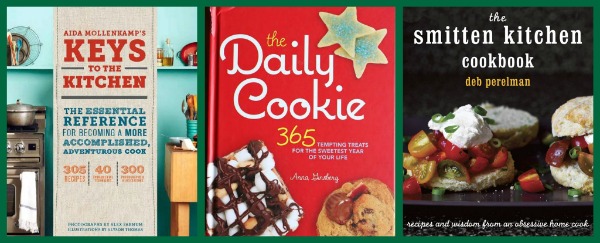 #1: Keys to the Kitchen by Aida Mollenkamp:  This is an awesome reference book for your kitchen- chapter 1: full of great advice for how to shop, how to chop and what to use in the kitchen,  chapter 2: prep techniques + some fundamental recipes, chapter 3:  the recipes!  Lots of them, with many gorgeous photos too!  and chapter 4: entertaining, menu ideas, reinventing leftovers.  It's an excellent book to have on hand.  A few recipes that are luring me in: Sage-Maple Skillet Cornbread, Triple Mushroom Stroganoff and Creamy Butterscotch Pudding.  Find more from Aida on her blog- Aida Mollenkamp.
#2:  The Daily Cookie by Anna Ginsburg:  Cookie expert Ginsberg has been sharing her own cookie recipes on her blog, Cookie Madness, for years.  The book is a "cookiepedia" of holidays and quirky occasions (Elvis' bday- Peanut Browned Butter Banana Bacon Cookies, St. Patrick's Day- Irish Cream Cheesecake Brownies, No Dirty Dishes Day- One-Bowl Honey & Oat Cookies).  There are 365 recipes- one for every day of the year.  Ginsberg also includes lists of one-bowl, easy, no-bake, gluten-free adaptable and bake sale favorites.
#3:  The Smitten Kitchen Cookbook by Deb Perelman:  It's beautiful.  And the publisher did a nice job of creating a book that *feels* luxurious in your hands.  There's a photo for every recipe, which is always a big bonus.  It's very clear that Perelman put her heart and soul into this cookbook and its recipes.  I can't wait to try: Whole Wheat Raspberry- Ricotta Scones, Heart- Stuffed Shells in Lemon Ricotta Bechamel, Balsamic and Beer- Braised Short Ribs with Parsnip Puree and Gooey Cinnamon Squares.  This cookbook is for people who love to cook.  Find more from Perelman on her blog- Smitten Kitchen.

#4:  Pure Vanilla by Shauna Sever:  Know why I love this book?  Call me crazy, but I'd take vanilla over chocolate any day!  The first chapter is devoted to convincing you that vanilla can indeed be sexy!  There are 80 recipes, including recipes for vanilla extract and vanilla-infused liquors, and there are dozens of photos too.  I'm currently drooling over these recipes:  Buttery Baked Vanilla Bean French Toast, Vanilla Cream Pie, Golden Pear- Vanilla Jam, and Malted White Hot Chocolate.  You can find more from Sever on her blog: Piece of Cake.
#5:  Mini Donuts by Jessica Segarra:  100 step-by-step instructions for making mini-donuts- classics and unique varieties too.  Almost all of the recipes in the book can be made with a mini donut maker appliance, a stovetop, or an oven… so you won't need any special equipment (just a craving for donuts!)  Though I think that a copy of this book + a mini donut pan would make a darling holiday gift.  Donuts I'm craving: Salted Caramel Mini Donuts, Blueberry Cake, S'Mores, and Maple- Glazed.  Find more from Segarra on her blog:  The Novice Chef.
#6:  Tiny Food Party by Teri Lyn Fisher and Jenny Park: This is a super fun book to have for those who like to entertain, but it's also fun for parents of young children- kids will dig some of these recipes.   Dozens of recipes are included for bite-sized munchies- including adorable appetizers, itty-bitty entrees, pint-size desserts and teeny-tiny cocktails. The book is plump full of color photos too!   I'm currently eyeing recipes for: Tiny Taquitos, Snacky Mac 'n Cheese Bites, Tiny Snickerdoodle Ice Cream Sandwiches and Cozy Eggnog Shooters.  Fisher and Park can be found on their blog- Spoon Fork Bacon.

#7:  The Everything Gluten-Free Slow Cooker Cookbook by Carrie Forbes:  Slow cooking can be a challenge for those who are unable to process gluten since many thickeners are made of ingredients that are wheat derived.  This book shares 300 options for making gluten-free recipes in the slow cooker.  There are no photos in the book, but it's a must-have for busy families who need to avoid gluten.  A few recipes that sound great: Blueberry French Toast Casserole, Classic Polenta with Herbs and Parmesan, Spiced Apple Cider Turkey, and Gluten-Free Yeast Rolls.  More of Forbes' gluten-free recipes can be found on her blog- Ginger Lemon Girl.
#8:  Small Plates & Sweet Treats by Aran Goyoaga:  Another absolutely gorgeous book that feels fabulous in your hands.  There are 120 seasonally-organized recipes for small plates (a nod to the tapas of Goyoaga's youth from the Basque region of Spain) and sweet tweets (Goyoaga has a background as a professional pastry chef).  All of the recipes are naturally gluten-free, and each of them is  supplied with a big, colorful photograph.  I'm not even gluten-free, but I'll certainly be making these recipes:  Summer Lobster and Apple Salad, Hazelnut Butter Toffee Chocolate Chip Cookies, Roasted Strawberry & Coconut Milk Sherbet and Basque Fish Stew.  Check out more of Goyoaga's recipes on her blog- Cannelle et Vanille.
#9:  Gluten Free Baking for the Holidays by Jeanne Sauvage:  My gluten-free Mom is a big fan of Sauvage's gluten-free blog:  The Art of Gluten Free Baking.  Her unique GF flour blend has worked wonders in some of my own gluten-free creations, so I'm very happy to see a book come from this talented blogger.  Holidays can be such a drag for those who have to avoid gluten- so many great treats that must be avoided.  Sauvage has perfected 60 gluten-free recipes for the holidays.  There are quite a few photos in the book.  It's a must-have for the gluten-free baker.  I can't wait to surprise my Mom with:  Mexican Wedding Cookies, Gingerbread Cake, Cinnamon Rolls and Pumpkin Doughnuts.

#10:  An Edible Mosaic by Faith Gorsky:  Oh dear!  This is yet another absolutely beautiful cookbook.  Gorsky married into a Syrian family and her Mother-in-Law gave her a thorough course in Middle Eastern cooking.  She now harbors a love for the cuisine of her husband's homeland and it comes through loud and clear in her cookbook.   There a great introductory chapter sharing knowledge about ingredients used in Middle Eastern cooking, as well as some basic recipes.  Every page of the book is edged in mosaic design, and every recipe includes a photo.  I'm not schooled in Middle Eastern cuisine at all, so I'm excited to try everything.  Here are  a few recipes to note:  Middle Eastern Flatbreads, Garlicky Potato Dip, Shrimp in Aromatic Tomato Sauce and Coconut Semolina Cake.  Find more from Gorsky on her blog- An Edible Mosaic.
#11:  Japanese Farm Food by Nancy Singleton Hachisu and Kenji Miura: I don't yet have this much-talked-about cookbook, but I've just ordered it!  How beautiful does this sound > Hachisu lives with her husband and teenage sons on a rural Japanese farm, where they prepare these 160 bright, seasonal dishes. The recipes are organized logically with the intention of reassuring you how easy it is to cook Japanese food. Not just a book about Japanese food, Japanese Farm Food is a book about love, life on the farm, and community. Covering everything from pickles and soups to noodles, rice, and dipping sauces, with a special emphasis on vegetables, Hachisu demystifies the rural Japanese kitchen, laying bare the essential ingredients, equipment, and techniques needed for Japanese home cooking.  Find more from Hachisu on her blog- Japanese Farm Food.
#12:  Jerusalem by Yotam Ottolenghi and Sami Tamimi:  When I asked of my Facebook friends which cookbook they were most excited about this year, Jerusalem was noted by nearly all of them.  I haven't seen the book yet, but I felt compelled to order it!  Here is the description > Both men were born in Jerusalem in the same year—Tamimi on the Arab east side and Ottolenghi in the Jewish west. This stunning cookbook offers 120 recipes from their unique cross-cultural perspective, from inventive vegetable dishes to sweet, rich desserts. With five bustling restaurants in London and two stellar cookbooks, Ottolenghi is one of the most respected chefs in the world; in Jerusalem, he and Tamimi have collaborated to produce their most personal cookbook yet.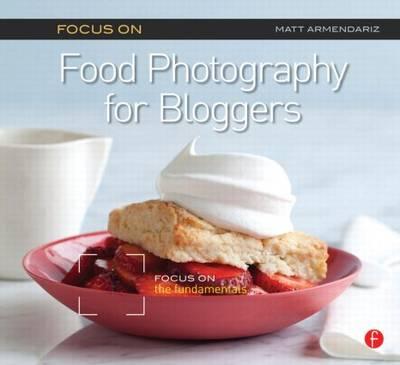 #13:  Focus on Food Photography for Bloggers by Matt Armendariz (not a cookbook, but a major bonus!!):  Matt did the photography for The Recipe Girl Cookbook, and he is supremely talented at so many things- most notably photography!  In this book, Armendariz shares tips for food bloggers on how to take those photos that command attention on a blog.  Learn how to make your food look pretty in natural light, what equipment to use, composition, what props to use, and how to get creative.  This book is a must-have for food bloggers!  Armendariz is sharing some pretty valuable and easy-to-follow tips in this book.  It's filled with example photos too.  I'll be reading it cover-to-cover and back again!!  Find more from Matt- recipes, photography and travels- on his blog Matt Bites.
————————————————————————————————————————
GIVEAWAY DETAILS- there will be FIVE winners : How to enter:
You may enter up to 6 times…by entering 6 separate comments (please don't include links in your comments):
*Please note that comments DO NOT always show up right away.  I need to approve them if you're not a regular commenter, and sometimes there's just a natural delay in visibility.
#1:  Leave a comment telling me which two books from those listed above you'd be most excited about winning!
#2:  Follow RecipeGirl on Twitter… then leave a comment telling me that you're following.
#3:  SHARE this giveaway with your Twitter followers… then leave a comment telling me that you've shared.
#4:  Follow RecipeGirl on Pinterest… then leave a comment telling me that you're following.
#5:  Follow RecipeGirl on Instagram… then leave a comment telling me that you're following.
#6:  SHARE this giveaway on your Facebook page… then leave a comment telling me you've shared.
This giveaway is open to everyone- worldwide (as long as Amazon will mail to your area)… because I know I've got readers from all over the place.  I appreciate you all!   You must leave a valid email within the commenting form (not in your actual comment).   5 winners will be selected via Random.org and will be notified by email.  You will have 48 hours to respond to my email before I select another winner.  Winners will also be posted here, so you can check to see if you've won!  Comments will be collected for one week- until December 5th.  Winners will be posted on the morning of December 5th.  GOOD LUCK!
Winners were commenters:
#283 (Amanda), #52 (Shaina), #576 (Christy), #4 (Amy) and # 234 (Elizabeth).  Thanks to all for entering!
GIVEAWAY NOW CLOSED.  
Disclosure:  I was given copies of the majority of the books listed above for review purposes.  There are Amazon affiliate links included in this post, which helps fund giveaways such as this one for RecipeGirl readers!  This giveaway is sponsored by RecipeGirl.com.
1,231 Responses to "4 Weeks of Holiday Giveaways #1: Totally Cool Cookbooks!"