Chocolate Turtle Cookies
My holiday shopping is nearly complete.  I've purchased fun stuff for all of the kidlets in our extended family, all kinds of goodies for stockings, and a fair amount for myself too!  Nearly all of it was done online, which – by the way- is extremely DANGEROUS!!  I'm completely and totally, *seriously* an online shopping addict!  The internet has made spending far too easy to do.  Sites like Nordstrom, Zappos, Sephora, Urban Outfitters, Piperlime, Ugg, Chefs and ShoeBuy offer free shipping on both delivery and returns.  So easy to order, decide on whether or not you like something, and then just send it on back (for free) if you don't (or if you realize you've spent money that you don't really have!) Oh dear.  I have zero shopping willpower.  At least I can head into the kitchen once in a while and take a break from all of the online temptation to make cookies.  My latest holiday cookie:  Chocolate Turtle Cookies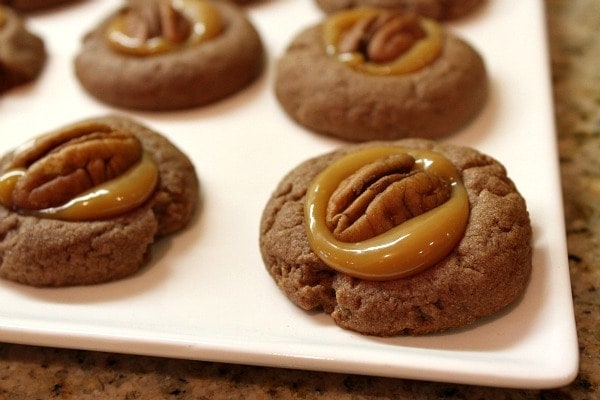 What could be better than a chocolate cookie with a puddle of caramel tucked into the middle? Nothing.  No one in my family likes pecans except me, so I made a few with the pecans for me and the rest with just the caramel puddle.  Everyone's happy.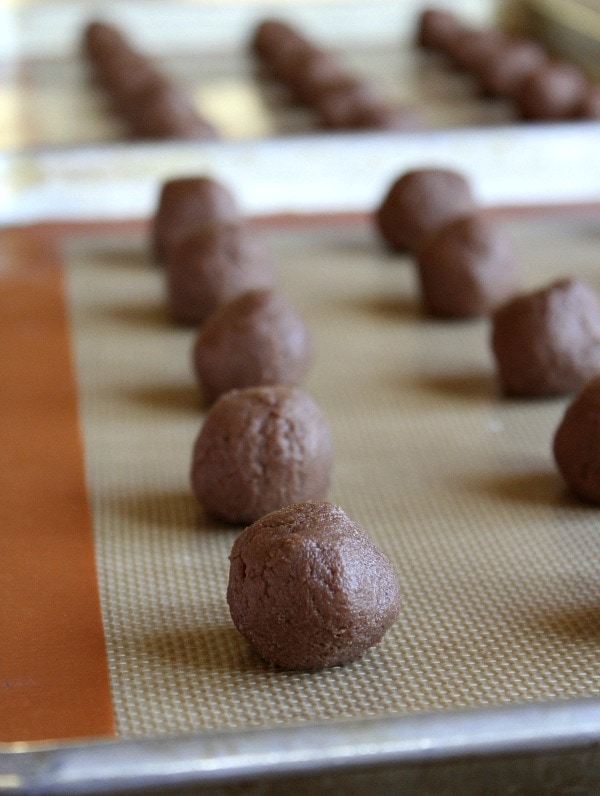 These are so easy to make.  The chocolate cookie dough is rolled into balls and placed on your cookie sheets.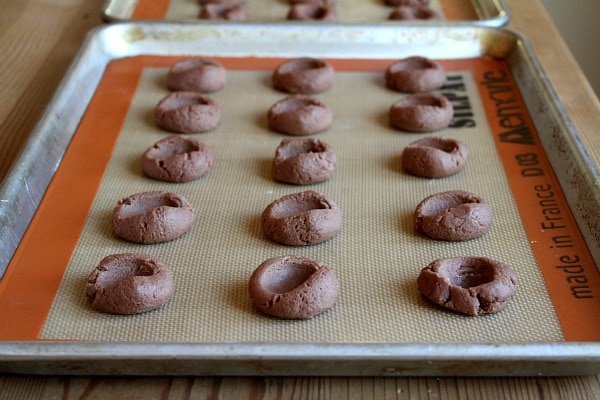 Then someone is given the task of placing a thumbprint into each cookie.  Kids could get into this one (if you want them to, that is!)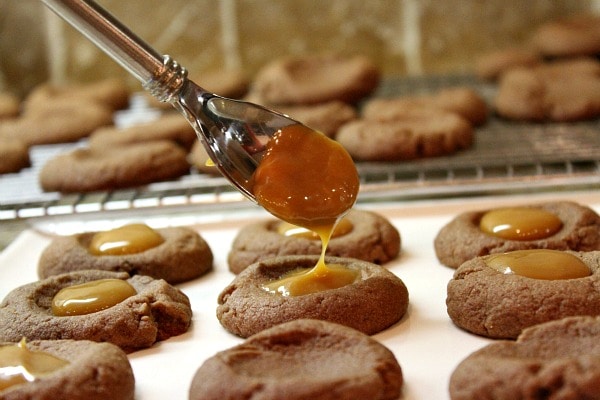 After 8 minutes or so, the cookies are baked and set enough to take out of the oven.  You'll go through each of them with a small spoon and give them a little press in the middle to make sure you've got a nice impression in the middle of each cookie.  Then the caramel puddles… caramels melted with half & half cream.  A little spoonful into each cookie is all you need.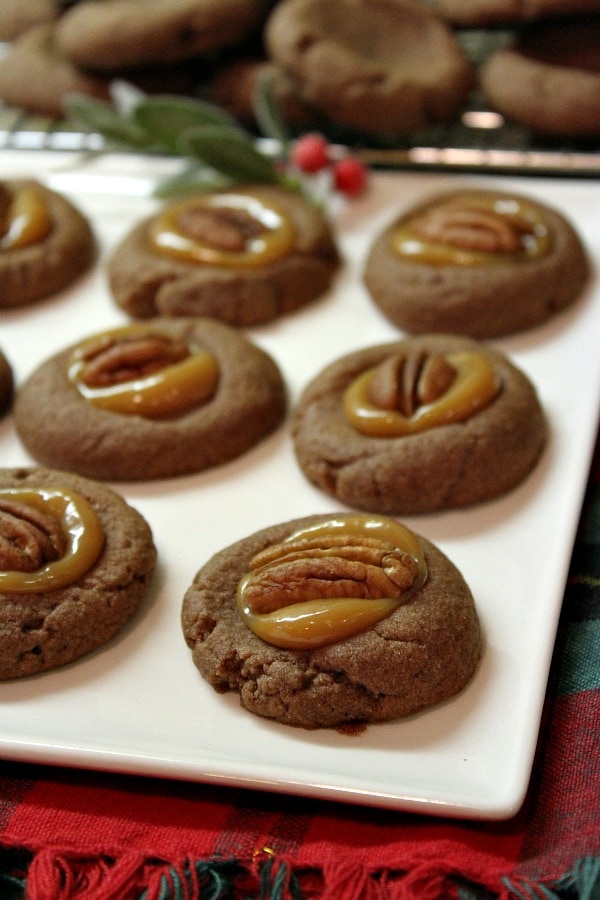 And the pecans (or not) are placed on top!  The caramel sets up eventually so it isn't drippy and sticky, but I'd still store them in a single layer if you're able to do so.  And they're kinda guaranteed to make you forget about online shopping… at least for a little while.
But there was that dress I was eyeing… and these boots too and these platform sandals and these polka dot ski pants… and I'm DYING over these cute cupcake ornaments… See?  I told you I have a problem…
Chocolate Turtle Cookies

Yield: About 42 cookies

Prep Time: 30 min

Cook Time: 8 min

Ingredients:

1 cup (2 sticks) salted butter, softened
1 cup granulated white sugar
1 large egg
1 teaspoon vanilla or chocolate extract (see *tips)
2 ounces unsweetened chocolate, chopped and melted (I use a glass dish in the microwave)
2 1/2 cups Gold Medal® All-Purpose Flour
20 caramel squares, unwrapped
1/4 cup half and half cream
pecan halves

Directions:

1. Preheat the oven to 350 degrees F. Line cookie sheets with parchment paper or silpat mats (or spray with nonstick spray).

2. Use an electric mixer and a large bowl to combine the butter and sugar. Beat in the egg and extract, then chocolate. Add the flour and mix until combined. Shape into 1-inch balls. Place the dough balls on a cookie sheet 2-inches apart, and make a thumbprint in each ball.

3. Bake for 8 to 10 minutes, or until cooked through and not super soft. When you take them out of the oven, use a small spoon to press down slightly into the thumbprinted areas again- just to make sure each cookie has a nice impression. Cool.

4. Melt caramels in a double boiler. Stir in the half and half until well-combined and smooth. Spoon a little bit of the caramel mixture into each cookie imprint. Top with a pecan half.

Tips: