Grilled Cheese Guacamole and Bacon Bruschetta
It's time to talk Super Bowl.  I must admit… I'm a girl who likes football.  I actually like to watch the game itself (rooting for my favorite teams), I like the food surrounding the game, and it doesn't hurt that the game involves boys running around wearing tight pants.  My family happens to like football too, so yeah, Sundays are pretty fun for us during football season.  And now we've got Super Bowl Sunday!  Let's celebrate early with a Game Day munchie. I brought my San Diego Mexican food influence into this one: Grilled Cheese Guacamole and Bacon Bruschetta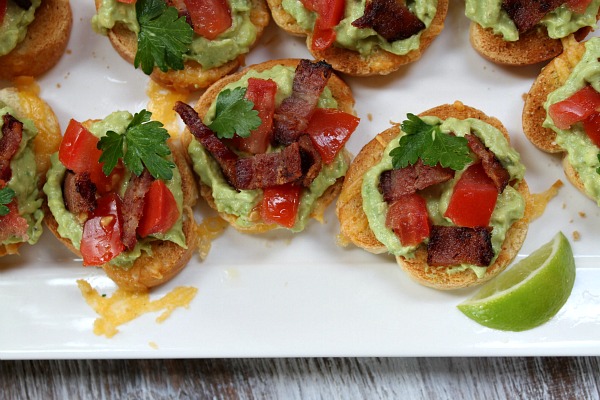 Little toasts topped with a simple homemade guacamole and crispy bacon?  There aren't a whole lot of things that are better than that.  Here's how you make 'em: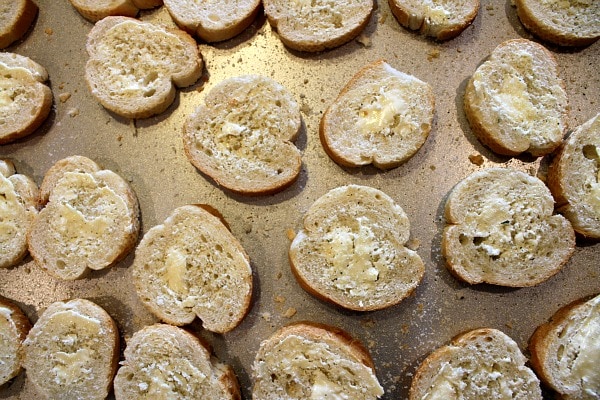 Use a skinny French baguette for this recipe.  Give those slices a quick, light spread of butter and a sprinkle of garlic salt.  Broil them for 1 to 2 minutes.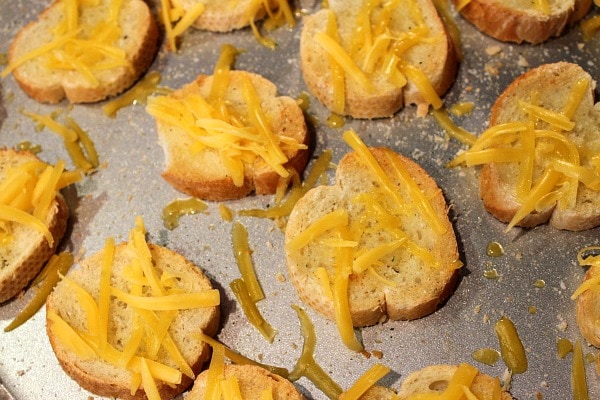 Top with shredded cheddar, then pop 'em under the broiler for another couple of minutes…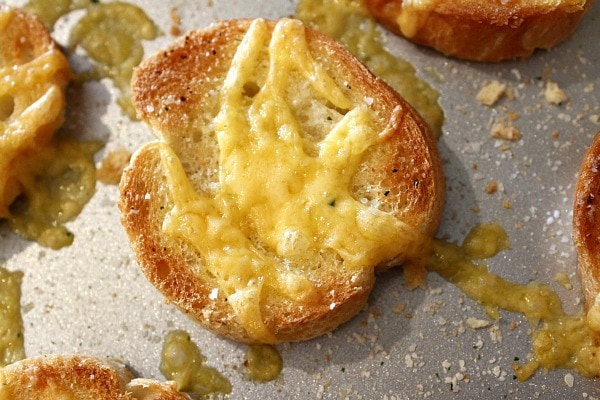 …until they are nice and melted and toasted on the edges.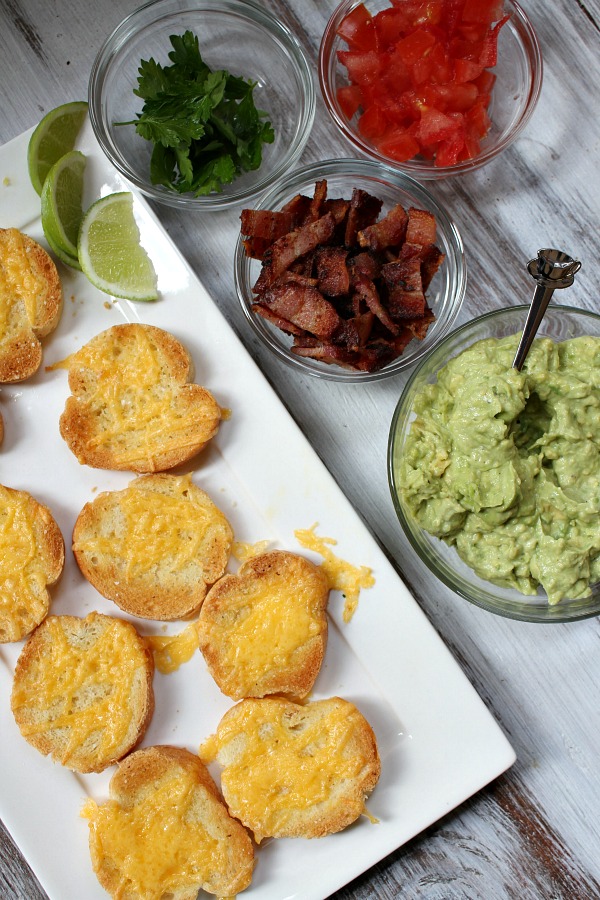 Transfer your grilled cheese toasts to a platter and get ready to top them with the good stuff.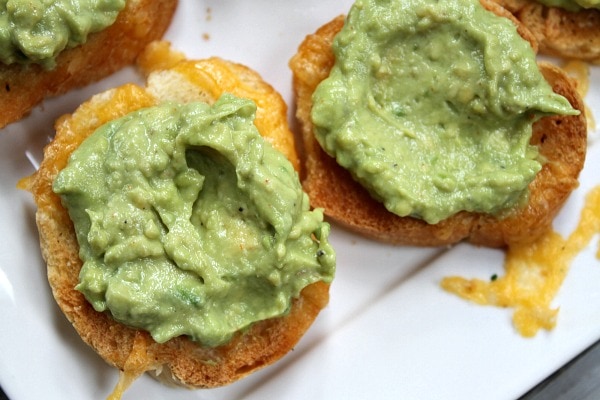 First give them a good smudge of easy, homemade guacamole (see the recipe below for the details).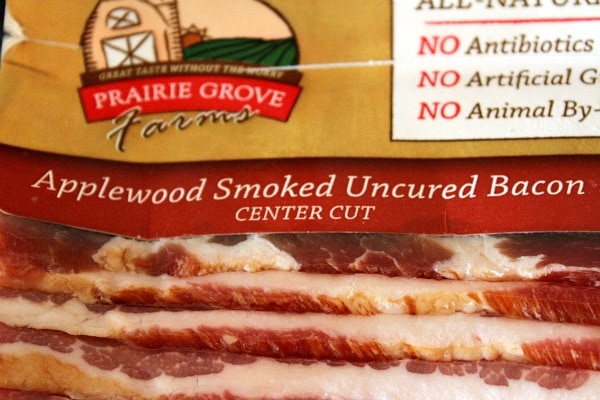 Here's the BACON I used that I was so excited to find.  I always, ALWAYS buy center-cut bacon, but to find center-cut bacon that was of the Applewood Smoked variety was quite exciting.  It's infinitely better than the regular stuff.  I found this kind at my local market (Albertson's).  Fry it up until it's crispy, then chop it into little chunks.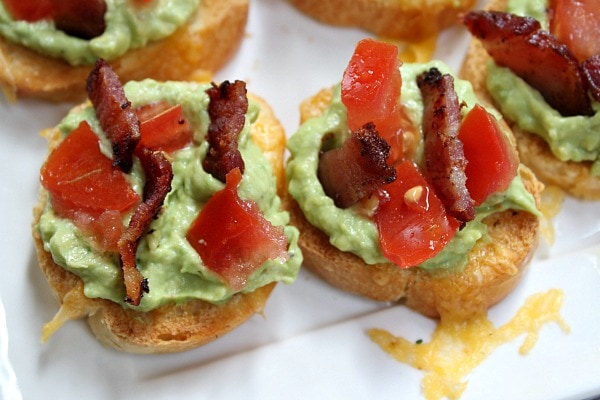 Use those crispy chunks of bacon to top the guacamole, along with a few chopped tomatoes.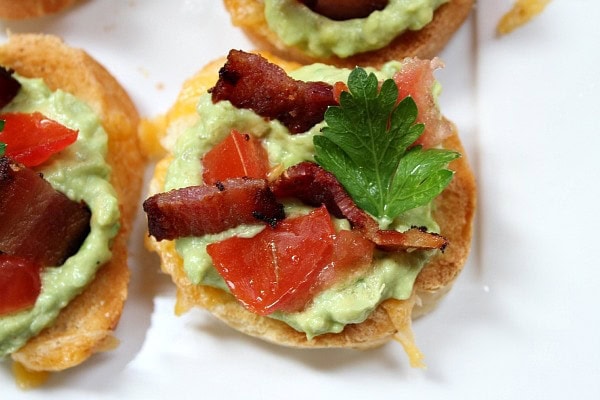 Totally optional here, but you can garnish them with a little leaf of cilantro or Italian parsley, if you'd like.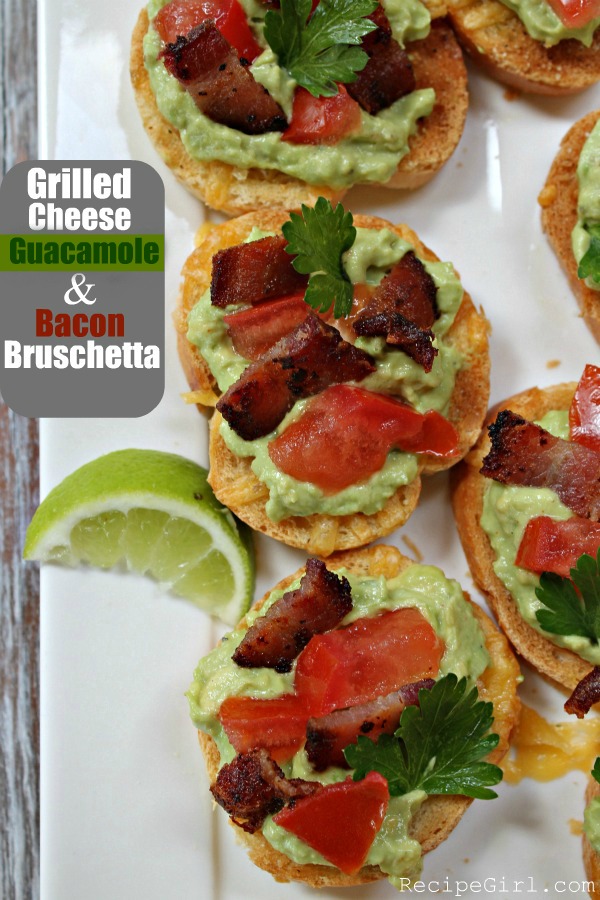 Add a few lime wedges on your platter for those who might like a squeeze, and serve to your hungry Super Bowl guests.  This one is pretty much guaranteed to be a favorite for Game Day- for both avocado and bacon lovers alike.  My family of taste testers happily gobbled these up in no time!
So who will you be rooting for on Super Bowl Sunday??  Or are you just in it for the food?  Or will you be ditching the whole thing and going to a movie instead?
Since I grew up in the Bay Area, and my uncle happened to be college buddies with their famous coach Bill Walsh and the rest of my family still roots for them… I've gotta go with the 49ers for this Super Bowl.  Go Niners!
Grilled Cheese Guacamole and Bacon Bruschetta

Yield: 20 to 25 appetizers

Prep Time: 30 min

Cook Time: 4 min

Ingredients:

3 medium just-ripe avocados
3 tablespoons sour cream
salt and pepper
dash or two of cayenne pepper
3/4 teaspoon lime juice
1 skinny French baguette, sliced
butter
garlic salt
1 cup shredded cheddar cheese
4 slices center cut bacon, fried until crisp and chopped
1 medium tomato, chopped finely
cilantro leaves or Italian parsley, optional
lime wedges, optional

Directions:

1. Prepare the easy guacamole: Cut avocados in half and scoop out the avocado into a medium bowl. Mash the avocado with a fork. Stir in sour cream. Season to taste with salt and pepper, cayenne and a squeeze of lime juice.

2. Make the grilled cheese toasts: Preheat oven to broil and set rack in the middle of the oven. Place baguette slices on a baking sheet. Spread each slice lightly with butter (I use spreadable tub butter), and sprinkle with garlic salt. Broil the bread slices 1 to 2 minutes, just until beginning to crisp. Top the bread slices with shredded cheddar. Broil again until the cheese is melted and toasts are browned lightly on the edges (1 to 2 minutes). Remove from the oven.

3. Assemble the bruschetta: Place the grilled cheese toasts on a platter. Spread each toast with a generous smudge of guacamole, a few bacon pieces and tomatoes, and a garnish of cilantro or Italian parsley. Serve immediately with lime wedges added to the platter for optional squeezing.

Tips: