I have a fun giveaway for you today… for a Bodum brand BISTRO Electric Blender Stick.  Three people will win… since Bodum has provided three blender sticks (in the color of your choice) to give to three lucky RecipeGirl readers.  Yahoo!
What would you use a blender stick for?  Well, the stick comes with three attachments that will help you puree things like soups, mashed potatoes, smoothies and even baby food!  If you're into lattes, you can use the beater attachment to foam up your own milk, or you can also use it to quickly whip cream!  The cool thing about it is that you don't have to put your ingredients in any sort of special mixing bowl or anything.  Just plug in the blender stick and blend whatever you'd like right there in the bowl that you prepared it in.  The little container you see in the photos below is for storing anything you've blended up… just pop the lid on and store it in the refrigerator.  Unlike many kitchen gadgets, this one is easy to clean too… just run the stick under some hot water, set it on a towel to dry, and it has cleaned itself.  Pretty cool, eh?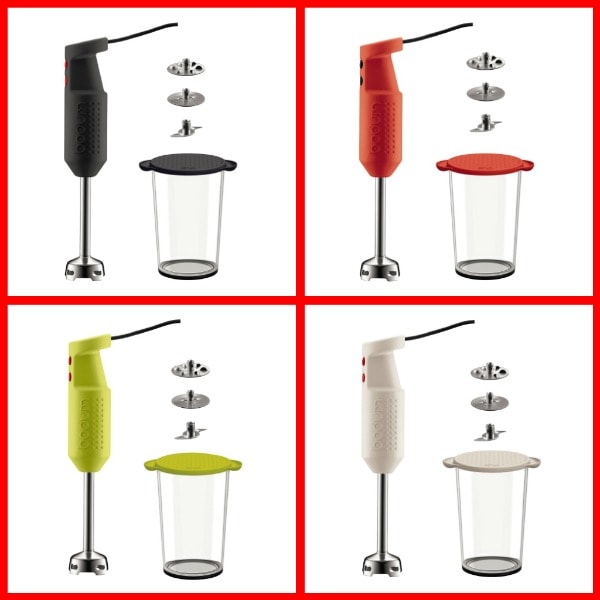 So what color do you want:  Edgy Black, Super Cool Red, Limey Green, or Neat Freak White?  Okay, so I made up the names of those colors, but I do think they're all pretty cool.  I opted for Limey Green myself.
Enter via the Rafflecopter below!  Open to USA only (18 and over).  Contest is open 1/30 and ends on 2/5.  See Terms & Conditions on the Rafflecopter if you have any more questions. Good luck!
Disclosure:  Bodum sent me a blender stick to sample and test out on my own, but all opinions shared about this product on this post are my own.  Bodum is supplying three blender sticks to give away to three lucky RecipeGirl readers.