Making Mornings Easier to Manage
A typical weekday in our house begins at the ridiculous hour of 5:45 a.m. The alarm buzzes, announcing that it's time for me to attempt to rouse my 11-year-old middle-schooler from his slumber in a still-darkened house. My gentle shakes and cheers of "Good Morning!" are met with groans and covers thrown back over his head. I remind him of our "no video game rule" (out of bed by 6:05 or no video-game-time after school–hey, it works!). He pulls on his clothes (set out the night before to make our morning go as smoothly as possible) and heads downstairs for breakfast.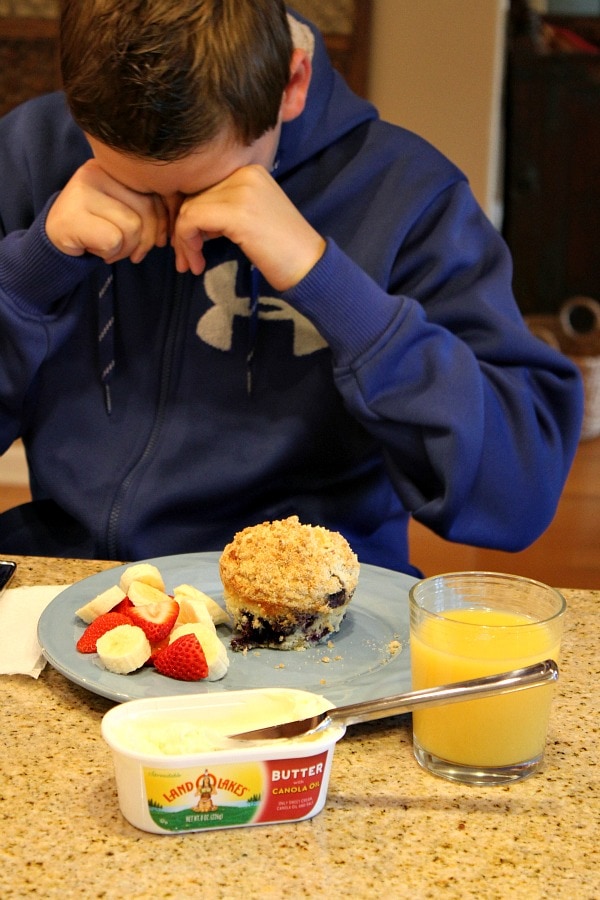 At this point, I've got a very crabby child who is not happy to be up before the sun. We need breakfast to be efficient and quick if I'm going to get him out the door to meet his carpool at 7:00 a.m. And since it takes a middle-schooler between 20 and 30 minutes to brush teeth (there's a lot of looking in the mirror and fiddling with hair), anything that makes our lives easier to manage in the morning — including breakfast food –is welcome. I'm hoping a warm, home-baked muffin and fresh fruit will catapult my little guy into a mood worthy of being around other people.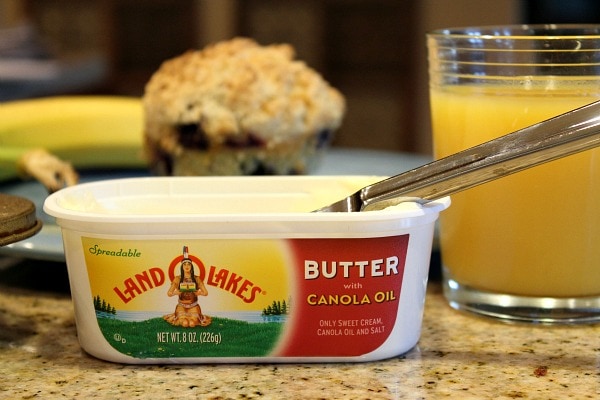 He spies the LAND O LAKES® Butter with Canola Oil, a favorite to spread on muffins and toast. Why does he like it so much? It's soft and spreadable butter… and it won't make his giant Blueberry Muffin fall apart when knife meets crumb.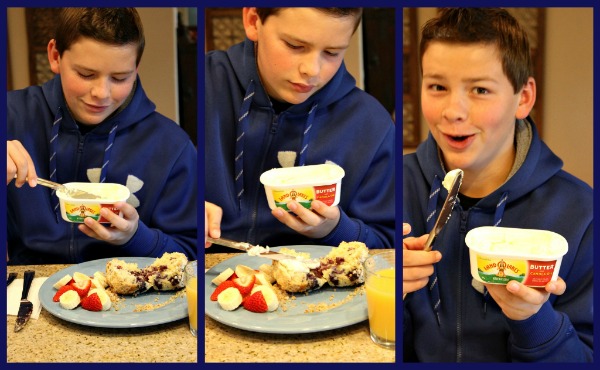 I've always stocked tub butters in my fridge. I'm grateful for this particular LAND O LAKES product because it has just three simple ingredients: sweet cream, canola oil and salt (if you check out the other brands, they have long lists of ingredients that are hard to pronounce). The tub is hand-held. Right out of the refrigerator, the product scoops onto the knife smoothly and easily. And if its fresh, butter taste wakes up my groggy pre-teen and puts a smile on his face, then that's a bonus too!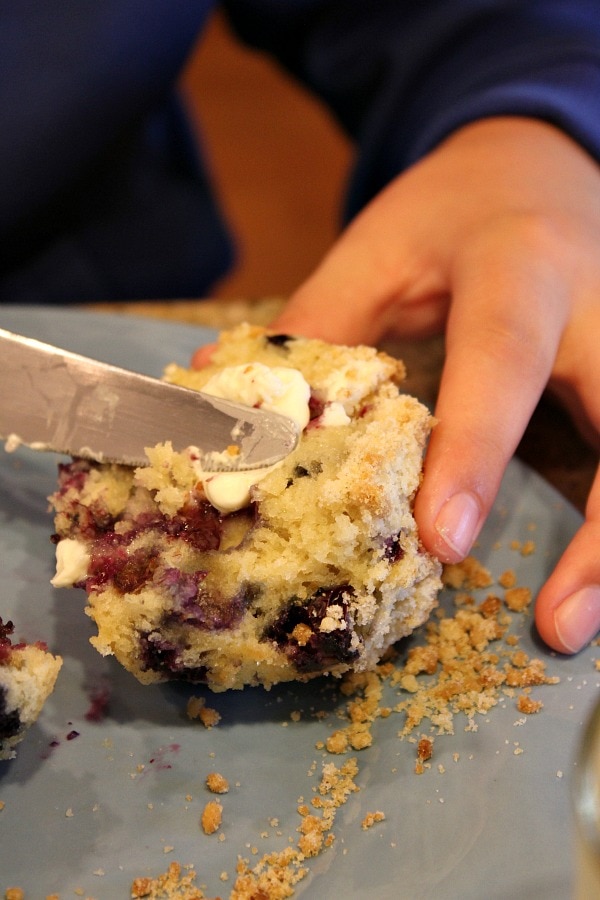 There's no waiting for a chunk of cold butter to soften and melt. The canola oil mixed with the sweet cream is what makes this product creamy, soft and spreadable, making melting into those nooks and crannies pretty much immediate.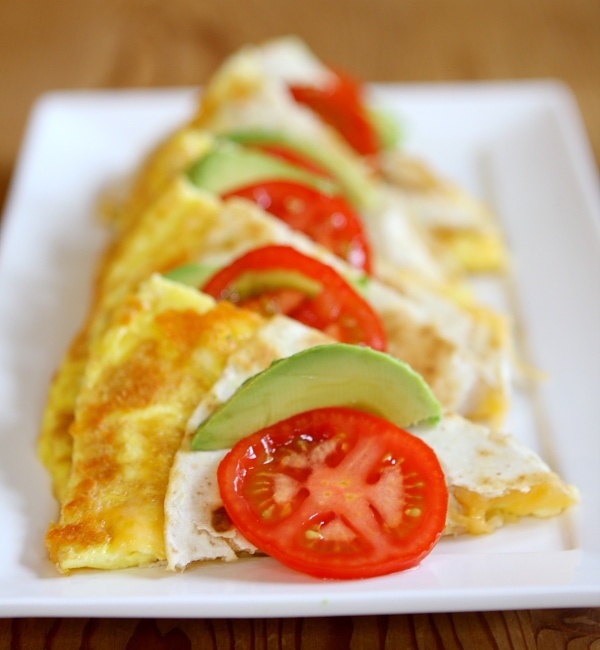 On mornings when I'm feeling energetic, I whip up eggs or these Breakfast Quesadillas for breakfast … starting with just a smidge of the LAND O LAKES® Butter with Canola Oil in the pan. Easy and convenient.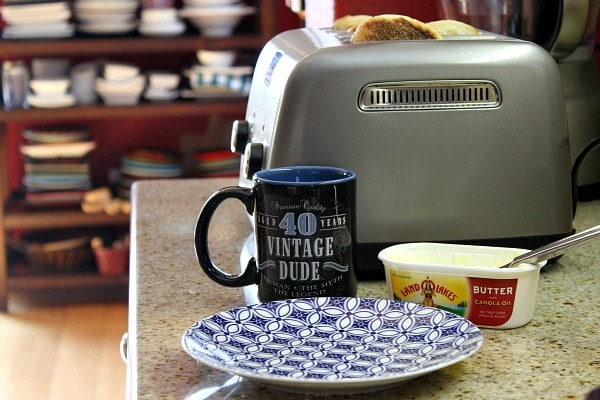 Later in the morning, my husband treks downstairs, freshly showered and ready for coffee and his daily English muffin.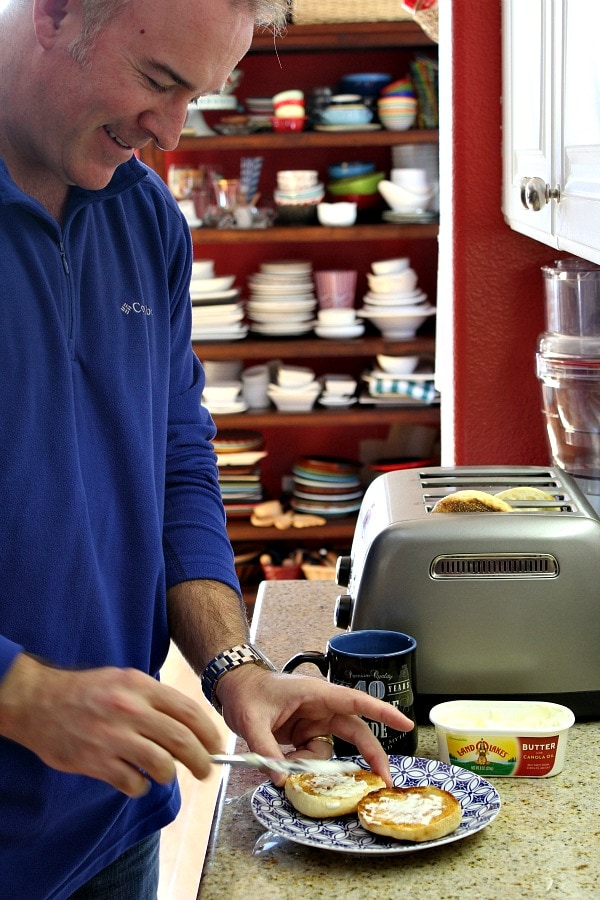 My husband doesn't have a whole lot of patience for making his own breakfast, but English muffins he can handle. Have you ever tried to spread a chunk of cold butter on an English muffin? It doesn't work out so well. A spreadable product makes his life easier!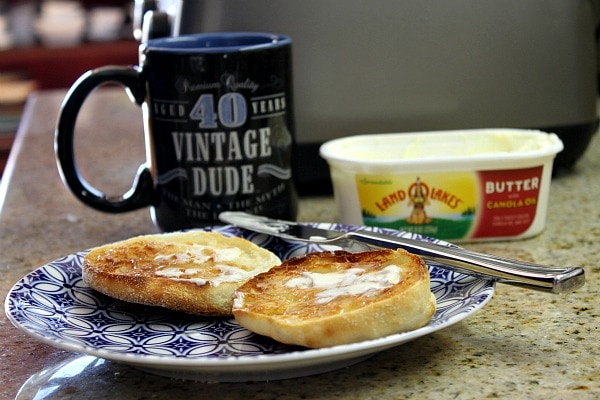 And on mornings where I'm up before the hint of dawn is even a thought, I make stacks of Buttermilk Pancakes for my guys. We prefer them with a good dose of soft, spreadable LAND O LAKES® Butter with Canola Oil (again, the chunky cold stuff doesn't work so well here) before dousing them in maple syrup too.
LAND O LAKES® Butter with Canola Oil is soft and sweet and buttery and salty and ready for spreading on anything. It definitely makes our mornings just a little bit easier. We love the convenience of it and it's delicious too! And now for the giveaway!
For a chance to win a $100 Visa Gift Card: In the comments below, please share a tip or trick or recipe that makes your mornings easier.
No duplicate comments.You may receive (2) total entries by selecting from the following entry methods:
Leave a comment in response to the sweepstakes prompt on this post
Tweet (public message) about this promotion; including exactly the following unique term in your tweet message: "#SweepstakesEntry"; and leave the URL to that tweet in a comment on this post
Blog about this promotion, including a disclosure that you are receiving a sweepstakes entry in exchange for writing the blog post, and leave the URL to that post in a comment on this post
For those with no Twitter or blog, read the official rules to learn about an alternate form of entry.
This giveaway is open to US Residents age 18 or older. Winners will be selected via random draw, and will be notified by e-mail. You have 72 hours to get back to me, otherwise a new winner will be selected.
The Official Rules are available here.
This sweepstakes runs from 2/19 – 3/3/13.
This giveaway is now closed! The randomly selected winner is Carol Gray- commenter #534. Congrats! You have been emailed and will have 48 hours to respond to the email before another winner is chosen. Thanks to all for entering!
576 Responses to "Making Mornings Easier to Manage"
Leave a Comment