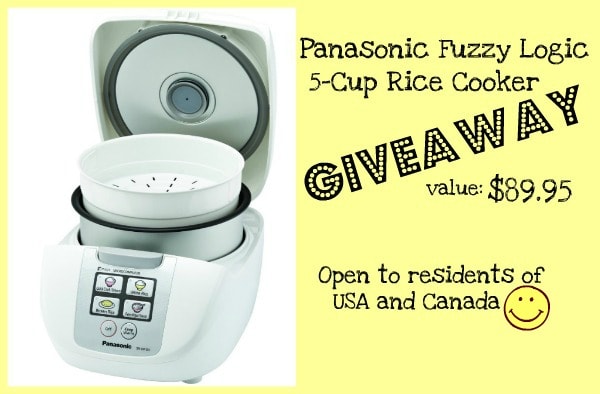 When I got married almost 18 years ago , I had a rice cooker on my registry. Some nice wedding guest of mine obliged and bought me the rice cooker, and it was one of those kitchen appliances that I actually used quite often. It was so easy to just throw rice in the rice cooker and make a simple stir fry to serve with it. I used it and used it and used it until it went kaput on me eventually and was thrown away. Fast forward many years later… I have never replaced my rice cooker! Panasonic contacted me recently to see if I'd like to try their rice cooker, so I figured it was time for me to say yes and return to rice cooking! This rice cooker is about the size of a large toaster, so you've got to make sure you have room for it. And apparently, rice cookers aren't just for cooking rice anymore! This one has settings for steaming, white rice, brown rice and soup. And there are actually a few cookbooks out there- sharing recipes for meals that utilize the rice cooker as a slow-cooking appliance. How cool is that? I have yet to try making a whole meal in the rice cooker, but it does make great rice, and cleanup is easy too.
Would you like a rice cooker of your own? Enter the giveaway using the widget below. If you don't see the widget yet, be patient because it might take a minute to load (especially with Internet Explorer 9). Or you can click below to see the entry form too. If you have any questions, you can contact me (see "contact" at the top of the site). Good Luck!  This giveaway has ended.  The lucky winner was Anne H.  Thanks to all for entering!
Disclosure: Panasonic sent me a rice cooker to review, and they're providing another one for this giveaway. This is not a compensated post, and all opinions shared are my own. Giveaway details are included on the widget. Giveaway is open to USA and Canada. Giveaway ends Monday, March 25th. Amazon affiliate links are included within this post.