Giveaway (closed): Harry & David 9-Month Signature Fruit-of-the-Month Club
We're continuing the fun this week in celebrating the launch of The Recipe Girl Cookbook with another giveaway of one of my Favorite Things:  Harry and David!  If you're familiar with Harry & David, then you know about their Fruit-of-the-Month clubs.  I'm crazy about getting things delivered to me in the mail, and when I receive a box of perfect-looking fruit each month, that's even better!  Harry & David has offered to give one Recipe Girl reader a 9-month subscription to their Fruit-of-the-Month club!  That's really, really nice of them, don't you think?!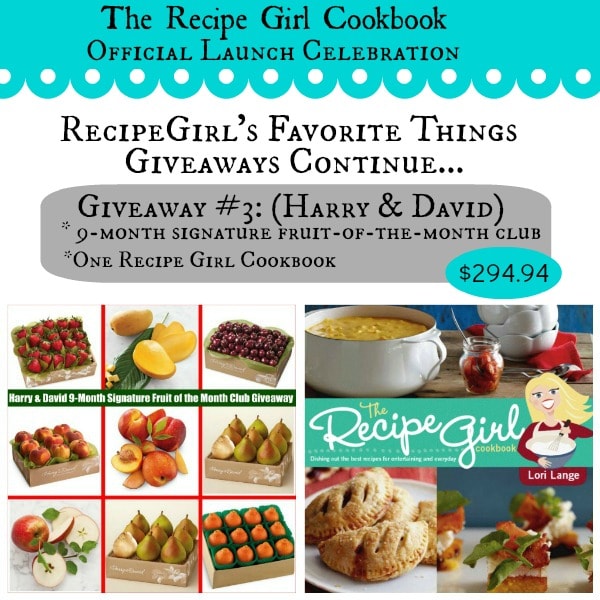 Here are all of the fabulous fruits that you receive each month during that 9-month subscription.  They're as fabulous as they look because they only send the best.  I visited their orchards up in Oregon last year, and those orchards are very well managed and tended to!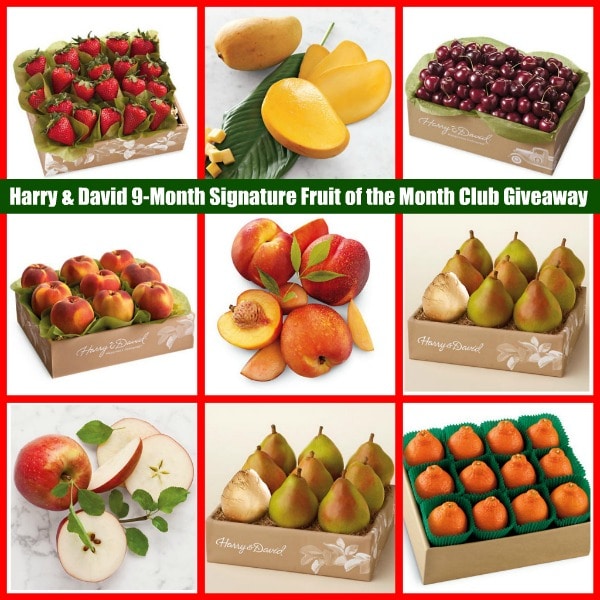 abc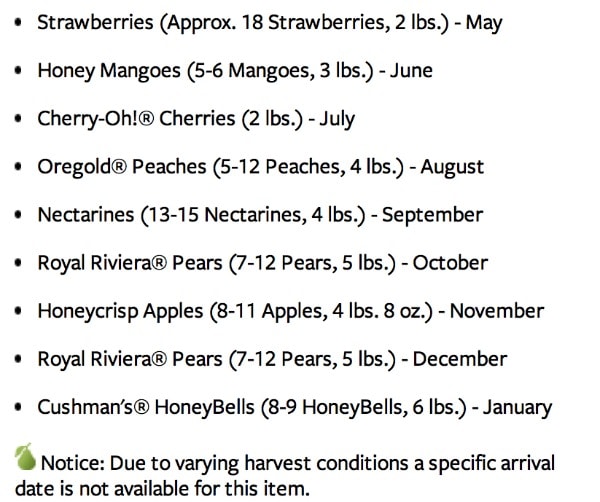 Here's why Harry & David is one of my FAVORITE THINGS:
I love getting things in the mail addressed to me.  It's like having a birthday every single month.
Their fruit is absolutely perfect.  I'm not always the best at eating as much fruit as I should be eating, so when I've got a box of it at hand, I'm more likely to do so.
Sometimes fruit arrives in the mail that I don't typically eat (like grapefruit), but I have learned to love some new fruits that way!
They're my go-to company for mail-order gifts.
I want you to have the Harry & David experience!  For many chances to enter to win one Harry & David 9-month Signature Fruit-of-the-Month Club + a Recipe Girl Cookbook, use the widget below for entering.  This one is USA addresses only.  Specific details about the giveaway are included in the widget below.  GOOD LUCK!
This giveaway is now closed.  The randomly selected winner is Allison R. from Louisiana- congrats!  Thanks to all for entering.

THERE'S MORE! 6 of my blogging friends celebrated The Recipe Girl Cookbook this week too!  They each shared a recipe from the book. Be sure to check them out!  The Recipe Girl Cookbook is available on Amazon, Barnes & Noble and Indie Bound.
Disclosure:  Harry & David have sent me samples of their product for review (though I've purchased from their company on my own many times and love it!),  and they are providing the 9-month Signature fruit-of-the-month club giveaway for the Recipe Girl Cookbook Launch celebration.  All opinions shared about Harry & David are my own.  The cookbook is provided by RecipeGirl.  Amazon affiliate links are included within this post.
724 Responses to "Giveaway (closed): Harry & David 9-Month Signature Fruit-of-the-Month Club"