Albion Fit Giveaway ($175)- CLOSED
This giveaway is now closed.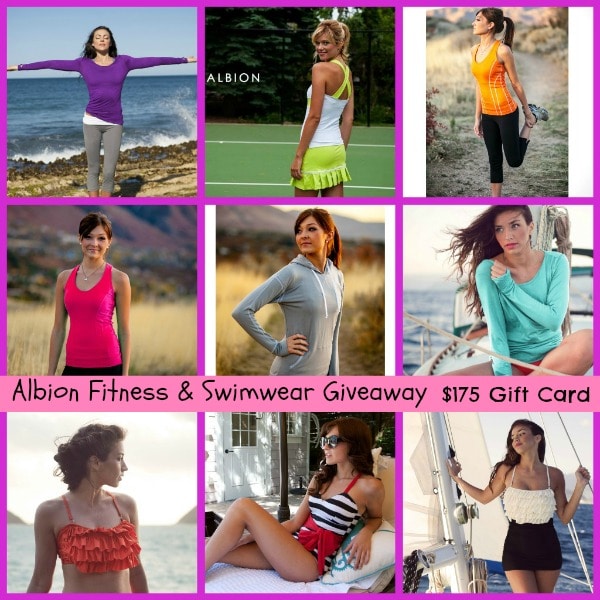 Hey!  I have a fun giveaway to share with you today from Albion Fit– a totally cute line of fitness wear and bathing suits.  Read the details at the end of this post for a chance to win a $175 gift card to Albionfit.com!  Albion's mission is to provide women with the most luxurious, flattering and hassle-free fitness and leisure apparel on the market.  I'd say they're doing a pretty good job with that!  Here are some fun facts about their company:
designed by women… for women (that's always a good thing)

have adapted a "green living" mindset and a sustainable work environment
offer 100% satisfaction on every item they sell and use the best in high-performance fabrics
family-owned company (Utah)
Now let me show you a few of the things they have to offer (besides all of the sweet choices you see in the graphic above)…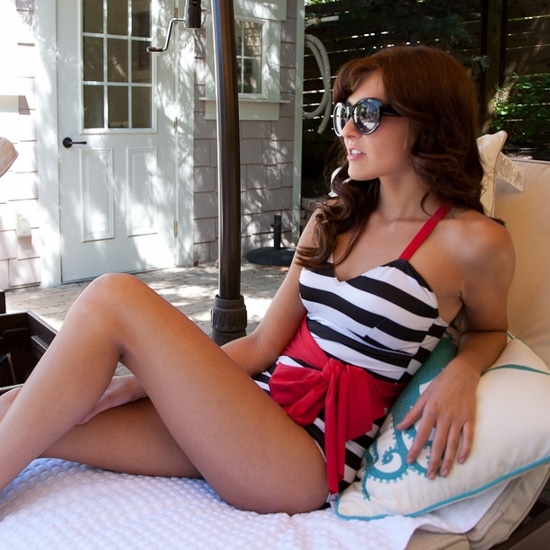 I'm totally not big on bathing suit season at all.  It frightens me to no end.  But I might be able to swing it in this cute Show Stopper Black and White suit with the adorable side tie to hide stomach bulges!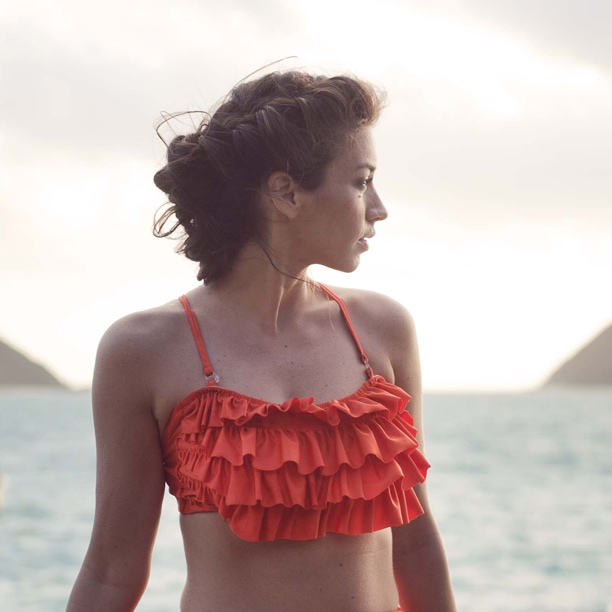 And if I'm feeling really confident… like I've just trained for a 1/2 marathon or have been really good about eating fruits and veggies and have avoided cheesecake like the plague, I might even go for this cute Cha Cha Ruffle Bikini Top!  How adorable are these ruffles??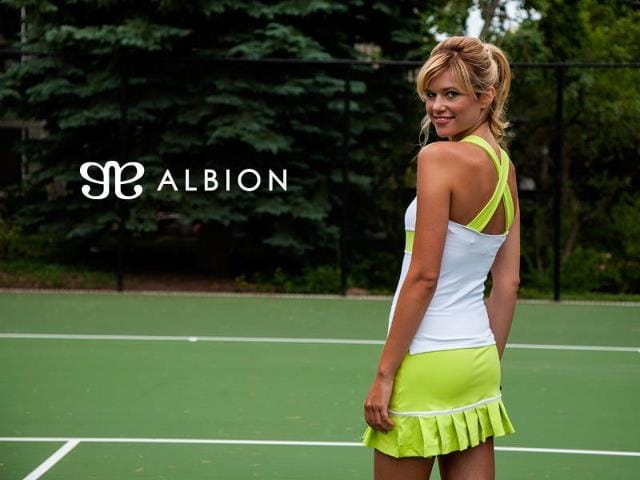 Albion did send me some of their product to sample, and since I was too frightened of what I might look like in a bathing suit- I chose fitness clothes instead.  I got this cute tennis/running Match Point Pleat Skirt in black, and I must say that it's awfully cute and flattering.  I just love the little ruffles that flit around as I walk.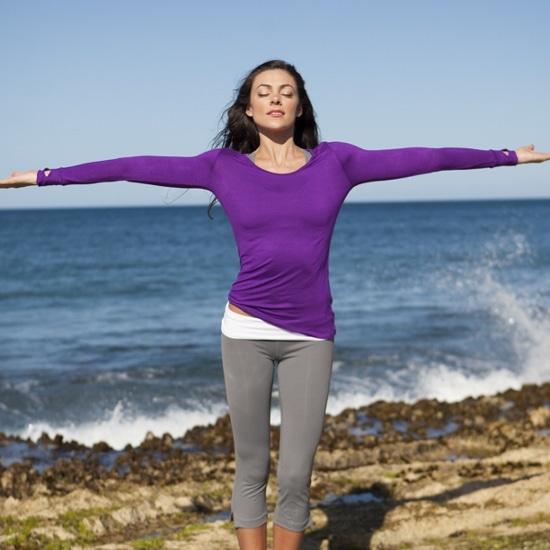 And this right here is the most comfortable shirt I have ever worn: the Go Long Crew with Thumb Holes (I'm not even kidding about that).  It's soft and stretchy and completely snuggly.
You can find Albion Fit on Facebook,  Twitter, Pinterest and Instagram.
Here's a special offer they're giving to RecipeGirl readers:  Use this code:  recipegirl15, for $15 off any purchase of $50 or more on albionfit.com (valid through 5/23/13).  Have fun shopping!

And finally, it's giveaway time!  One lucky winner will win a $175 gift card to go shopping at Albionfit.com!
Use the PromoSimple widget below to enter to win! This giveaway is open to anyone with a USA or CANADA mailing address. One winner will be randomly selected at the end of the day on May 19th and announced here. Winner will receive one $175 gift card toward purchases on Albion.com. Good Luck!  THIS GIVEAWAY IS NOT CLOSED.
AlbionFit.com Giveway!

Disclosure: I was given product from Albion.com for review, and they are providing the gift card for this giveaway. All opinions shared about Albion are my own. I loved their product!
13 Responses to "Albion Fit Giveaway ($175)- CLOSED"
Leave a Comment