10 Most-Used, All-Time Favorite Cookbooks ($100 Amazon Giveaway)
I've been spending a lot of time with my cookbooks lately… since I had to pack them all into moving boxes and then unpack them all when we moved into our new house!  I pulled aside 10 of my most-used, all-time FAVORITE COOKBOOKS EVER.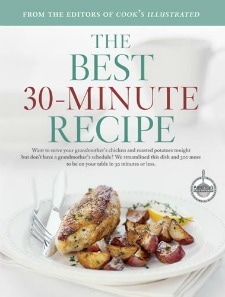 The Best 30-Minute Recipe by Cooks Illustrated. First of all, I think the people at Cooks Illustrated are brilliant. They do SO much testing and fiddling with a recipe before they are positive that it is perfect enough to share with the world. So when you're making one of their recipes, you can feel confident that it's going to turn out (and it's likely to turn out pretty darn good, too). This book is a go-to for me when I need a quicker dinner idea, and I love that the variety runs from soups to salads to stews/chilis, stir fries, skillet suppers/pasta, stovetop dishes and oven-baked meals. The recipes are easy to read and follow, and everything I've tried has been delicious. My favorite recipes in the book are the Skillet Baked Ziti, Fast Oven- Barbecued Chicken and Stir Fried Beef & Broccoli with Orange- Sesame Sauce.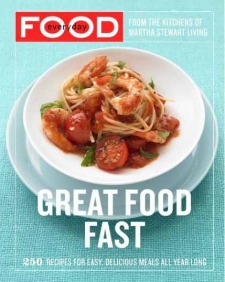 Great Food Fast by Martha Stewart Kitchens.  I bought this book when it was first released- back in 2007, and I continue to cook from it pretty regularly.  It comes from the folks at Martha Stewart's EveryDay Food (the now-defunct) checkout magazine.  The book is organized seasonally (which I love), and the focus is on fast, easy, delicious meals.  I've made many of them for my family, so I'd characterize it as family-friendly too.  Martha tends to use fresh ingredients, so you won't see a lot of recipes with canned/processed foods.  There are a few dessert recipes in the book, but generally the focus is on quick and easy dinners and simple side dishes too.  My favorite recipes in the book are the Greek Salad with Seasoned Flatbread, Grilled Tuscan Chicken with Rosemary and Lemon, and the Glazed Pork Tenderloin with Pineapple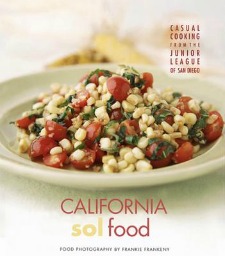 I must admit that California Sol Food is a little bit near-and-dear to my heart.  Back in my days of being a newlywed, I was an active member of the Junior League of San Diego.  I sat on the "Cookbook Committee" one year, and we worked tirelessly to gather recipes, test them, and put together a cookbook.  So that's what this is: a Junior League Cookbook.  If you have any Junior League cookbooks from anywhere else, then you know how wonderful they are.  This one has a Southern California vibe.  I have a zillion favorite recipes from the book, but my top repeat faves are: Creme Brulee French Toast, Fish Tacos, Grilled Flank Steak with Rosemary and the Chocolate- Chocolate Chip Cheesecake.  Everything is good.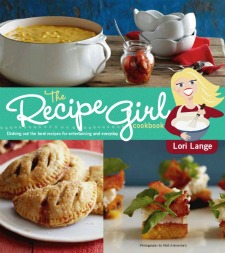 The Recipe Girl Cookbook by um… me.  Of course I have to include my own book because I really do cook from it weekly! It's full of food that my family loves to eat, so I'm guessing it's good for other families too. Chapters span all meals of the day- from Breakfast to Lunch (soups/salads/sandwiches), Happy Hour (nonalcoholic drinks, cocktails and appetizers), Main Dishes, Side Dishes and Salads, and Dessert. The final chapter shares 20 easy themed entertaining menus. Those who are gluten-free, dairy-free or vegetarian will find options in the book too. My family's all-time favorite recipes are the Spinach and Cheese Stuffed Manicotti, Avocado- Pine Nut Salad, Caramelized Onion Dip, Creamy Coconut Polenta and the Cinnamon Bun Bread Pudding.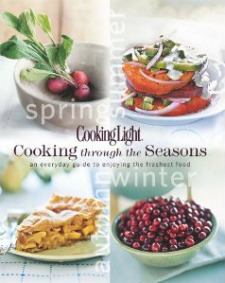 Cooking Light- Cooking Through the Seasons:  Because I'm often watching my calories, I tend to collect quite a few "light" cookbooks. I've always been a fan of the recipes in Cooking Light magazine. This one is organized seasonally (again, an appealing way to follow a cookbook). These recipes are easy-to-follow, and there are many "how-to" tips and other notes about ingredients alongside the recipes. Nutritional information is included for every recipe and there are lots of photographs too. Favorites that I've tried: Farfalle with Creamy Wild Mushroom Sauce, Thai Summer Slaw, Mango- Rice Salad with Grilled Shrimp and Cherry Cobbler. The recipes are a mix of classic, family-friendly style and some unique options too.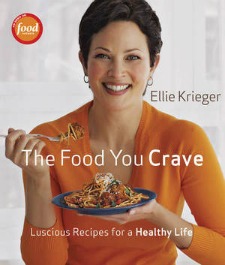 The Food You Crave:  Ellie Krieger is one of those food writer/recipe developers whom I trust whole-heartedly.  As a registered dietician, she knows how to make good, heathy food.  That's the kind of food I'm looking to make most nights for dinner.  In this book, Krieger takes the food you crave and serves it up in a much healthier way.    Her recipes are for all meals of the day- even dessert.  Nutritional information is included.  Favorite recipes I've tried from this book:  Grilled Zucchini Roll Ups with Herbs and Cheese, Herbed Goat Cheese Dip, Tuscan Vegetable Soup, Chickpea and Spinach Salad with Cumin Dressing and Fish Tacos with Chipotle Cream.  Everything I've tried, I've loved!
Weight Watchers- Take Out Tonight:  This one is kind of an odd choice to include, but it's one of the most dog-eared cookbooks on my cookbook shelf.  I've been on the Weight Watcher's diet program a few times (but not in a very long time).  I don't consider their recipes to be "diet" recipes, by any means.  Their cookbooks are full of more healthy recipes- just like any other light cookbook.  I love this cookbook because it covers all of your typical "take-out" style dishes- Deli, Chinese, Greek, Mexican, Japanese, Italian, Thai and Indian.  The recipes shared are all healthier versions of classic international dishes.  I've tried so many in this book, but my favorites are: Chicken Saltimbocca, Skinny Chimichangas, Szechuan Chicken with Peanuts and Coconut Curry Pork Satay.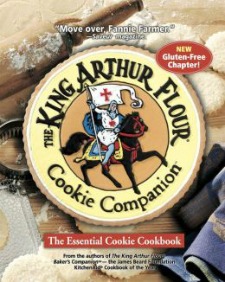 The King Arthur Flour Cookie Companion: This cookbook is my cookie bible.  I tend to prefer Gold Medal Flour, but I love the recipes that this company shares in this book.  It's gigantic, it's full of every cookie idea you can imagine, and it's one that you'll pick up again and again.  The only drawback:  very few photos of the cookies.  That being said, it's a neat surprise to see how the cookies turn out since you don't have a good visual of them in the book.  There are MANY, but my absolute favorites I've tried from the book are:  The Essential Chewy Chocolate Chip Cookie, Old Fashioned Oatmeal Cookies, Scandinavian Blondies, Cinnamon- Caramel Swirl Shortbread and Magic-in-the-Middles.  There are so many more I'd like to try though!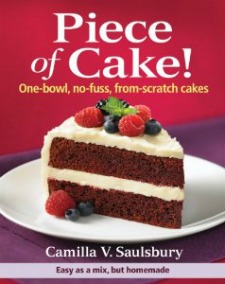 Piece of Cake by Camilla Saulsbury:  I'm sure I'm not the only one, but I grew up eating cake that was made from a boxed mix.  I didn't know any differently, and I'm pretty sure that boxed cake mix was kind of all-the-rage back in the 70's.  Spice cake was my favorite.  This book shows you how to make homemade cake very easily and in ONE BOWL.  I use it for practically of of the cakes that I make these days (and they're infinitely better than those cakes sold in a box).  Chapters include singer layer and loaf cakes, sheet cakes, bundt cakes, layer cakes and pound cakes + frostings/icings/glazes.  My favorites from this book:  Red Velvet, Banana Bundt with Peanut Butter Icing, Moist Yellow Cake and Decadent Chocolate Cake.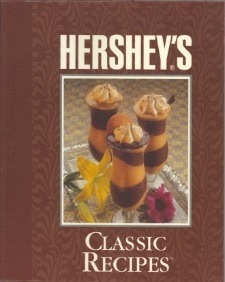 Hersheys Classic Recipes:  This may seem like another odd choice to include in my all-time favorites list, but there are some seriously good, classic recipes in this book that I use over and over again.  There are some pretty fancy chocolates and chocolate chips to purchase out there in the markets these days.  Sometimes I buy fancy but most days I buy Hersheys.  This book was published back in 2000, but I still reach for it and bake from it.  Chapters include Cookie Jar Favorites, Irresistible Brownies, Collectible Cakes, Decadent Desserts and Tantalizing Treats.  Most of the recipes have some sort of chocolate in them (Hersheys Kisses, Chips or Cocoa), but they also use their other varieties of chips too.  My all-time favorite recipes from this book are: Cocoa Crinkle Cookies, PB Chips Brownie Cups, Brownie Pie, Hersheys Perfectly Chocolate Chocolate Cake and Classic Boston Cream Pie.
It's really so hard to choose favorites, since I have ZILLIONS of cookbooks and more tend to arrive in my mailbox each and every day!!  But those shared are definitely the ones that get the most use, and those are the ones I recommend time and time again to those who are looking to buy a cookbook they'll USE.
——————————————————
Now for the giveaway!  I've teamed up with PromoSimple (the company that creates the widgets for giveaways). If you hop over to the PromoSimple blog, you'll find a blog post sharing How to Personalize Your Blog Giveaways. Use the widget below to enter for a chance to win a $100 Amazon Gift Card (which you can use for cookbooks… or anything else!) Giveaway ends on July 10th. Read the "official rules" on the widget for other details. GOOD LUCK!
Update your Cookbook Collection with a $100 Amazon Gift Card

Disclosure: There are Amazon affiliate links within this post.
74 Responses to "10 Most-Used, All-Time Favorite Cookbooks ($100 Amazon Giveaway)"
Leave a Comment