Holiday Giveaway- FOUR $100 Gift Cards
Happy Holidays Recipe Girl Readers!!!  I'm providing holiday giveaway #3 today– a selection of four $100 Gift Cards.  Read on for details! >>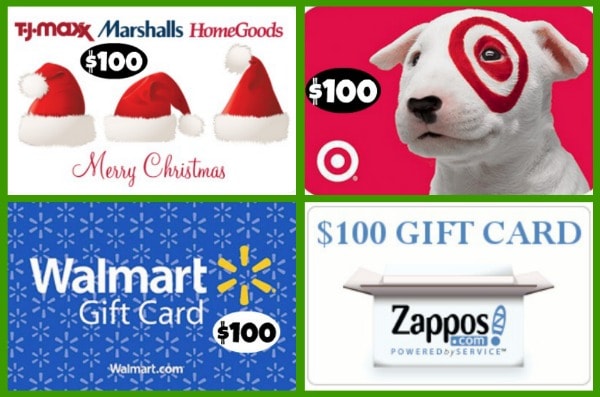 It's holiday time, and I LOVE LOVE LOVE giving!  My readers (you guys) give to me all year long by visiting my site, making my recipes, buying my cookbook, and sending me nice emails of appreciation.  I LOVE THAT!!!  So thank you.  I'm giving away FOUR things today, so there will be FOUR WINNERS.   I picked these four cards in particular because they are places I spend my money OFTEN.  I thought you might like to spend your money there too 🙂
TJ MAXX/ MARSHALLS/ HOMEGOODS:  I practically live at all of these stores… especially HomeGoods.  HomeGoods is such a fun place to look around, and it's impossible to come out of there empty-handed.  I've even bought furniture there!
TARGET:  Um, I'm here every week.  They should call it the $100 store since that's about how much I spend every time I go in there.  I love that I can buy cereal for a fraction of the price of my ridiculous local grocery store.
WALMART:  I go to Walmart when I need to buy a bunch of random stuff and I don't want to pay a fortune.  Their grocery prices are much cheaper too if you have access to a Super WalMart.
ZAPPOS:  It's safe to say that I order from Zappos quite often… probably too often.  The awesome thing about Zappos is that they have free shipping and free return shipping, so you can take a chance on a size and just return at no cost if it does not work out.
I wish you luck and hope you win.  If I could give a gift card to every single reader, I totally would.  But I'm not anywhere near as well off as Oprah so that's just not gonna be able to happen (at least not today!)  Please use the widget below for your chances to win one of these gift cards.  GOOD LUCK, and HAPPY HOLIDAYS!!!
Details: This giveaway is sponsored by RecipeGirl.com.  None of these companies mentioned have given me gift cards to give to you.   I'm happy to open this up to anyone worldwide… as long as you have access to the internet and these stores will deliver to where you live in the world, that's cool with me.  Each gift card will be delivered electronically to the winner.  Each winner will selected by random.org and will be notified via email (please provide a valid email address within your entry) and will have 48 hours to respond to the winner notification email.  Be sure to check your junk mail as it is sometimes delivered there… or you may lose out on the prize.  If the winners do not respond, another person will be selected and contacted.  Once contact has been made with all of the winners, they will be announced here.  This giveaway ends on Friday, December 13th at 11:59pm.
99 Responses to "Holiday Giveaway- FOUR $100 Gift Cards"
Leave a Comment