Microsoft Surface 2 Tablet Giveaway ($449)
Hope you all had a very Happy Easter!   I'm partnering to host a big giveaway today- for a MICROSOFT SURFACE 2 (Retail $449)- to help celebrate Carrian from Oh Sweet Basil's birthday!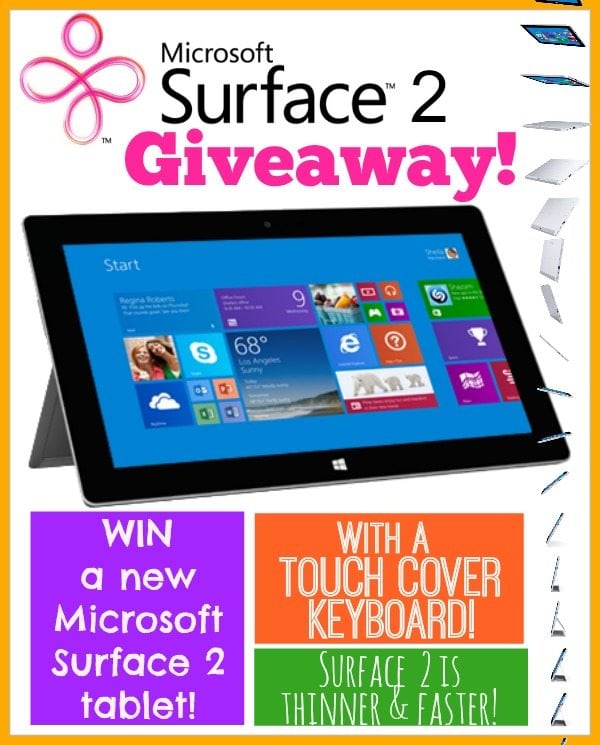 I don't have one of these tablets yet, but it looks awfully fun. Here are a few details:
It's lightweight- only 1 1/2 pounds, thin, and it can power out up to 10 hours of video playback.
It has a kickstand, so you can use an external keyboard/mouse, or you can type right on the tablet itself for the touch-screen keyboard.
It has a speedy quick start-up time.
You can pull up two screens at once, then just use your finger to swipe back and forth between the screens.
The keyboard clicks right over the front of the tablet, protecting it and making it easier to transport.
I WANT ONE!  Maybe you'll win it, and I can live vicariously through you.  Would you believe that I don't even own an iPad either?  I'm totally behind the times with the whole tablet thing.
Use the widget below for a bunch of chances to win the Microsoft Surface 2 Tablet.  This giveaway ends on April 28th,  it's provided by Windows, open to US residents only and the winner must respond within 24 hours or a new winner will be selected.  GOOD LUCK!
82 Responses to "Microsoft Surface 2 Tablet Giveaway ($449)"
Leave a Comment