Slow Cooker Pulled Pork Sliders with Bourbon- Peach Barbecue Sauce
These little sandwiches are crazy good:  Slow Cooker Pulled Pork Sliders with Bourbon- Peach Barbecue Sauce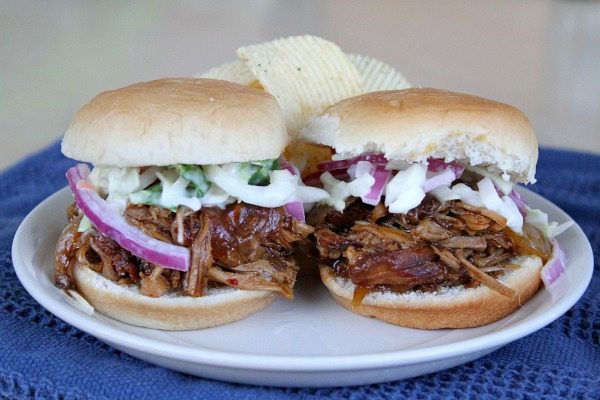 I spotted this recipe in July's Cooking Light magazine while on vacation this summer.  My husband was looking over my shoulder and said, "Oh man, you've gotta make those!"  I was sort of thinking the same thing.  So we invited some friends over, and I popped a pork roast into the slow cooker for the day (I really love it when my slow cooker makes dinner for me).  And then we ended up with these delicious little guys.  I have three letters for you > Y.U.M.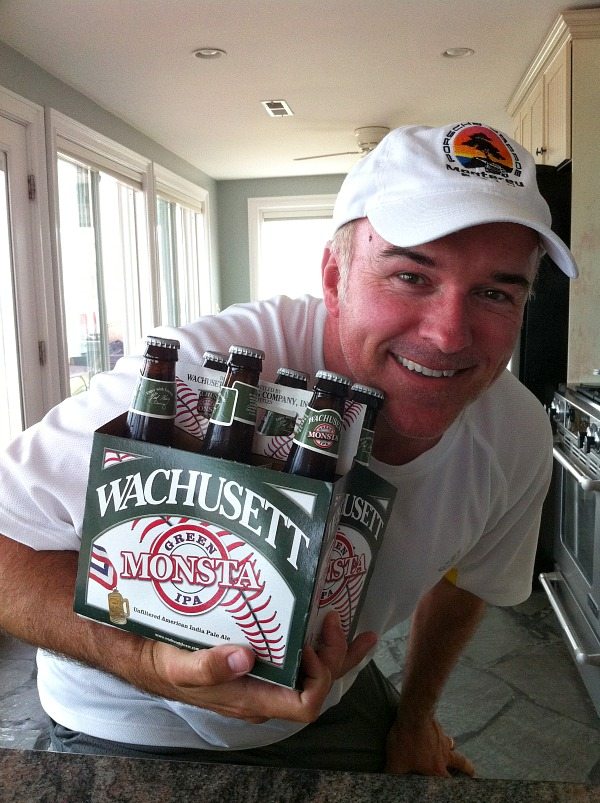 There's my cute, crazy husband.  He's fond of beer.  And he's a Red Sox fan.  So when he found this beer in Massachusetts, he was pretty excited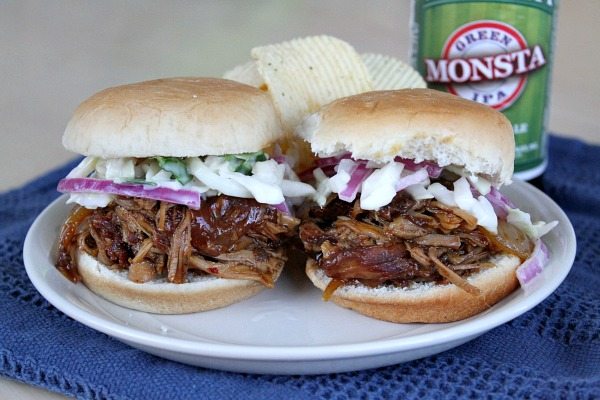 Turns out the Green Monsta IPA went very well with the sliders!  We kept with pulled pork sandwich tradition and added the coleslaw to the actual sandwich itself.  That's the way to do it, right?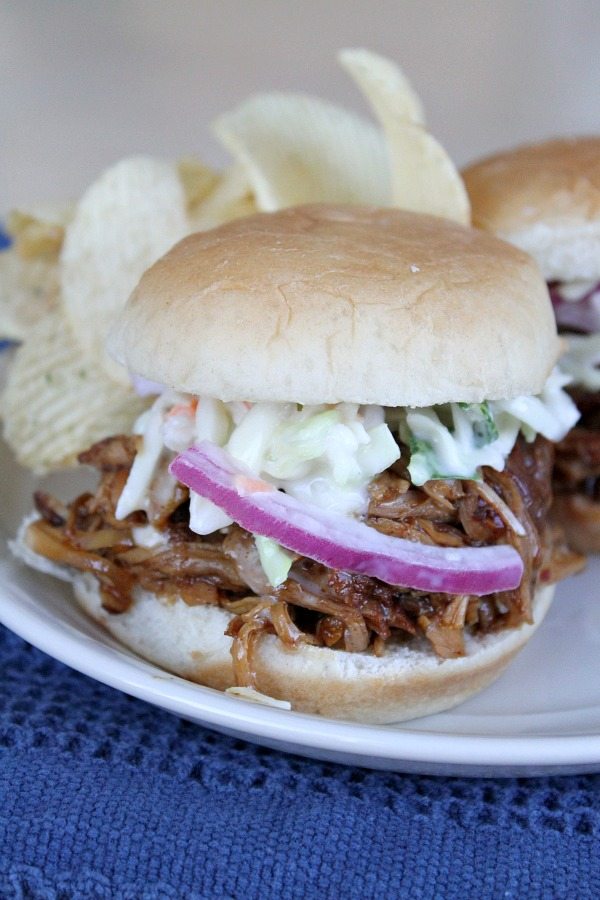 Here are some things you need to know about this recipe >>
The pulled pork portion of the recipe is totally and completely delicious.  It has a sweet element to it, and it is perfect piling onto buns for sandwiches.  It would also be great on its own.
Although there is an itty bitty amount of bourbon in the recipe, it's completely kid-friendly.  The bourbon just adds to the flavor, and since it cooks with the sauce for 20 minutes, the alcohol flavor is not there at all.
It's a great recipe to serve if you're having a bunch of guests over- so think about making it for a holiday gathering or football party.
I don't have anything else for you, but enjoy!
Slow Cooker Pulled Pork Sliders with Bourbon- Peach Barbecue Sauce

Yield: 16 (maybe more!)

Prep Time: 30 min

Cook Time: 6 hour 30 min

Ingredients:

PORK:
2 teaspoons smoked paprika
1 1/4 teaspoons kosher salt, divided
1 teaspoon freshly ground black pepper
One 3 1/2-pound bone-in pork shoulder roast (Boston Butt), fat trimmed off
1/2 cup low-sodium chicken broth
1/3 cup balsamic vinegar
1/3 cup molasses
2 tablespoons reduced-sodium soy sauce
1 teaspoon crushed red pepper
1/2 cup peach preserves
2 cups sliced onion
5 garlic cloves, thinly sliced
1/4 cup bourbon
2 tablespoons cold water
2 teaspoons cornstarch

COLESLAW AND BUNS:
3 tablespoons mayonnaise
2 teaspoons granulated white sugar
3 teaspoons cider vinegar
1/4 teaspoon kosher salt
2 cups cabbage-and-carrot coleslaw
1/2 cup thin-sliced red onion
16 slider buns (and probably more)

Directions:

1. To make the pork: Heat a large skillet over medium-high heat. In a small bowl, stir together the paprika, salt and pepper, then rub that evenly all over the pork roast. Spray the pan with nonstick spray, then add the roast to the pan; cook 10 minutes, turning to brown on all sides. Place the pork in your slow cooker.

2. Add the chicken broth, balsamic vinegar, molasses, soy sauce and red pepper to the skillet; bring this mixture to a boil, scraping the pan to loosen any browned bits. Whisk in the preserves. Pour the mixture over the pork in the slow cooker, then top with the onion and the garlic. Cover and cook on LOW 6 1/2 hours, or until the pork is pull-away tender. Remove the pork from the slow cooker (keep the liquid!), shred it apart using two forks and transfer to a bowl. Use a slotted spoon to remove the onion, and add that to the pork. Cover with foil. Pour the hot liquid from the slow cooker into a medium saucepan. Stir in the bourbon and bring to a boil. Cook 15 to 20 minutes, or until the mixture is reduced to about 1 1/2 cups. Combine 2 tablespoons cold water and the cornstarch in a small bowl, stirring until smooth. Whisk this mixture into the sauce, stirring constantly over low heat until it has thickened slightly. Stir in remaining 3/4 teaspoon salt. Pour the sauce over the pork and toss to coat.

3. To make the coleslaw: In a medium-large bowl, whisk together the mayo, sugar, vinegar and salt. Add the coleslaw and the onion, and toss well to combine.

4. For serving: Pile a generous serving of pulled pork onto the bottom half of a slider bun. Top with the coleslaw, then top with the other half of the bun. Repeat, serve and eat!

Tips: