Hand-Carved Wooden Kitchen Utensils Giveaway
I have a most fabulous giveaway to share with you today:  a set of Artisan Hand-Carved Wooden Kitchen Utensils from Polder's Old World Market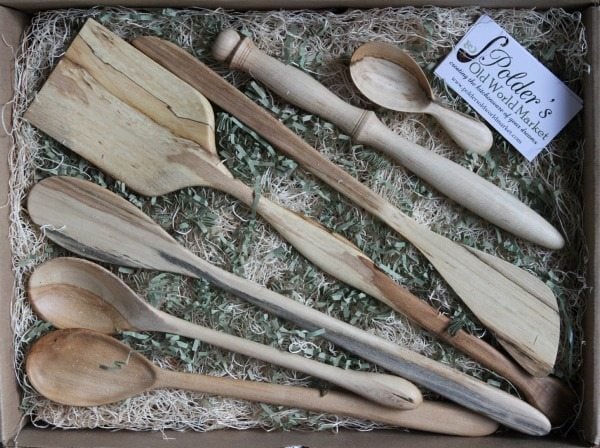 Those tools you see above were HAND CARVED for me!  They're so pretty that I am going to have a tough time actually using them in my kitchen.  I may choose to display them instead!  You can enter to win a set of these tools (which will be hand-carved especially for you!)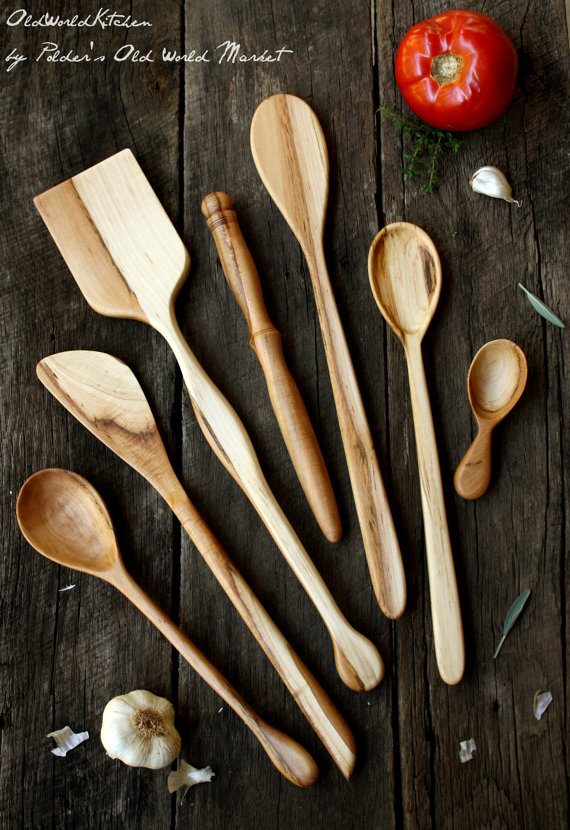 Here's a little background about the company that makes these tools, since this might be a neat idea to order holiday gifts for the foodie in your life!  Here are some quotes from their site:
We love creating something by hand. You won't find any computer operated machinery in our shop, but rather a row of fine Swiss-made utensils and piles of little, irregular squares of worn out sandpaper. We believe in the old arts. We believe in true, personality inspired design. We believe in family owned and operated. We believe in made in the USA. And we believe that the result is something with an enduring elegance, quality and inspiration not found elsewhere.
We are dedicated to offering the finest artisan and gourmet kitchenware available anywhere in the world. Each piece is traditionally crafted from the finest hardwoods- almost exclusively locally sourced, fallen trees. We know just what the home chef needs and wants, and we deliver it in an unforgettable way.
I love supporting small businesses like this.  I truly stand behind this one and their absolutely gorgeous products.  There are almost 300 five star reviews of their products on their Etsy site:  Polder's Old World Kitchen.  I'm not surprised!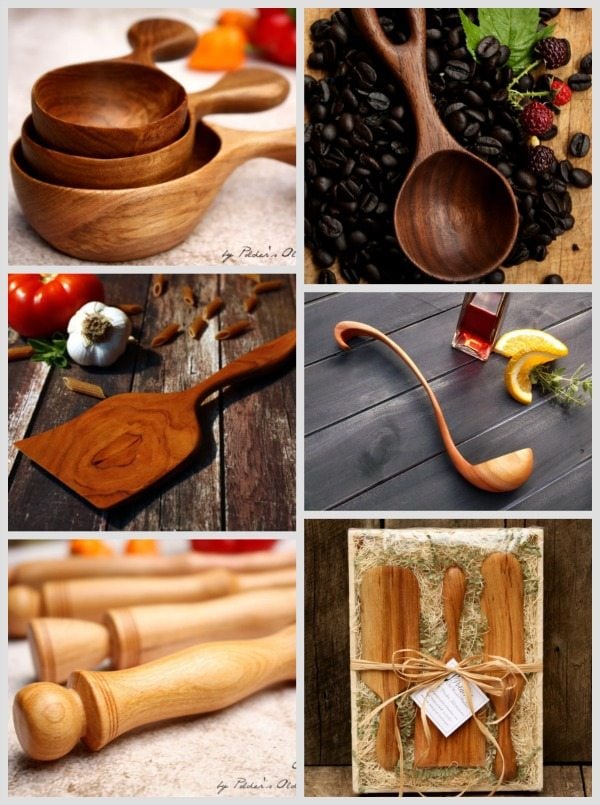 Here is a sampling of some of the other beautiful handmade pieces available for sale in their store.
Measuring Cup (or large wooden scoop set)
Wood Coffee Scoop – how beautiful would this be gifted with a package of your favorite coffee?
Large Curved Spatula (made from wild cherry)
Small Gravy Ladle (gifted with a beautiful gravy dish… I'd love this!)
An artisan Spurtle (you've gotta read up on how to use this one- it has Scottish roots!)
Wooden Spatula Gift Set (made from hickory)
There are so many more beautiful items that they offer for sale, and you can special order things you want made too. Check out the shop, support them, and order someone a unique holiday gift! Since they're made to order, you need to order soon so they have enough time to carve your pieces and ship them off for the holidays!  Order here > Polder's Old World Kitchen
Details on the giveaway: Use the widget below to enter for several chances to win this gorgeous set of hand-carved kitchen utensils from Polder's Old World Kitchen. Give the widget a chance to load– if the site is busy, it can sometimes take several seconds to load. GOOD LUCK!
Disclosure and details: This giveaway is open to anyone who has a mailing address in either USA or Canada. One winner will be randomly selected via random.org and will receive one set of hand-carved kitchen utensils from Polder's Old World Market (value: $175). This giveaway ends on Friday, November 28th. The winner will be notified by email and will have 48 hours to respond before another winner is chosen. GOOD LUCK!  I am not being compensated for hosting this giveaway.  I did receive a set of the utensils for review, and I'm happy to support this company and share with my readers!
16 Responses to "Hand-Carved Wooden Kitchen Utensils Giveaway"
Leave a Comment