Hi Friends!
Here's my weekly post sharing about what's going on in the world of RecipeGirl, as well as some fun links to things I've come across lately. So here it goes: following are 10 things to share with you this week- everything from recipes to shopping to a few fun articles and more. There are a few affiliate links included here and there. Enjoy!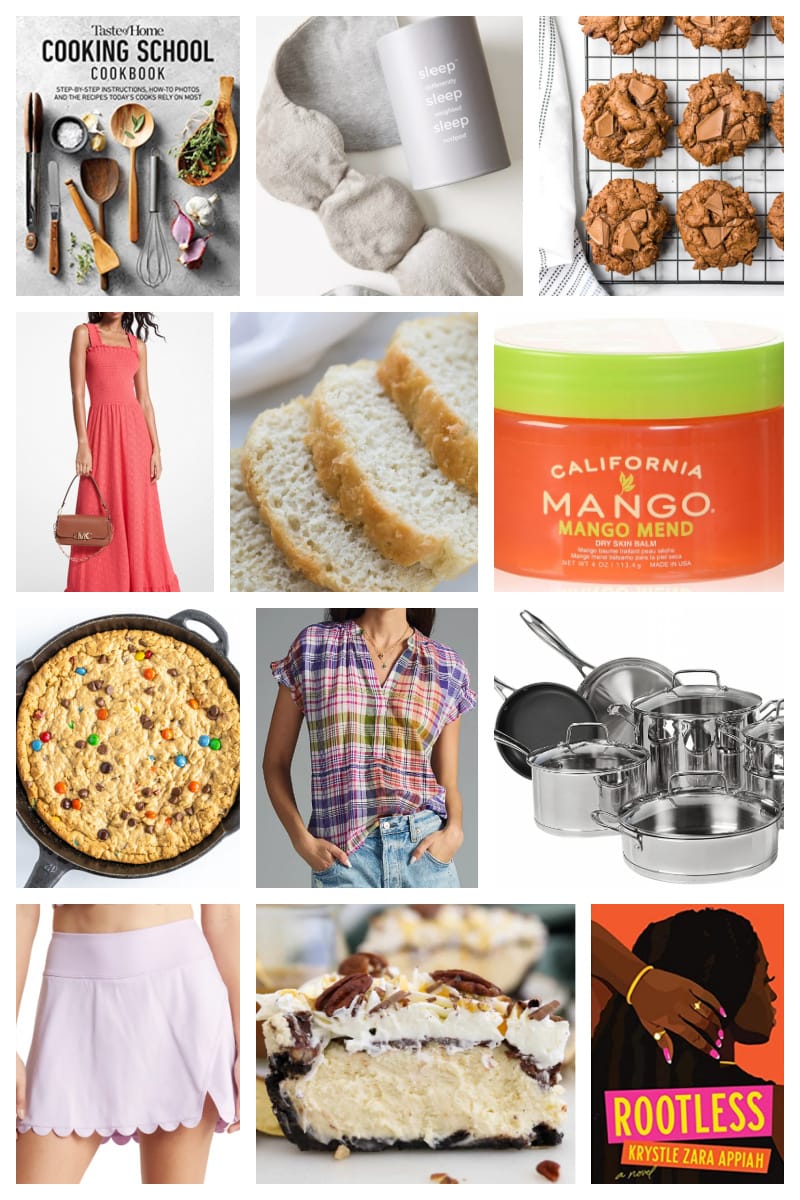 Let's Bake Cookies!

Fun Shopping Finds:

Instagram accounts to follow:

What I'm watching and reading:
We started watching The Mayor of Kingstown on Paramount +, and we're enjoying it!
I'm still listening to They Both Die at the End. But read my sister Susie's recent book review of Rootless by Krystal Zara Appiah. She loved the book and gave it five stars!

Fun Recipes I've spotted on the internet this week:
Zeppole Donuts are rolled in sugar with a fluffy, melt-in-your-mouth center.
Crab Stuffed Salmon is made with tasty salmon fillets and a homemade cream cheese and crab meat filling.
A little salty and a lot sweet, this Turtle Pie features a creamy caramel cheesecake filling topped with a crunchy layer of chocolate and pecans in a delightful Oreo crust.

Here's what's going on in my life:
Some wonderful friends of ours were invited by Kyle Busch's manager to go to the Phoenix Nascar with VIP passes. We joined them! It was a truly amazing experience. I don't even like cars that much, but we were right there in the pits and got to see them race and the crew change tires etc. We also had our picture taken with Kyle and got to meet his adorable family. Now we're big fans! Super fun day!

Catch up on food-related news of the week:

Products I'm loving:
If you have any travel coming up, this updated version of the fanny pack is nice and convenient!
Sparkly playdough is perfect for filling Easter baskets.
Look for Kodiak brand Chocolate Chip Granola Bars. They're delicious (high and in protein and lower calorie).
My new favorite sleep aid: a weighted eye mask!
Mango Mend is the best solution for dry skin!
I bought this set of pots and pans for my son, who is moving into a new apartment.
Look for the Strawberries and Cream Gelato at Trader Joe's. YUM.

Bake some Homemade Bread this week!
English Muffin Bread can be sliced and toasted for breakfast or snacking!
This recipe for Honey Whole Wheat Bread is the best sandwich bread recipe. I've been using it for so many years, and I get emails from readers quite often who tell me that this is the best recipe!
This herbed Dutch Oven Bread is crusty on the outside, and so soft on the inside. It has a little bit of an Italian flair with the added spices and garlic flavors, and it's the perfect dipping bread for dinner.

Next Week's Recipes:
Have a wonderful week!
XO
Lori (RecipeGirl)