Hi Friends!
Here's my weekly post sharing about what's going on in the world of RecipeGirl, as well as some fun links to things I've come across lately. So here it goes: following are 10 things to share with you this week- everything from recipes to shopping to a few fun articles and more. There are a few affiliate links included here and there. Enjoy!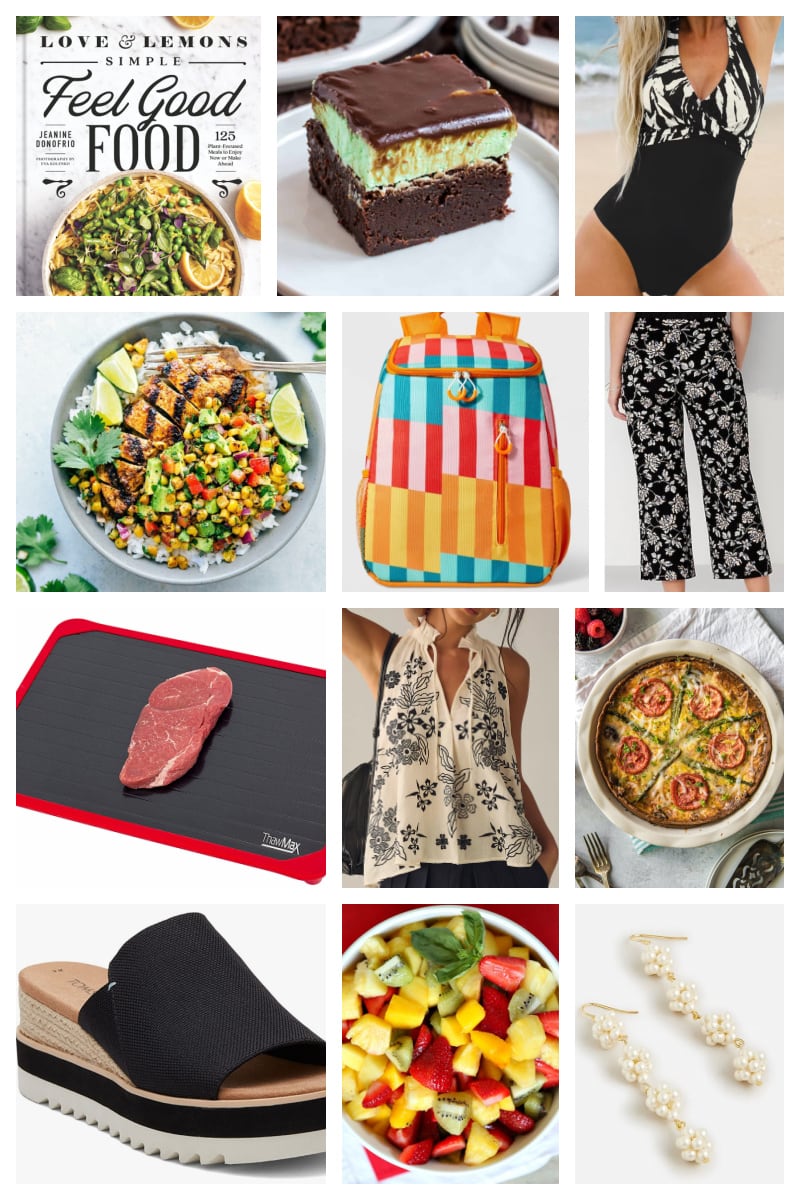 Favorite Mother's Day Recipes!
The simple secret ingredient in this Basil Lime Fruit Salad recipe is a basil-lime syrup. This is a lovely, fresh fruit salad tossed with a light basil-flavored syrup- which adds a flavor that is very mild.
This Triple Berry Salad with Sugared Almonds is the perfect summer salad. Mixed greens are topped with three kinds of berries, gorgonzola, avocado and sugared almonds. It's tossed with a simple strawberry balsamic vinaigrette.
This Garden Vegetable Quiche is packed with plenty of vegetables and Swiss cheese too!
My Asparagus Quiche turns out perfect and pretty every time. It's perfect for a Mother's Day brunch!
This Chocolate Truffle Cake is a rich and decadent cake that is perfect for chocolate lovers.
New York Style Cheesecake is a creamy, classic cheesecake with a layer of sour cream floating on top. It's often served with fresh berries.

Fun Shopping Finds:

Instagram accounts to follow:

What I'm watching and reading:
The strangest thing that I've watched lately is a series called, BEEF on Netflix. It's about a road-rage incident that amplifies. It was entertaining, and I found it frustrating to see that people can have so much anger over road rage! Let it go!
Still listening to podcasts, Julia Louis Dreyfus has a good one called, Wiser Than Me. She focuses on interviewing older famous women.

Fun Recipes I've spotted on the internet this week:

Here's what's going on in my life:
I'm back from my cruise! I went on Viking's Ancient Mediterranean Treasures ocean cruise from Athens to Istanbul. What a fabulous time of eating, drinking, touring ruins, touring other places in the cities, walking for miles exploring cities, a cooking class in Greece, meeting people from all over the world, and just generally a fabulous 12 days of vacation with my older sister Susie! I'll be writing in detail about the trip, so look for that to come in some new travel posts in the weeks ahead.

Catch up on food-related news of the week:

Products I'm loving:
This backpack cooler is darling.
My son has this quick-defrosting tray on his Amazon wish list. I checked it out, and it appears to cut defrosting time in half!
Look for Jicama Sticks at Trader Joe's. They're a nice light, crunchy low fat snack to dunk into hummus and other dips!
I'm kind of obsessed with this Wicker Pet Chair!
Pretty Pearl Drop earrings!
Spotted at Walmart: Betty Crocker Reeses Brownie Mix. Have you tried it??
These under-eye patches are the absolute best if you feel like you often have "tired eyes" or dark circles.

Bake something chocolate this week!

Next Week's Recipes:
On RecipeGirl: Risotto Croquettes, King Ranch Chicken Casserole and Blueberry Sweet Rolls
On RecipeBoy: Peanut Butter Texas Sheet Cake
On RecipesForHolidays: Dutch Apple Pie for National Apple Pie Day!
Have a wonderful week!
XO
Lori (RecipeGirl)