Hi Friends!
Here's my weekly post sharing about what's going on in the world of RecipeGirl, as well as some fun links to things I've come across lately. So here it goes: following are 10 things to share with you this week- everything from recipes to shopping to a few fun articles and more. There are a few affiliate links included here and there. Enjoy!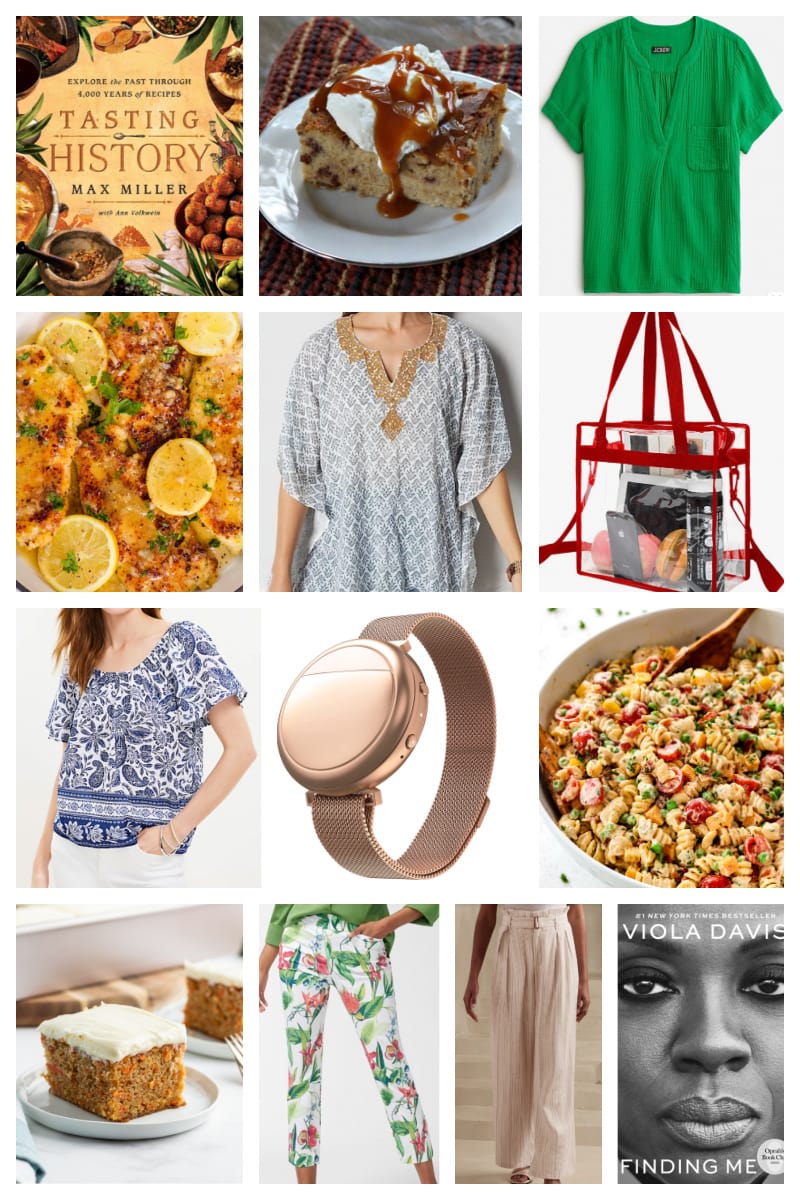 Best Sheet Cake Recipes!

Fun Shopping Finds:
I bought this cute summer dress in black!
I tried on this cute top in brilliant kelly green at the store. I didn't buy it, but I can't stop thinking about it!
I needed a travel windbreaker for a trip I was recently on when there was a threat of rain. I picked up this one, and it's perfect. Super lightweight and good for summer (cheap).
Floral cropped pants for summer? These are cute. This top would be super cute paired with the pants!
For a summery linen shirt, this one has an excellent price.
This would be awfully pretty with jeans or white pants in the summertime.
Cute shorts for summer! And here's a top that would look darling with them!
I love these linen-blend pants.

Instagram accounts to follow:

What I'm watching and reading:
I binge-watched The Night Agent on a recent flight. It was good! I love that it was action-packed. The main actor and story reminded me of Matt Damon and his Bourne movies.
I've just placed Viola Davis' memoir Finding Me on my Libby wait list. I'm so excited to listen to this one because it has been recommended by so many people. There's a bit of a wait to get it though. I'm trying to be patient!

Fun Recipes I've spotted on the internet this week:

Here's what's going on in my life:
We just spent a week in Southern California on vacation. Since we lived there for 29 years before moving to Nevada and then Arizona, we have a ton of friends to visit with and family too. We stayed in Del Mar at the beach. I loved the cool mornings and the relaxing vibe. I don't love San Diego traffic (it has gotten exponentially bad since we left 10 years ago), but it's a nice place to visit for sure.

Catch up on food-related news of the week:

Products I'm loving:
My cancer medication is causing me to have some pretty severe hot flashes. The doctor is trying to manage it with me, but it's a long process to figure out what will help. A friend of mine swears by this Embr Wave Thermal Wristband for hot flashes. It's a bracelet that goes on your wrist, and it emits a cooling sensation on your wrist. I decided to try it. It's expensive, so I was happy to see that it can be returned if it doesn't work. I'm wearing it sometimes during the day, but I always wear it at night. Honestly, it has been a game-changer for sleep. If I wake up and have a hot flash, I calmly press the button a few times on the device and let it cool me down. It's strange, but it seems to be working for me.
Along the same lines, I bought this hand-free neck fan. Also a game changer! I've been using it while working at my desk.
Also, this is a nice desk fan. I will probably be using it on my nightstand to cool me off at night, if needed.
You know how sometimes you need a clear bag to enter stadiums, etc? I found a good, cheap one! It comes in many handle colors, and it's the standard size that stadiums accept for clear bags.
Here's a mini umbrella that is perfect for traveling, and it comes in a lot of different colors.
Look for marinated salmon fillets at Whole Foods. They offer a variety of flavors, but my favorite is the Everything Bagel Seasoning topped salmon.
Look for seedless watermelon in your market. The watermelons are beginning to arrive, and they're wonderful!

Bake bread pudding this week!

Next Week's Recipes:
On RecipeGirl: Mississippi Mud Brownies, Thai Beef Tacos and Sugar Crusted Raspberry Muffins
On RecipeBoy: Orange Sherbet
On RecipesForHolidays: Chocolate Cookies and Cream Ice Cream Cake for National Chocolate Ice Cream Day
Have a wonderful week!
XO
Lori (RecipeGirl)