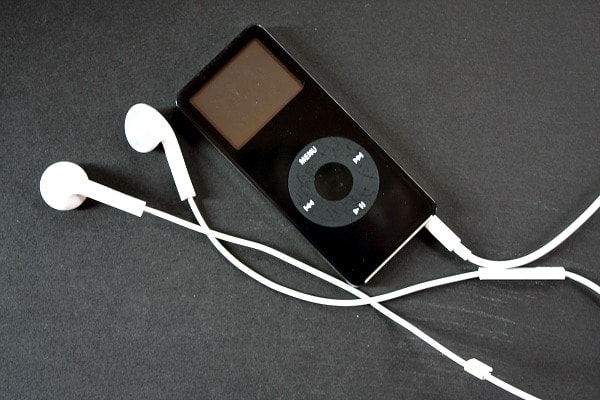 I went running today (just a little… mixed in with my morning walk) for the first time in a long time.  It felt great.   Here are the songs on my high impact cardio playlist… either for running, or elliptical or bike or walking anything else cardio.
You may or may not have my taste in music.  I like quite the variety.  I'm an 80's band- freak so there's a little of that in there.  I have a 10 year old, so there are a few current hits that I happen to enjoy.  And I've always loved The Offspring and the alternative, hard-core fast beat of most of their songs.
Starting with my current favorite song… and then in no particular order after that, here are 100 workout songs for your iPod.
All of these are pretty fast paced for running or high impact cardio:
Sexy and I Know It by LMFAO
Just Wanna Run by The Downtown Fiction
Stereo Hearts by Gym Class Heroes
I Like It Like That by Hot Chelle Rae
Good Feeling by Flo Rida
You Can Still Rock in America by Night Ranger
We'll Be Alright by Travie McCoy
Nobody Puts Baby in a Corner by Fall Out Boys
Cool for Cats by Squeeze
Pump It by The Black Eyed Peas
How Far We've Come by Matchbox Twenty
Only a Lad by Oingo Boingo
Why Can't I Be Like You by The Cure
Working for the Weekend by Loverboy
Hey Leonardo (She Likes Me For Me) by Blessid
Crazy Train by Ozzy Osbourne
Rockstar by Nickelback
We're Not Gonna Take It by Twisted Sister
Moves Like Jagger by Maroon 5
Where Them Girls At by David Guetta, Flor Rida & Nicki Minaj
The Time (Dirty Bit) by The Black Eyed Peas
All Along by The Offspring
Like a G-6 by Far East Movement
S&M By Rihanna
Right Round by Flo Rida
On the Floor by Jennifer Lopez
Tonight Tonight by Hot Chelle Rae
TNT by AC/DC
The Edge of Glory by Lady Ga Ga
Super Bass by Nicki Minaj
Don't Wanna Go Home by Jason Derulo
Magic by B.O.B
One Fine Day by The Offspring
I Like It by Enrique Iglesias
Mr. Saxobeat by Alexandra Stan
Faster by Matt Nathanson
Walla Walla by The Offspring
Party Rock Anthem by LMFAO
Don't Phunk With My Heart by The Black Eyed Peas
No Brakes by The Offspring
Buzzin' by Mann
Super Freak by Rick James
Check Yes Juliet by We the Kings
Rise and Fall by The Offspring
Hey Baby by Pitbull
Come Out Swinging by The Offspring
Where Are We Runnin by Lenny Kravitz
The Rockafeller Skank by Fatboy Slim
Not quite as fast-paced, but I still love to run to these too:
Lose Yourself by Eminem
Gonna Make You Sweat by C&C Music Factory
Hot Blooded by Foreigner
I Ran by Flock of Seagulls
Rehab by Amy Winehouse
Police and Thieves by The Clash
No One Like You by The Scorpions
Pour Some Sugar on Me by Def Leppard
All Right Now by Free
Nothin' But a Good Time by Poison
Price Tag by Jessie J
Pocketful of Sunshine by Natasha Bedingfield
Rhythm of Love by Plain White T's
Written in the Stars by Tinie Tempah
Rock and Roll All Night by Kiss
All the Small Things by Blink 182
Hey Soul Sister by Train
Don't Trust Me by 3OH!3
What the Hell by Avril Lavigne
DJ Got Us Fallin in Love Again by Usher
The Stroke by Billy Squier
Pumped Up Kicks by Foster the People
Cheers (Drink to That) by Rihanna
You Make Me Feel by Cobra Starship
Keep Your Head Up by Andy Grammar
Rumour Has It by Adele
Jump by Van Halen
Centerfold by J Geils Band
Just Dance by Lady Ga Ga
I Gotta Feeling by The Black Eyed Peas
I'll Wait by Van Halen
Dirty Little Secret by The All American Rejects
All the Right Moves by One Republic
Rocketeer by Far East Movement
Lovin' Touchin' Squeezin' by Journey
Bring Me to Life by Evanescence
Somewhere Only We Know by Hopes and Fears
Bad by The Cab
Come Sail Away by Styx
Don't Stop Believin' by Journey
Good Life by One Republic
If I Die Young by The Band Perry
Sweet Caroline by Neil Diamond
Lighters by Bad Meets Evil
Jar of Hearts by Christina Perri
Space Cowboy by The Steve Miller Band
Oh Darling by Plug In Stereo
Don't You Want Me by Human League
Amazing by Bruno Mars
What Makes You Beautiful by One Direction
(I Just) Died in Your Arms by Cutting Crew
Bad Case of Lovin' You by Robert Palmer
If you've got a favorite workout song that did not make my list, please share! It's always great to hear more recommendations…