Another great main dish recipe with Weight Watcher's points: Blackened Steak Salad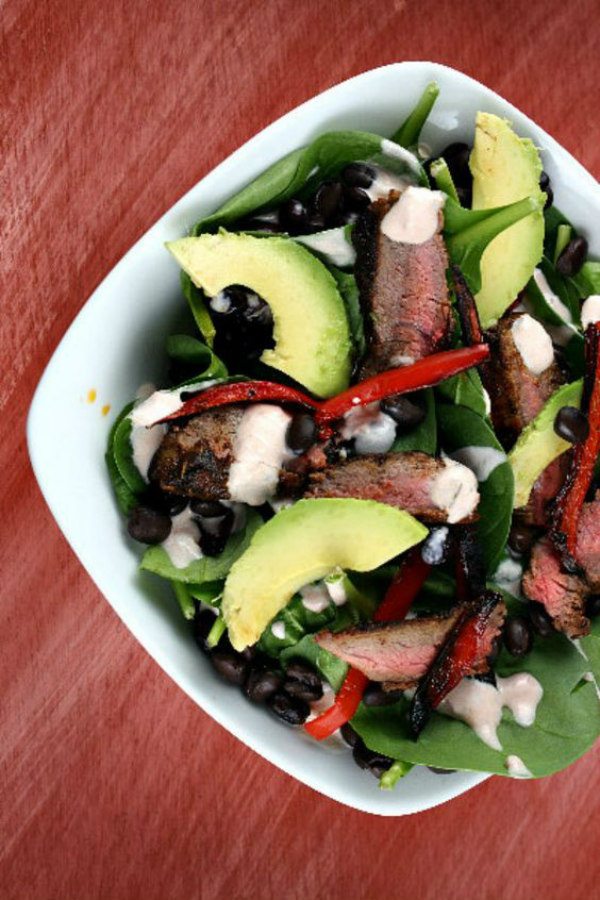 Yield: 4 servings
Prep Time: 15 minutes
Cook Time: 15 minutes
Blackened Steak Salad
I've always loved steak in salad. It turns it into a main dish for me...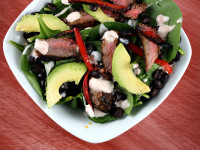 Ingredients:
3/4 pound top sirloin steak (about 1-inch thick), fat trimmed
1 Tablespoon Cajun seasoning
1/2 cup salsa
1/2 cup nonfat sour cream
2 Tablespoons freshly squeezed lime juice
3/4 pound (12 ounces) pre-washed spinach leaves
One 15-ounce can black beans, rinsed & drained
One 7.25-ounce jar roasted red peppers, drained & cut into thin strips
pepper to taste
sliced avocado, optional
Directions:
Pat steak with Cajun seasoning to coat both sides evenly. Heat a 10 to 12-inch frying pan over medium-high heat. When pan is very hot, add steak. Cook, turning occasionally, until meat is well browned on the outside and done to your liking, about 14 minutes for medium-rare.
Meanwhile, whirl salsa, sour cream and lime juice in a blender or food processor until smooth. Arrange the spinach, beans, and peppers decoratively in a large serving bowl.
When meat is done, cut it into bite-size slices; add to salad. At the table, mix salad thoroughly with dressing. Add pepper to taste.
Tips:
If you're preparing this as a GLUTEN FREE recipe, just make sure that your cajun seasoning and salsa are designated as GF.
If you don't care for jarred peppers, roast or grill your own red peppers (as shown in the photo).
Nutritional Information per serving - Serving size:

salad divided into 4 equal portions (avocado not included), 

Calories

294, 

Fat

8g, 

Saturated Fat

2.74g, 

Sugar

1.53g, 

Fiber

10g, 

Protein

29g, 

Cholesterol

57.26mg, 

Carbohydrates

28g

WW POINTS per serving: Smart Points 7, Points Plus 7,  Old Points Program 7.5
SOURCE:
RecipeGirl.com (via
Sunset
)
Leave a Comment