A classic recipe for Quiche Lorraine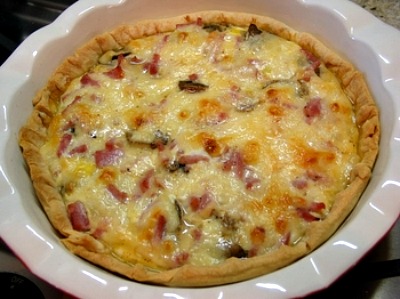 Yield: 2 quiches
Prep Time: 25 minutes
Cook Time: 45 minutes
Quiche Lorraine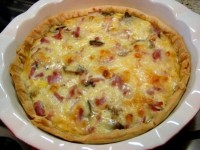 Ingredients:
2 unbaked 9-inch pie crusts
1 tablespoon salted butter
1 bunch green onions, minced
8 ounces sliced fresh mushrooms
4 slices bacon, chopped, fried until crisp & drained
4 thin slices of ham, shredded
1/2 pound Swiss cheese, grated
6 large eggs, beaten
1 1/2 cups evaporated milk
1 clove garlic, minced
1/2 teaspoon salt
1/2 teaspoon dry mustard
dash of nutmeg
dash of black pepper
Directions:
Preheat oven to 400 degrees F. Press pie crusts into two 9-inch pie pans and crimp the edges. Bake for 10 minutes in a 400 degree oven. Then reduce oven to 350 degrees F.
Sauté onions and mushrooms in the butter until softened. Layer bacon, onion/mushrooms, ham and cheese in the two crusts.
In a medium bowl, combine eggs with the remaining ingredients and mix well. Pour into filled crusts and bake for 35 minutes, or until a knife inserted in the center comes out clean.
Tips:
This recipe can be halved if you only want to make one quiche.
When pre-baking pie crust, line with parchment paper and fill with dried beans to prevent the pastry from puffing. Or, use pie weights if you have them.
SOURCE: RecipeGirl.com
Leave a Comment