Broiled Honey Lime Glazed Salmon Fillets
A favorite salmon recipe: Broiled Honey Lime Glazed Salmon Fillets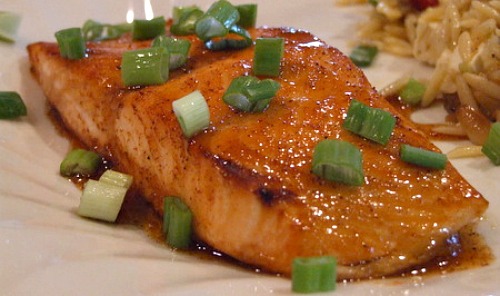 Yield: 4 servings
Prep Time: 25 minutes
Cook Time: 10 minutes
Broiled Honey Lime Glazed Salmon Fillets
Ingredients:
1/4 cup honey
1 tablespoon freshly squeezed lime juice
1 teaspoon chili powder
1/8 teaspoon cayenne pepper
Four 6-ounce salmon fillets
salt and freshly ground black pepper
2 whole scallions, minced
Directions:
Adjust rack 6 inches from broiler element and heat broiler. Make a foil pan out of heavy duty foil (or use two sheets of regular foil). Just crunch up the sides to hold in the glaze. Place on top of a broiler pan. This makes for easy clean-up! If you don't feel comfortable cooking in foil, you can always do this in a glass dish instead.
Prepare glaze while oven is heating. In a small bowl, stir honey, lime juice, chili powder and cayenne together. Set aside.
Pat salmon dry with paper towels and season with salt and pepper. Lay salmon (skin-side down) in foil pan, spaced about 1/2-inch apart. Reserve 2 tablespoons of glaze in clean bowl for serving, then brush half of remaining glaze evenly over salmon.
Broil until all but very center of fish has turned from translucent to opaque and flakes away easily, 10 to 12 minutes, brushing salmon again with remaining glaze halfway through broiling.
Drizzle reserved glaze over salmon and sprinkle with scallions before serving.
2 Responses to "Broiled Honey Lime Glazed Salmon Fillets"
Leave a Comment