Creamy Broccoli Soup with Mustard, Basil and Oregano
This Creamy Broccoli Soup is full of great flavors!
Yield: 6 to 8 servings
Prep Time: 30 minutes
Cook Time: 30 minutes
Creamy Broccoli Soup with Mustard, Basil and Oregano
I use whole milk for this soup and it's plenty creamy enough. Half & half might make it more decadent.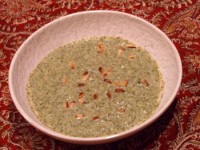 Ingredients:
2 Tablespoons olive oil
1 1/2 pounds broccoli, stems peeled and cut into 1-inch chunks, florets broken into medium-sized pieces (7 to 8 cups)
1 large onion, cut into large dice
1 tablespoon butter
large pinch of granulated white sugar
3 large cloves garlic, thickly sliced
1 1/2 teaspoons dry mustard
1/2 teaspoon dried basil
1/4 teaspoon dried oregano
1/8 teaspoon cayenne pepper
3 cups chicken (or vegetable) broth
1 to 1 1/2 cup half and half cream or whole milk
salt and freshly ground black pepper
toasted pine nuts for garnish
Directions:
Heat oil in a large skillet over medium-high heat. Add broccoli, then onion, and sauté, stirring frequently until broccoli starts to turn golden brown, 7 to 8 minutes. Reduce heat to low and add butter, sugar, and garlic. Continue to cook, stirring occasionally, until veggies are a rich caramel color, about 10 minutes longer.
Add dried herbs and spices and cook until fragrant, 30 seconds to 1 minute. Add broth and bring to a simmer over medium-high heat. Reduce heat to low and simmer, partially covered, until vegetables are tender, about 10 minutes.
Transfer to a food processor and puree in batches.
Return to skillet (or pour into a pot if pan will not hold the milk). Add enough milk to thin soup to desired consistency, season with salt and pepper to taste, and heat through. Ladle into bowls, sprinkle pine nuts on top, and serve.
Tips:
If preparing this soup as gluten free, just be sure to use a brand of chicken broth that is labeled as GF.
Leave a Comment