Agave Sweetened Low Fat Banana Bread
Another great use for your ripe bananas:  Agave Sweetened Low Fat Banana Bread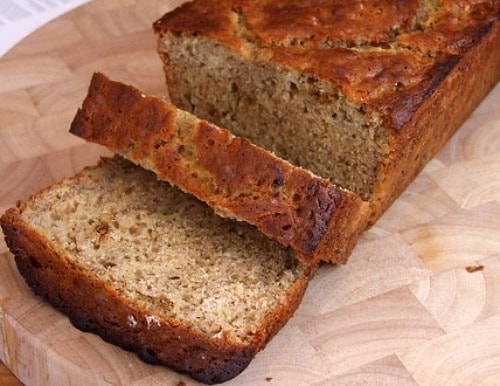 Yield: 1 loaf (12 servings)
Prep Time: 15 minutes
Cook Time: 50 minutes
Agave Sweetened Low Fat Banana Bread
Great choice for a healthier version of banana bread... the agave provides just the right amount of sweetness. It still turns out moist too.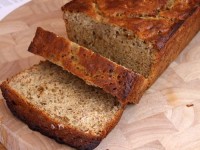 Ingredients:
1 1/2 cups mashed ripe banana
2/3 cup agave nectar
2 tablespoons vegetable oil
2 tablespoons applesauce
2 large eggs
1 teaspoon vanilla extract
1 cup whole wheat flour
3/4 cup all-purpose flour
1 1/4 teaspoons cream of tartar
3/4 teaspoon baking soda
1/2 teaspoon salt
1/4 teaspoon ground cinnamon
Directions:
Preheat oven to 350°F. Spray 8x5-inch loaf pan with cooking spray.
Mix first 6 (wet) ingredients together in a bowl.
In a separate bowl, whisk together remaining dry ingredients; add dry ingredients to wet and mix just until blended together (don't over mix).
Pour batter into prepared pan. Bake 40 to 50 minutes, or until toothpick inserted in center comes out clean. Cool for 10 minutes in pan, then turn out onto onto rack to cool completely.
Nutrition Facts-Amount Per 1/12 of loaf Serving
Calories 177, Calories From Fat (18%) 31, Total Fat 3.5g, Sat Fat .5g, Cholesterol 35.25mg, Sodium 189mg, Carbohydrates 35g, Dietary Fiber 2g, Sugar 18.58g, Net Carbs 32.66g, Protein 3.5g
Weight Watchers POINTS per serving:  SmartPoints: 6, Points Plus: 5, Old Points Program: 4.5
SOURCE: RecipeGirl.com
5 Responses to "Agave Sweetened Low Fat Banana Bread"
Leave a Comment