Spicy Lemon Shrimp over Greens
Yield: 6 servings
Prep Time: 15 min + chill time
Cook Time: 5 min
Spicy Lemon Shrimp over Greens
This salad is so light and refreshing for a warm summer day. The marinade makes a nice dressing for the greens too.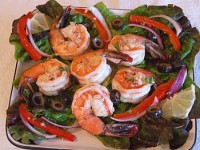 Ingredients:
18 jumbo shrimp, peeled and deveined (leave tips of tail shells on)
1 cup water
1 cup dry white wine
1 whole bay leaf
1 small red bell pepper, seeded and thinly sliced
1 small red onion, thinly sliced
1/2 cup pitted black olives, halved
1 medium lemon, peeled and thinly sliced
MARINADE:
1/2 cup freshly squeezed lemon juice
1/2 cup extra-virgin olive oil
1 Tablespoon red wine vinegar
1 clove garlic, minced
1 Tablespoon dry mustard
1/4 teaspoon cayenne pepper
1/2 teaspoon salt
1/8 teaspoon coarsely cracked black pepper
1 Tablespoon finely chopped fresh parsley
Directions:
1. Combine water, wine and bay leaf in a 2-quart saucepan and bring to a boil. Add shrimp. Reduce heat and cook for 3 to 5 minutes, or until shrimp are pink on the outside and just cooked in the center. Remove with a slotted spoon to a bowl.
2. Immerse red pepper in shrimp-cooking liquid and simmer for 1 minute over medium-heat. Remove with a slotted spoon and drain. Add to bowl of shrimp. Add onion, olives and sliced lemon.
3. In a separate bowl, combine marinade ingredients and pour over shrimp mixture.
4. Refrigerate for at least 4 hours. Remove shrimp from marinade, drain, and serve on 6 lettuce- lined plates. Also place pieces of red pepper, onion and olives on the lettuce. Drizzle additional marinade onto salad.
Tips:
*The marinated shrimp may be kept up to 1 day in refrigerator.
*Serve with a crisp Fume Blanc or a medium-bodied Chardonnay.
Leave a Comment