Breakfast Irish Soda Bread w/ Dried Cherries & Golden Raisins
This recipe has been featured in a post on The Recipe Girl blog: Breakfast Irish Soda Bread.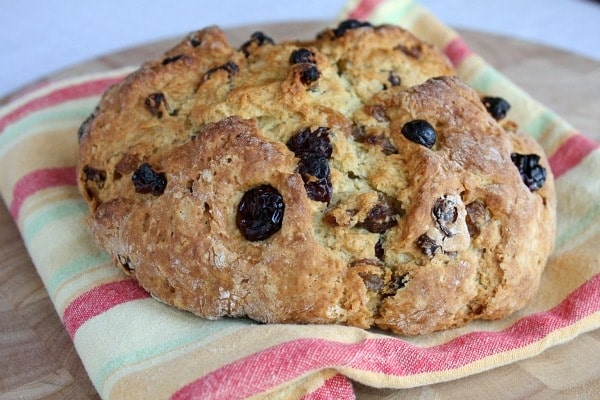 Yield: 2 loaves
Prep Time: 25 min
Cook Time: 35 min
Breakfast Irish Soda Bread w/ Dried Cherries & Golden Raisins
This bread is amazing sliced up and toasted with a little butter and honey.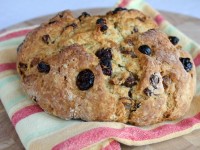 Ingredients:
3 cups all-purpose flour
1/4 cup light brown sugar, packed
3 teaspoons baking powder
1 teaspoon baking soda
1 teaspoon salt
4 Tablespoons cold, unsalted butter, cut into pieces
1 1/4 cups buttermilk
1 large egg
1 large egg yolk
3/4 cup golden raisins
3/4 cup dried cherries
plus a few more raisins and cherries
extra flour for dusting & kneading
Directions:
1. Position a rack in the middle of the oven. Preheat oven to 400 degrees F. Line a baking sheet with parchment paper.
2. In the bowl of a food processor, combine flour, sugar, baking powder, baking soda and salt. Give it a couple of pulses, then add the butter pieces; pulse until butter is incorporated and small crumbs are formed.
3. Pour flour/butter mixture into a large bowl and make a well in the center. Add buttermilk, egg, and egg yolk and stir just until moistened. Then stir in the 3/4 cup raisins and 3/4 cup cherries.
4. Turn the dough out onto a lightly floured surface and knead gently 5 to 10 times (dusting flour lightly onto dough if it's too sticky). Knead just until the dough comes together and is smooth. Divide dough in half and shape each half into a round. Stud a few extra raisins and cherries into the tops of the loaves. Dust the tops of the rounds lightly with a little flour.
5. Transfer rounds to prepared baking sheet, leaving about three inches between them. Place another baking sheet of the same size underneath to prevent burning. With a sharp knife, slash the tops with a large X about 1/2-inch deep.
6. Bake until dark brown and crusty, 35 to 40 minutes, or until toothpick inserted into the center of the X comes out clean. The loaf will sound hollow when tapped on the side.
7. Serve warm or at room temperature. Store wrapped in plastic at room temperature or freeze in a zip bag for up to 2 months.
Tips:
*Using low fat buttermilk is just fine.
*If you don't have a food processor, this recipe can be made by hand. Use your fingers to rub the flour and butter together to create the crumbs.
*Check on your baking bread at about 25 minutes. If it appears to be browning too quickly, cover loosely with foil.
Source: RecipeGirl.com (Adapted from Real Food)
One Response to "Breakfast Irish Soda Bread w/ Dried Cherries & Golden Raisins"
Leave a Comment