Chilled Asparagus with Feta Vinaigrette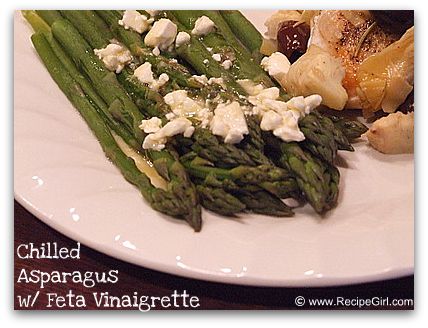 CHILLED ASPARAGUS W/ FETA VINAIGRETTE
www.RecipeGirl.com
1¼ lbs asparagus
2 Tbs crumbled feta cheese
2½ Tbs fresh lemon juice
1½ Tbs fresh orange juice
1 Tbs water
2 tsp dijon mustard
2 tsp vegetable oil
2 drops tabasco sauce
½ cup diced red bell pepper
1. Snap off tough ends of asparagus. Remove scales with a knife or vegetable peeler, if desired. Arrange asparagus spokelike on a 12-inch round glass platter with stem ends toward outside of platter. Cover with heavy-duty plastic wrap, and vent. Microwave at HIGH 4 minutes or until crisp-tender, rotating platter a half-turn after 2 minutes. Let stand, covered, 2 minutes. Cover and chill.
2. Combine feta cheese, juices, water, dijon mustard, vegetable oil, and hot sauce; stir with a whisk. Divide asparagus evenly among 4 plates, and top each serving with 2 Tablespoons feta dressing and 2 Tablespoons red bell pepper.
Servings: 4
Nutrition Facts
Amount Per Serving
Calories 73
Calories From Fat (44%) 32
Total Fat 3.61g
Saturated Fat 0.95g
Cholesterol 4.17mg
Sodium 101.92mg
Potassium 358.24mg
Carbohydrates 8.42g
Dietary Fiber 3.48g
Sugar 4.36g
Net Carbohydrates 4.94g
Protein 4.19g
WW Points: 2.5
Recipe Source: Weight Watchers- Quick and Easy Menus
PRINT THIS RECIPE using your browser's 'print' function. It's automatically formatted to print recipe & picture only.
RATE THIS RECIPE[ratings]
"Nice, easy side dish."
-Chicago, IL
Leave a Comment