Lemon- Chive Roasted Vegetables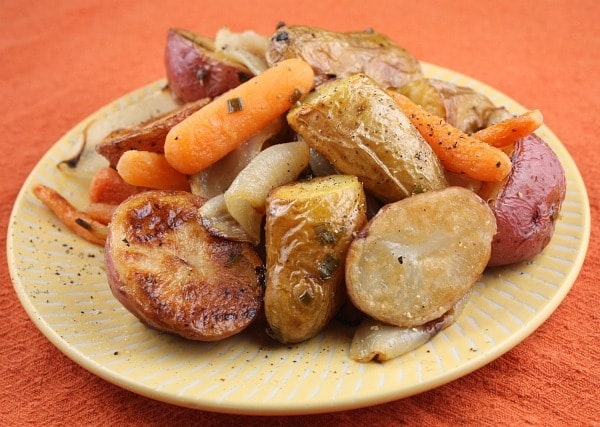 Yield: 6 servings
Prep Time: 15 min
Cook Time: 30 min
Lemon- Chive Roasted Potatoes
Simple, healthy side dish recipe.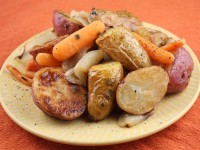 Ingredients:
cooking spray
3/4 pound small red potatoes, halved
3/4 pound small fingerling potatoes, halved
1/2 pound baby carrots
1 medium Vidalia or other sweet onion, cut into 8 wedges
1/2 Tablespoon olive oil
1 Tablespoon finely chopped fresh chives
3/4 teaspoon grated lemon zest
1 Tablespoon freshly squeezed lemon juice
1/4 teaspoon salt
1/8 teaspoon black pepper
Directions:
1. Preheat oven to 425°F. Spray jelly roll pan with cooking spray.
2. Combine potatoes, carrots, onion & olive oil in a large bowl; toss well to coat. Arrange vegetables in a single layer on prepared pan. Bake for 30 minutes, turning after 15 minutes or until tender and lightly browned.
3. Combine vegetables, chives, and remaining ingredients in a large bowl; toss gently to coat.
Nutritional Information per serving:
Serving size: 1 cup
Calories per serving: 121
Fat per serving: 1.3g
Saturated Fat per serving: .19g
Sugar per serving: 3.19g
Fiber per serving: 3.2g
Protein per serving: 2.75g
Carbohydrates per serving: 22.5g
WW POINTS per serving:
Points Plus Program: 3 Old Points Program: 3
Leave a Comment