Orzo Salad with Corn, Green Beans and Tomatoes
Terrific choice for a summer salad:  Orzo Salad with Corn, Green Beans and Tomatoes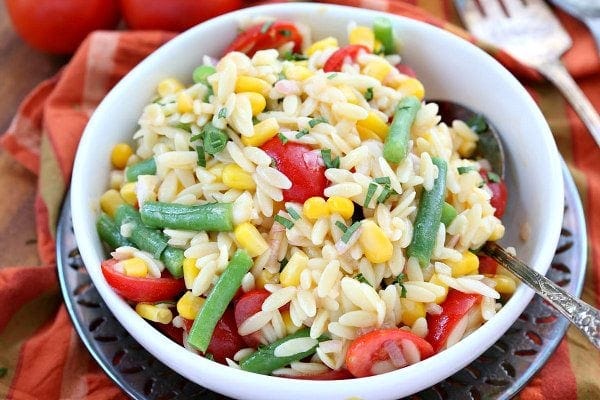 There are lots of fresh vegetables mixed in to this pasta salad- making it a colorful and healthy choice.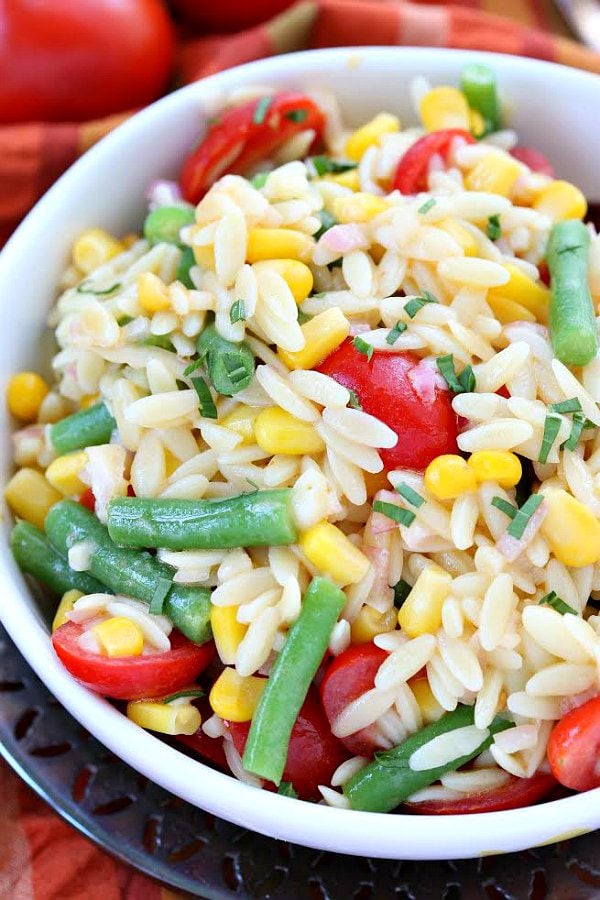 Yield: 8 servings
Prep Time: 40 minutes
Cook Time: 15 minutes
Orzo Salad with Corn, Green Beans and Tomatoes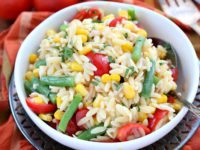 Ingredients:
1 pound green beans, rinsed & trimmed
1 1/2 cups dried orzo pasta (8 ounces)
3 ears fresh white corn
1/2 cup white wine vinegar
1/2 cup extra-virgin olive oil
1/2 cup minced shallots
2 tablespoons Dijon mustard
2 tablespoons minced fresh tarragon
2 cups cherry tomatoes, rinsed, stemmed & halved
Directions:
Bring water to boil in a large pot. Cut green beans into 2 to 3-inch lengths. Add to boiling water and cook 3 to 5 minutes (until barely tender). Drain and place in ice water until cold; drain again.
Fill pot with water again and bring to a boil over high heat. Add orzo and cook 8 to 11 minutes (until barely tender). Drain and rinse with cold water.
Husk corn and discard strings. Rinse corn. Holding each cob upright, cut off kernels into a large bowl.
In a small bowl, whisk vinegar, oil, shallots, mustard, tarragon and salt and pepper to taste. Set aside.
In a large bowl, mix orzo with 1/2 cup of the dressing. Add additional salt and pepper to taste. Spread out orzo so that it's level. Layer corn kernels, green beans and tomatoes over the pasta. Cover salad and chill until ready to serve. Also chill remaining salad dressing.
When ready to serve, pour 3/4 of the remaining salad dressing over the salad and mix gently to blend. Add additional dressing, salt and pepper as needed.
Nutritional Information per serving (serving size:

1/8th of the salad) 

Calories:

243, 

Fat:

7.5g, 

Saturated Fat:

1g, 

Sugar:

2g, 

Fiber:

4.25g, 

Protein:

7g, 

Carbohydrates:

39.5g

Weight Watchers POINTS:  SmartPoints:  8, PointsPlus: 7, Old Points Program: 6.5
SOURCE: RecipeGirl.com
Leave a Comment