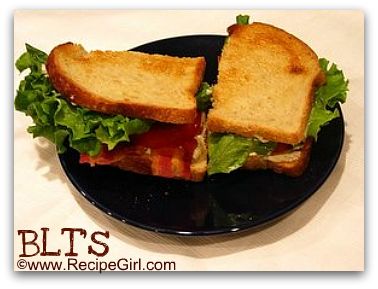 BLT's
www.RecipeGirl.com
BLT MAYONNAISE RECIPE:
½ cup mayonnaise
1/8 cup extra virgin olive oil
1/8 tsp fresh minced garlic
¼ tsp ground black pepper
SANDWICH:
8 slices bread (your choice), toasted
mayonnaise from recipe above
12 slices crisp bacon
4 medium tomatoes, sliced
4 handfuls gourmet mixed greens
1. To prepare mayonnaise: Whisk all ingredients together until smooth. Refrigerate until well chilled.
2. Spread toasted bread with mayonnaise (amount is your preference). Layer bacon, tomato and greens.
3. Cut into halves and serve.
Servings: 4
Cooking Tips
*To vary the flavor, try using different types of bacon- smoked, honey-cured, etc.
PRINT THIS RECIPE using your browser's 'print' function. It's automatically formatted to print recipe & picture only.
RATE THIS RECIPE[ratings]
No Responses to "BLT's"
Leave a Comment