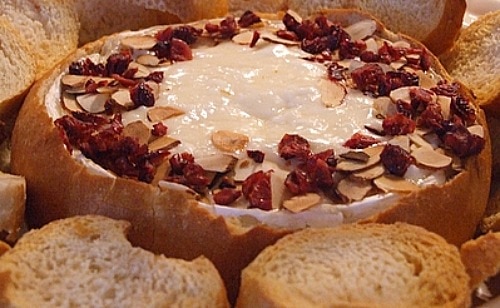 Prep Time: 15 minutes
Cook Time: 30 minutes
Total Time: 45 minutes
Melted Brie in Crust
This is a great brie recipe. Don't skimp on the garlic- it adds wonderful flavor!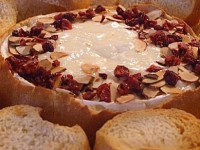 Ingredients:
1 loaf french or sourdough round bread
large brie cheese round (big enough to fit inside the round loaf that you choose)
1/3 cup olive oil
2 cloves garlic, minced
Directions:
1. Cut through bread and leave a shell about 1/2-inch thick on all sides. Scoop out bread in center and tear or slice into chunks.
2. Mix oil and garlic in blender. Brush inside bread shell and extra slices with oil mixture. Cut around the top of the brie round with a sharp knife. No need to remove it yet... you're just cutting into it so it will be easy to remove after cheese melts. Place cheese inside the bread shell. Place filled shell and bread slices in a single layer on cookie sheet.
3. Bake at 350 degrees about 30 min. until cheese is melted. Watch closely and remove bread chunks when they are crisp. Place cheese in crust on board, and surround with toasted slices. Gently remove the top rind of the brie, scraping any melted brie that wants to stay attached to the rind back into the shell. Your guests should be instructed to dip their toasts into the melted cheese for serving.
Tips:
Holiday tip: Sprinkle dried cranberries and toasted almond slices around the edges of the melted brie.
2 Responses to "Melted Brie in Crust"
Leave a Comment