Butternut Squash Spread on Cheese Croutons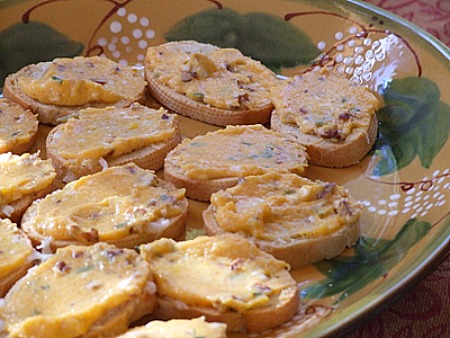 Yield: 4 dozen appetizers
Prep Time: 25 min
Cook Time: 1 hour 15 min
Butternut Squash Spread on Cheese Croutons
Everyone at our fall happy hour party raved about this appetizer. It had amazing flavor combination and it was perfect for fall.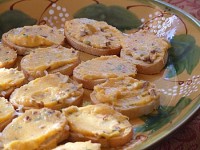 Ingredients:
1 medium butternut squash
3 cloves garlic, minced
3 Tablespoons butter, melted
4 ounces cream cheese, at room temperature
1 1/2 cups freshly grated Parmesan cheese, divided
1 Tablespoon granulated sugar
2 teaspoons chopped fresh thyme
2 teaspoons chopped fresh rosemary
1/2 cup chopped pecans, toasted
1 whole baguette, cut into 48 slices
1/2 cup olive oil
salt and pepper
small sprigs of fresh thyme and rosemary for garnishes
Directions:
1. Preheat oven to 350°F. Cut squash in half lengthwise; remove and discard seeds. Place squash, cut side down, in a 13x9-inch baking dish. Add hot water to dish to depth of 1-inch. Bake, uncovered, for 1 hour or until squash is tender. Remove squash pulp, discarding shells. Mash pulp and place in large bowl.
2. Sauté garlic in butter in a small skillet over medium-high heat until golden. Add garlic to squash pulp in bowl. Add cream cheese, 1/2 cup Parmesan cheese, and next 3 ingredients to bowl; mash until blended. Stir in pecans.
3. Preheat oven to 400°F. Place baguette slices on 2 large ungreased baking sheets; brush or drizzle olive oil over baguette slices. Sprinkle with salt and pepper. Bake 4 minutes. Sprinkle baguette slices with remaining 1 cup Parmesan cheese. Bake 2 more minutes or until cheese melts.
4. Spoon 1 Tablespoon squash mixture onto each cheese crouton. Place on a serving tray, and garnish, if desired.
Source: RecipeGirl.com (Adapted from Christmas With Southern Living 2000)
Leave a Comment